Dillon and Treloar, running to represent south Spokane in City Hall, offer starkly different visions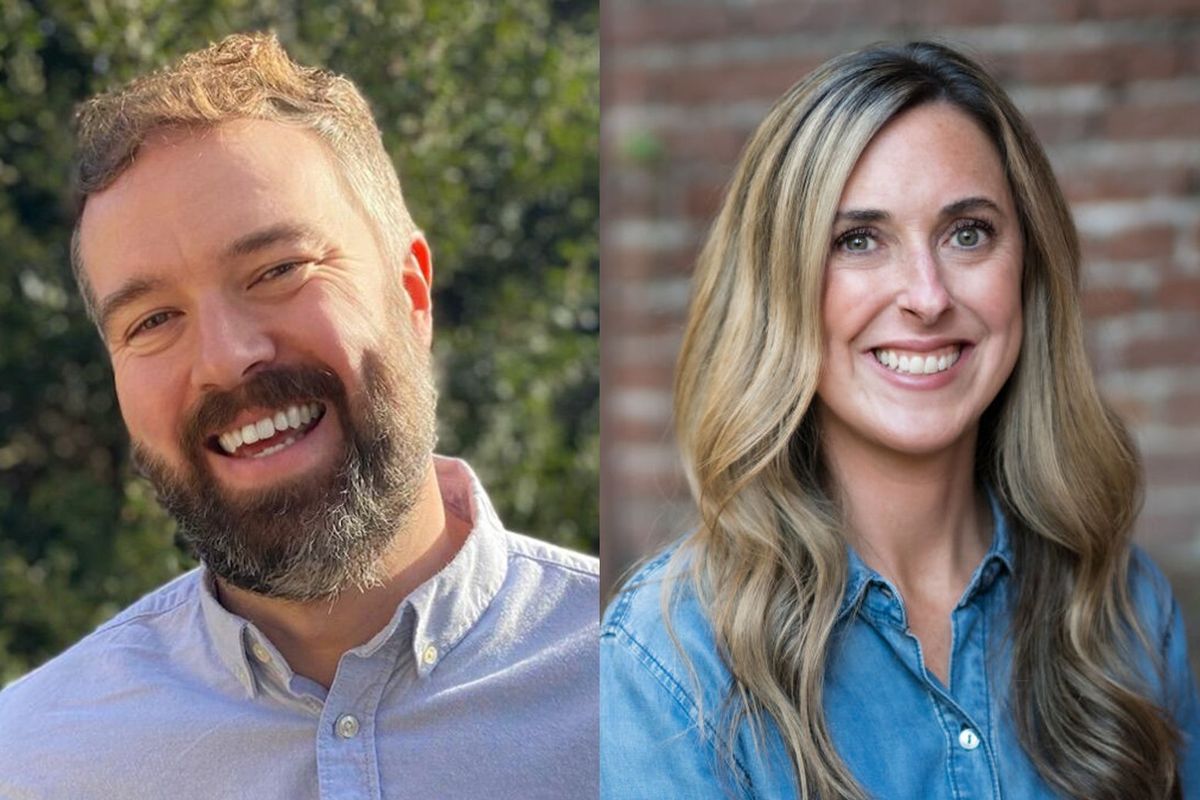 The race to represent south Spokane pits a local activist and vocal critic of Mayor Nadine Woodward who wants to build on the progressive work of the current City Council against a children's advocate and former educator who thinks the council needs to do more to fight for a cleaner, safer city.
Paul Dillon, who until recently worked as the vice president of public affairs for Planned Parenthood of Greater Washington and North Idaho, is running against educator Katey Treloar, who worked for nine years as a classroom teacher in various schools for the Spokane Public Schools district but left in 2013.
The race to represent south Spokane is one of the most combative in the city this year, with the candidates frequently attacking each other as the wrong choice for Spokane. Dillon has accused Treloar of being a Republican in disguise, trying to draw connections between her and Woodward, while Treloar frequently issues news releases claiming Dillon is divisive and radical, pointing to his liberal policy positions, including his opposition to this year's anti-homeless camping initiative and various online statements.
"People keep asking me, what are the big differences between me and my opponent," Treloar wrote in an August news release. "The big difference – although there's a handful of them – is his use of social media, particularly Twitter (rebranded as X), to call out, berate and attack people online."
Dillon has argued that his frequent criticism of the mayor and others online is a matter of political dissent, not personal harassment. A number of those posts in recent months have attempted to paint Treloar, who has called herself the only nonpartisan candidate for City Council, as a Republican operative.
While all local elections in Spokane are technically nonpartisan, Dillon points to Treloar's record-breaking fundraising from largely Republican-affiliated donors, as well as her attendance at various Woodward campaign events both now and in 2019.
Woodward also holds a nonpartisan office but shares campaign infrastructure and conservative fundraising networks with U.S. Rep. Cathy McMorris Rodgers, R-Spokane.
With a little more than a month to go before the November election, Treloar's campaign has reported nearly $150,000, more than any other candidate for Spokane City Council, not including races for City Council President, in history, according to the state Public Disclosure Commission. Councilman Zack Zappone's 2021 campaign, which raised nearly $110,000, previously held that record and was the first Spokane City Council candidate to raise six figures.
Treloar's record-breaking fundraising has been buoyed by large donations from various Realtors, developers and associated interests, most of whom have also donated heavily to Woodward and other right-leaning local politicians.
Treloar argues that this financial support is not indicative of how she would lead as a council member.
"I'm thrilled that my message is resonating with people that are interested in city government," she said. "I think just by looking at how much money I've been able to raise, it just shows that people believe in my skills to collaborate with all groups, and not just groups that I personally align with."
She added that she had declined an endorsement from someone who had asked for Treloar to take a policy position in exchange, but she declined to name the person or the policy position.
Dillon reports raising nearly $65,000, with sizable donations from Don Barbieri and Sharon Smith of the Smith-Barbieri Progressive Fund and smaller donations from state Sen. Andy Billig, D-Spokane, state Rep. Marcus Riccelli, D-Spokane, Councilwoman Betsy Wilkerson, former City Council President Ben Stuckart, various unions, and progressive political group Fuse Washington.
The Spokane Good Government Alliance and the National Association of Realtors have donated another $62,000 in independent expenditures in support of Treloar, while Fuse Washington and the Citizens for Liberty and Labor PAC have donated $8,000 in support of Dillon.
Despite the stark differences in fundraising, it was Dillon who left the August primary as the frontrunner, earning 42% of the vote versus Treloar's nearly 33%. Cyndi Donahue, who characterized herself as a "collaborative Democrat" and has since endorsed Dillon, received another 17% of the vote.
The two are competing for a seat being vacated by term-limited Councilwoman Lori Kinnear in District 2, which includes much of the city south of the Spokane River except for the downtown core. The district also is represented by Councilwoman Betsy Wilkerson, whose term is not up until 2025, but who is running for council president.
Both candidates are running to address residents' concerns about homelessness, housing and public safety, but their proposals to address these problems differ sharply.
Dillon
Dillon wants the city to adopt a more compassionate approach to homelessness. He advocates for investing in a navigation center to connect the homeless to appropriate services and for incentivizing affordable housing for the homeless and those on the edge of homelessness.
He supports the concept of a regional coalition to consolidate resources addressing homelessness, particularly after that fledgling organization retreated from an emphasis on criminal detention as a solution and wants to be the City Council's representative on that board if and when it is eventually formed.
Dillon wants the state Legislature to allow cities like Spokane to adopt rent control tied to inflation, a radical position given the controversy generated when the City Council passed comparatively moderate landlord-tenant reforms early this year.
"People are suffering," Dillon said. "They're seeing their rent massively increase in the last few years in Spokane, and it's really hard, especially for young people, to find a place to live."
To speed up the building of new homes, Dillon thinks the City Council should further incentivize infill development along the city's centers and corridors where infrastructure is already robust, as well as creating disincentives for property owners to sit on undeveloped or vacant properties.
However, he believes some parts of the city should have a slowdown of development, at least for now. Dillon was the first candidate for local office to pledge to support a new moratorium on development in the Latah Valley, where residents are concerned that growth has outstripped road and fire infrastructure. A firm plan for funding and a timeline for infrastructure improvements is needed before more homes are built in that corner of the city, Dillon said.
"Latah is unique," he added. "I think there's a large misunderstanding from folks outside of Latah about what has been happening and how dangerous it is."
On public safety, Dillon wants to see the police department staff neighborhood resource officer positions, which were stripped earlier this year in favor of redoubled patrols and a larger presence downtown. Noting that the department has struggled to fill positions funded by the current City Council and the department's growing overtime costs, Dillon wants the city to create a program mirroring Eugene's CAHOOTS, a nonemergency crisis intervention team. He argues such a system could free up officers for other duties and would be more effective for certain situations, such as mental health or addiction cases.
Dillon has often been the face of the regional branch of Planned Parenthood as it has lobbied for abortion protections.
In February, when the anti-abortion group the Church at Planned Parenthood was ordered to pay $960,000 for interfering with patient care at Planned Parenthood, it was Dillon who addressed the moment to the media.
Dillon previously worked as a legislative assistant for Sen. Billig and, before that, former Spokane city Councilman Jon Snyder.
He previously was a columnist for the Inlander and wrote for The Spokesman-Review.
Treloar
As her campaign knocks on doors, Treloar says the main concern she hears is that residents don't feel safe in their city, especially downtown.
"A lot of people that want to utilize our downtown area, and specifically women with children, are afraid to drop their kids off, or are worried about taking them to our beautiful Riverfront Park because they don't feel safe," she said.
Treloar wants to see the city staff positions at the police department that have been funded but the department has struggled to fill. She argues that the difficulty to hire and recruit is in part due to a current City Council that does not support law enforcement. While Treloar has not identified a particular budgetary request from the police department that the City Council hasn't supported, she wants council members to spend more time interacting with officers and hearing from them outside of City Hall.
Unlike Dillon, she supports Proposition 1, which would ban public camping within 1,000 feet of schools, parks, playgrounds and licensed day cares. The ban would include most of downtown Spokane. She argues the city should be willing to fight for that ban, which was challenged in court before it reached the ballot and will likely be challenged again if passed this November when voters get the chance to weigh in.
"As a city, we have to make sure that we have a clean and safe city, and one of the ways that we can do that is setting up clear boundaries of where it is not only legal to camp, it's also safe to camp," she said.
Treloar demurred when asked where she envisioned it would be legal for homeless residents to camp but said such proposals would be made by a regional homeless coalition when such an organization is formed. She points to the Houston model for responding to homelessness which has inspired recent efforts to create a regional coalition, noting that the area has a strict no-tolerance policy on encampments.
The Houston model also relies heavily on available affordable housing, while Spokane's housing market has been notoriously tight in recent years. Treloar believes that the city has thrown up too many roadblocks to development and wants to increase incentives to redevelop vacant office buildings into housing, but also pointed to regulations and taxes as a hurdle.
"We have to responsibly allow builders and developers to do what they what we're asking them to do," she said.
She does not support another moratorium on development in the Latah Valley, arguing that residents shouldn't trust her opponent or those on the City Council who have called for such a pause.
"Why is our current city council making these sweeping social statement, saying a moratorium is needed, when they've had 10 years to fix this problem?" she said. "My opponent is really good at protesting, but guess what I'm really good at: problem solving."
Treloar suggested that the city should lobby the state and federal governments to help fund infrastructure improvements in the Latah Valley instead of funding a remaking of the Division Street corridor to prioritize bus, bike and pedestrian traffic.
During the time it would take to make those improvements, she said she opposed a moratorium because she wouldn't just represent Latah Valley.
"We have to responsibly represent the Latah Valley and then still remember about our East Central neighborhood, where people have pride and ownership, but the cost of living there continues to increase because we don't have enough homes for people coming in," she said.
Treloar later cofounded Bite2 Go, a program aimed at supplementing meals for underserved students.
During her unsuccessful 2019 campaign for the Spokane Public Schools Board, Treloar opposed a supplemental levy and supported hiring armed police officers who would be permanently assigned to a specific middle school and high school.
She was a finalist in 2020 for a vacant council seat to which Betsy Wilkerson was eventually appointed, saying she wanted to bring "a balanced and moderate approach" to the legislative body.
Later that year, she joined protests calling for an in-school learning option as COVID-19 restrictions flared.
At the start of 2022, Treloar started Executive Functioning Coaching, a company that helps train people with attention-deficit hyperactivity disorder or other conditions to learn better organization, impulse control and other vital skills.
---