Providence Sacred Heart Children's Hospital: 20 years of caring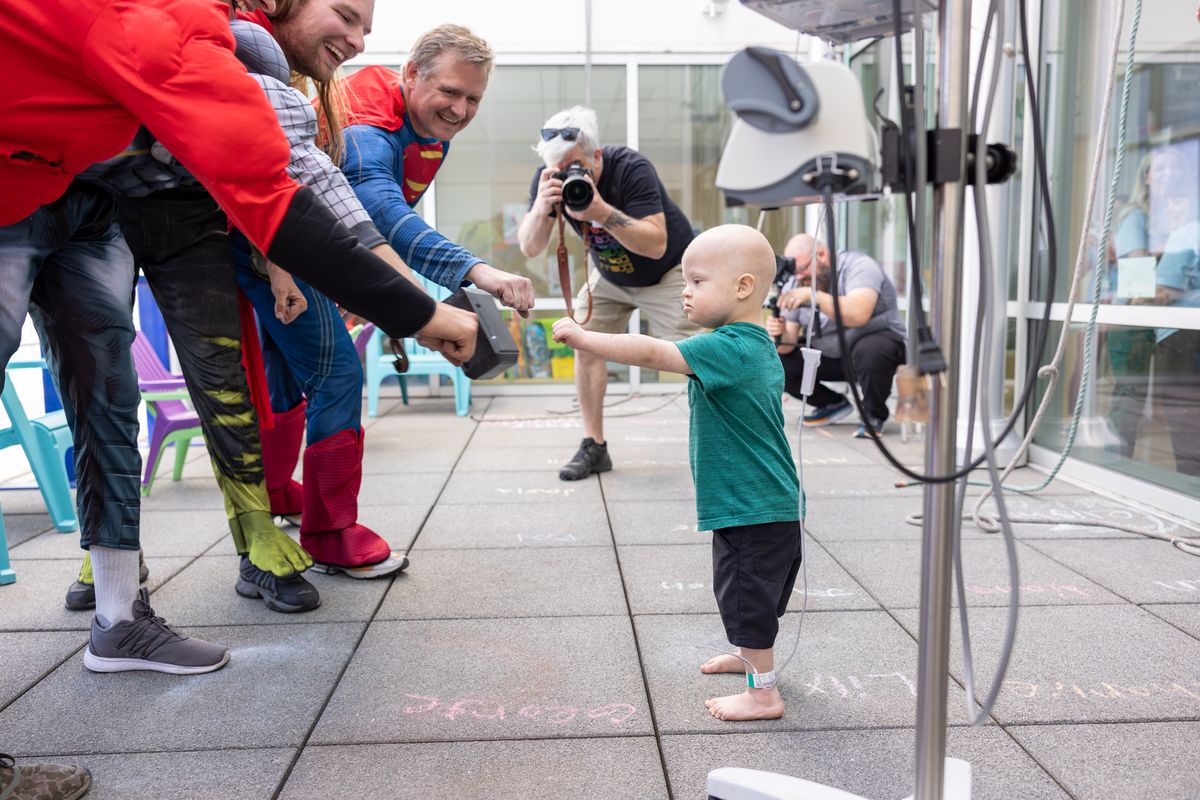 At just four days old, Elliott Naftzger underwent her first open-heart surgery.
Born with a type of congenital heart disease known as hypoplastic left heart syndrome, specialty doctors at Providence Sacred Heart Children's Hospital in Spokane, Wash., had to act quickly to improve blood flow to her heart. The surgery was a success, but Elliott still needed two more heart surgeries by the time she reached her fourth birthday.
Today, Elliott is a happy, healthy nine-year-old in Walla Walla, Wash. She's thriving in third grade and continuing to participate in several sports, including soccer, softball and Jiu-Jitsu.
Elliott's story is proof of what so many of us know – health care is at the heart of our communities. For the past 20 years, Providence Sacred Heart Children's Hospital has been at the heart of the Eastern Washington community and even across state lines. Patients and their families often travel from Idaho, Montana and Oregon to receive specialized care at Providence Sacred Heart.
20 years of pediatric care in Eastern Washington
August 2023 marked two decades since Sacred Heart Children's Hospital opened its doors, becoming the first and only children's hospital in Eastern Washington to service patients from Idaho, Montana and Oregon. Since then, pediatric care has made impressive strides, especially at Providence Sacred Heart Children's Hospital.
Susan Stacey, Providence chief executive for the Inland Northwest, has worked at Providence Sacred Heart Medical Center and Children's Hospital for a combined 40 years. She remembers the early inception of the children's hospital.
"I vividly remember being part of the design and construction process, which included building mock rooms for physicians, caregivers and families to walk through to ensure the rooms we designed met their specific needs," Stacey says. "Thank goodness we took their advice and built a facility that has stood the test of time – able to meet the demands of our dynamic and diverse families."
Designating Providence Sacred Heart Children's Hospital as the area's first children's hospital was just the beginning of a long legacy of innovation and program development that allows Spokane to be at the forefront of pediatric health care – from chronic disease to acute injury and illness.
Meeting the health care needs of our community
Today, Providence Sacred Heart Children's Hospital includes more than 30 pediatric specialties, from congenital heart disease to oncology and hematology, orthopedics and more. It also has the following:
The only dedicated pediatric emergency department in the region. Space is designed to help make kids feel more comfortable while they receive treatment from fellowship-trained and board-certified pediatric emergency medicine providers.
The only Level IV neonatal intensive care unit (NICU) in Eastern Washington. This designation means the hospital is equipped to care for babies as young as 22 weeks gestational age. In fact, newborns are often transferred into Providence Sacred Heart Children's Hospital from Idaho, Montana, Oregon and other surrounding states, so they can receive the most advanced level of care available.
Accommodations for children who require intensive care, open-heart surgery, surgical intensive care and Level II trauma response. Although the children's hospital's primary focus is inpatient critical care, the pediatric ICU also provides a safe, child-oriented environment for many outpatient procedures, such as bronchoscopy, endoscopy and line and tube placements.
Providence Sacred Heart Children's Hospital also closely collaborates with other regional hospitals, coordinating medical care, consulting and sharing protocols.
"This commitment to stay connected locally, including partnerships that provide TeleNICU and TelePICU at hospitals in Richland, Moses Lake and Walla Walla, means families don't have to travel for every appointment," Stacey explains.
Along with clinical services, Providence Sacred Heart Children's Hospital offers support services, including an in-hospital education program, child life specialists, social workers, sibling support specialists, art and music therapy and unique events, including our Superheroes for Kids Day. These are just some of the ways Providence helps kids be kids, even when they're in the hospital.
Overcoming health care challenges
While there has been so much growth over two decades, it's no secret that the last few years have been some of the most challenging in health care: a pandemic, youth behavioral health crisis, staffing challenges and more.
Despite record admissions, Providence teams have continued to achieve excellent quality standards.
This year, Providence Sacred Heart Children's Hospital started a mentorship program to support new pediatric nurses. They also supported new legislation that will lead to better care for children admitted to emergency departments for a behavioral health crisis.
And in 2024, the first class of Washington State University pediatric residents will begin their training at Sacred Heart Children's Hospital.
"These are all great examples that reflect the Providence mission in action. We are committed to serving all, especially those who are poor and vulnerable," says Stacey.
Putting our compassion into action
Providence couldn't exist without its caregivers on the front lines. And they couldn't do the important work it does without community support.
In 2022, as Providence, along with many other health care organizations, faced historic financial challenges, donations to Providence Inland Northwest Foundation totaled more than $4.8 million. These gifts help ensure that young patients have access to advanced technology, supportive programs and experienced teams. More specifically, donations helped pay for a portable echocardiography machine that providers can bring to clinics across the region to treat children with heart conditions, like Elliott, and save their families the burden of traveling hours to Spokane.
"As we celebrate our 20th birthday, our wish is that if you find yourself coming through our doors, you feel surrounded by compassion and see excellence in our care," Stacey says. "We look forward to the next twenty years, and more, as a trusted place for families seeking world-class care close to home."
Find a doctor
If you need to find a doctor, you can use our provider directory. Our health care providers support a range of needs – from primary care to surgery and more.
To learn more about what we're doing to help our caregivers and other community partners, check out our Annual Report to our Communities.
Download the Providence App
We're with you, wherever you are. Make Providence's app your personalized connection to your health. Schedule appointments, conduct virtual visits, message your doctor, view your health records and more. Learn more and download the app.
Related resources
Abigail turns two after open-heart surgery
Inspiring stories of healing and hope: 2022 annual report
Providence Sacred Heart Medical Center and Children's Hospital signage updates
This information is not intended as a substitute for professional medical care. Always follow your health care professional's instructions.
---