Seattle boosts first response to drug crisis, still lacks treatment options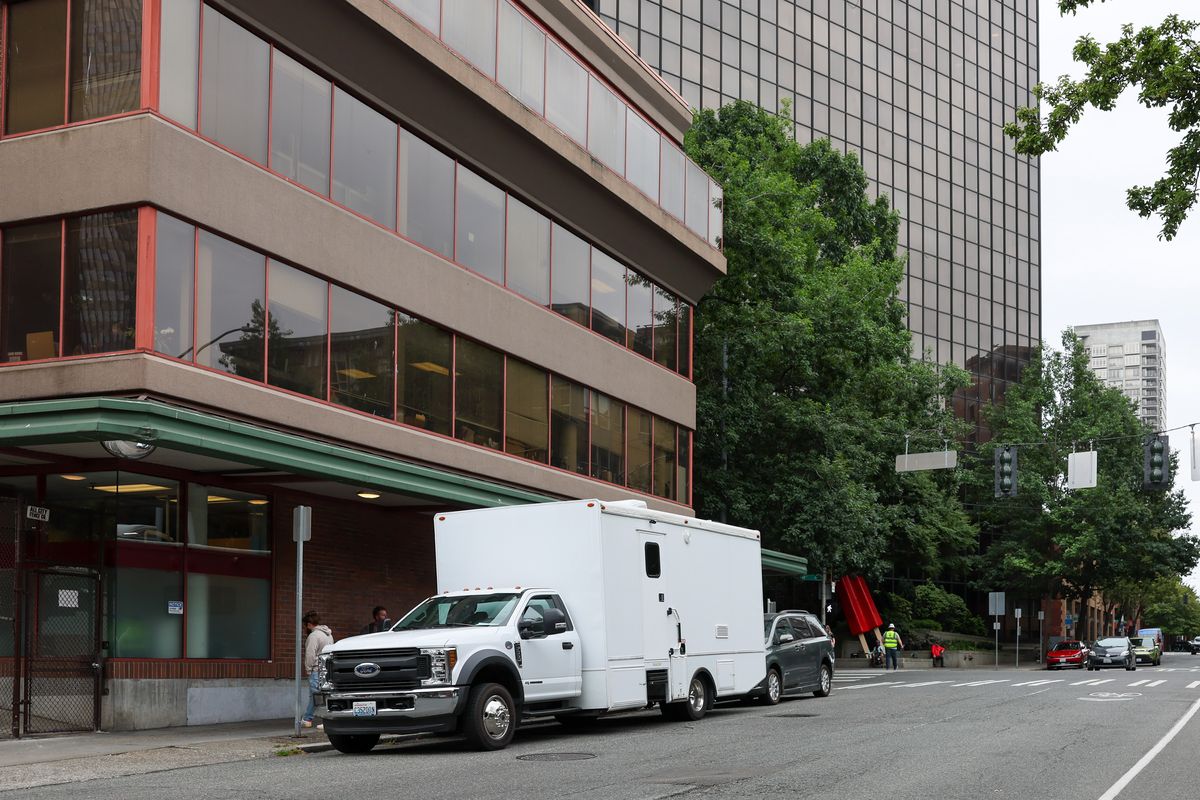 As fatal drug and alcohol overdoses continue to outpace last year's record-setting 1,001 deaths in King County, Seattle officials spent the summer beefing up the city's emergency response to drug use and overdoses in public places.
They've pumped money into mobile methadone clinics. They are considering investing in a facility for people to recover from overdoses. One council member has floated the idea of subsidizing private treatment for those who can't afford it.
This is new territory for the city as elected officials consider options beyond their traditional jurisdiction.
But as the city improves its initial response to the drug crisis, a lack of places where people can receive treatment and recover is growing more apparent.
"Finding a place to take a person to get the needed care can be a challenge," Seattle Fire Chief Harold Scoggins said at SFD headquarters in Pioneer Square last week.
In July, the Fire Department launched Health 99, a team that responds specifically to overdose calls, providing lifesaving care and connecting patients with more treatment and harm reduction resources.
About two months in, the pilot program has responded to 68 overdoses and done over 20 client follow-up visits. In many cases, these patients are overdosing multiple times due to refusal of treatment services or a lack of available treatment options.
Despite the apparent initial impact of the response unit, Health 99 operates only one vehicle with an emphasis on downtown, Belltown and Pioneer Square. It also has limited business hours, due in large part to a lack of places to take patients.
"If there were service providers available seven days a week, all around the clock, I would be going to the mayor and Councilmember [Lisa] Herbold and communicating that," Scoggins said Tuesday. Herbold chairs the city's Public Safety and Human Services committee.
The department is responding to about 15 overdose calls every day, already surpassing 4,000 calls for the year compared with roughly 3,700 total calls in 2022. The sheer volume of drug usage — the city has seized over 2 million fentanyl pills this year — results in overdoses "around the clock," Scoggins said.
The bottleneck of people whom first responders have contact with, but struggle to pair with services, may grow next month after a new council bill allows more Seattle police interactions with people using drugs in public.
The highly contested ordinance, which the council approved last week, allows the city attorney to prosecute knowing drug possession and public use as gross misdemeanors. Supporters say the new law will encourage Seattle police and prosecutors to use diversion programs as an incentive to make people seek treatment.
Critics of the bill argue the city's lack of treatment options means people will be arrested for minor drug charges, but not given adequate alternatives to jail when the bill goes into effect in October.
With the influx of calls and 947 confirmed overdose deaths in the county so far this year as of Friday, Seattle officials are exploring a wide range of options to expand short- and long-term treatment options and curtail lethal overdoses.
Places to go
At a recent tour of Recovery Place, a nonprofit, inpatient treatment facility in Beacon Hill, Mayor Bruce Harrell said he wants to "quarterback" a regional approach to addressing substance use disorder by helping to coordinate governmental and private partners.
In late August, Harrell and Congressman Adam Smith toured multiple treatment facilities to "better understand how all these pieces are working together because, quite honestly, they are failing. The system is failing," Harrell said.
Herbold, who also sits on King County's Board of Health, says the city must further invest in treatment services, even though that responsibility largely lies on the county.
"What do you do when the jurisdiction — that is by law charged with being the responsible jurisdiction — needs to be doing more for your jurisdiction, but it's not," Herbold said of King County's efforts to provide substance use treatment, which she said mirrors efforts to address mental health.
A spokesperson for Public Health — Seattle & King County said the organization is a dual reporting agency, "meaning we are the health department serving the city of Seattle and broader King County," and said the county is happy to work with the city on this and other health issues.
Jon Ehrenfeld, manager of the Seattle Fire Department's integrated health programs, including Health 99, said the biggest hurdle in addressing the drug crisis is a lack of clinics — particularly low-barrier clinics that will take clients who are unable to pay — as well as shelters and post-overdose treatment facilities.
"It's a huge gap in our system," he told Herbold's committee in August, noting that people who are medically stable need a place to seek care and resources after overdosing.
Because fentanyl metabolizes more quickly than other drugs, even when SFD responds to someone who is open to seeking treatment, there is a narrow window of time before that patient experiences symptoms of withdrawal, piling on to the need for quickly accessible facilities.
"What that does is it creates a very pernicious cycle where people will feel they are going into withdrawal much more frequently, so they have to use, again," Ehrenfeld said. "So even people who are highly motivated, interested in treatment, interested in resources, often can't accomplish that."
With the most recent version of the drug enforcement bill, Harrell committed $7 million in unspent federal funds and some opioid settlement funding to open a post-overdose facility in Seattle, one that will give people a place to stabilize after a nonlethal overdose.
Herbold's committee will discuss the facility for the first time this week.
The city is expected to accept bids on the post-overdose center project with a potential soft launch of a center, the first of its kind in the city, later this year, even if a permanent facility is still underway.
Andrew Myerberg, Harrell's special projects director, expects the city to contract staffing of the center to a third party rather than employ providers directly.
"We understand that we have a certain role to play. We are not the experts in the field," Myerberg said. "Our job is to rely on those experts who know how to deal with the situation."
King County has recently made steps to expand its behavioral health offerings, most notably through the passage of a $1.25 billion, nine-year tax levy to fund the creation of five crisis care centers across the county, including at least one in Seattle, which will address mental health including substance use.
Herbold believes the city and county can work together on leveraging expected settlements from pharmaceutical companies following class-action lawsuits against McKesson, Cardinal Health and AmerisourceBergen. Those settlements will ultimately provide Washington state with over $500 million in funding over the next 17 years — Seattle is set to receive around $20 million, and the county is expecting between $1 million and $1.5 million annually over the next decade and a half.
The King County Board of Health approved a resolution sponsored by Herbold two weeks ago urging all jurisdictions in the county to "explore cross-jurisdictional spending strategies, aiming to maximize the impact of the available funding."
By leveraging money toward shared projects, Herbold says, the governments can "get more bang for [their] buck."
"Drops in the bucket"
This summer, about 50 patients have entered an unmarked box truck in Belltown for potentially lifesaving health care provided by Evergreen Treatment Services.
"We've been standing out here for 30 minutes, or so, and I've seen five or six people walk through that door," Sean Soth, director of Health Integration & Innovation for Evergreen, said on a Friday morning in August.
"That's six people that I know have a 50% less likelihood of overdose today."
The mobile clinic, which opened this spring can serve up to 120 people at its full capacity. It can provide counseling and methadone, a long-lasting opiate that can help reduce use of drugs such as fentanyl and reduce risk of overdose.
Less than three months into the first mobile clinic, the city gave Evergreen another $1 million in August to cover a gap in funding allowing it to add a clinic at Pioneer Square.
Even at its expanded capacity, the mobile unit addresses only a sliver of the drug problem in Seattle, helping users of one class of drug through one approach.
For all of its benefits, methadone is limited to helping only people who are dependent on opiates and is not effective on other drugs such as methamphetamine, the next most lethal drug behind fentanyl.
With overdose deaths in the city on track to exceed 1,000 for the second year in a row, Soth says that's not enough.
"These are drops in the bucket," he said. "And they're the right drop in the right bucket, but at some point, we have to look at bigger solutions if we're going to make an impact."
Paying for treatment
The most ambitious long-term solution considered by the city stems from Councilmember Sara Nelson's lived experience with addiction treatment.
Nelson's father had alcoholism and tried unsuccessfully to get sober when she was a child, but he was ultimately mandated to seek treatment as a condition of deferred prosecution for driving while impaired. He received inpatient treatment at Lakeside-Milam Recovery Center. Later, Nelson found herself struggling with alcohol use while being isolated during the COVID-19 pandemic and remembered her father noting that addiction "has to be interrupted" by intentional treatment.
"I thought, 'Well, it worked for my dad, I'm just going to do it,' " Nelson said of the night she decided to seek treatment at the same facility.
Nelson, who is in active recovery, noted that her treatment was effective because "when you build up 28 days and you get out, there is something about that clean slate that makes you want to get to 29."
For Nelson, who joined the council in 2022, access to treatment was simple: She was able to call up a private facility late at night and was accepted into care immediately, because she could afford it.
Nelson, who sponsored the initial drug enforcement bill rejected by the council in June, argued throughout the summer that allowing prosecutions could result in more people receiving treatment, garnering criticism from care providers and voters who questioned the city's ability to connect people who are arrested with appropriate services.
While noting that even inpatient treatment is not successful for everyone, Nelson's experience shaped her belief that the city should find ways to give more people access to similar care.
In her first budget cycle on the council last year, Nelson proposed an amendment that would have established a $2 million pilot program to fund private residential treatment, which can cost between $10,000 to $13,000 for a four-week stay, for people who cannot afford it.
"We would call up Lakeside-Milam and say, 'Hey, I've got somebody, do you have a bed?' And they would say, 'Yes, are you gonna pay $10,000?' And we'd say, 'Of course,' and then we bring them there and they would detox and get treated," Nelson explained.
Her amendment failed, but Myerberg said the Mayor's Office would not be averse to a similar proposal should Nelson make it during this year's budget cycle, which will begin after Harrell introduces his proposed budget Tuesday.
Even as the city bulks up its response to the most obvious public overdose and drug use calls, providers recognize a need for a better network of overall support for people in mental health and drug use crises.
"We acknowledge that we are not dealing with a single crisis," Ehrenfeld said, "but rather a set of overlapping needs including homelessness, mental health care, polysubstance use, a lack of housing and shelter options, and more."
---