Biden's message to striking auto workers: 'It's time for them to step up for us'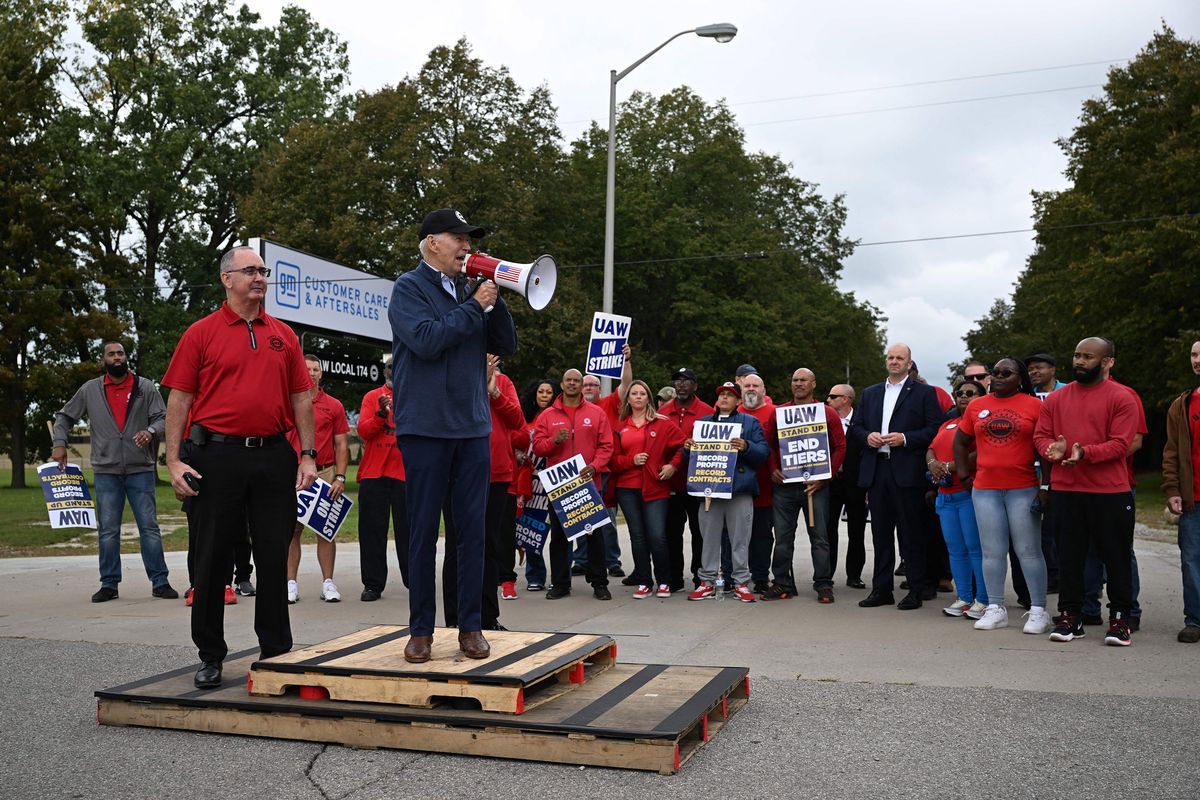 VAN BUREN TOWNSHIP, Mich. – President Joe Biden spoke to striking United Auto Workers members during a brief visit midday Tuesday to a picket line outside of a General Motors parts distribution center.
Biden's remarks to union members were brief on the 12th day of the Detroit-based union's first simultaneous strike against all three Detroit automakers.
The president spoke to striking workers at the General Motors Co.'s Willow Run Redistribution Center, one of 38 parts distribution facilities owned by GM and Stellantis NV that the UAW began striking on Friday as the union escalated the work stoppage in a push for higher wages, pensions for all workers and the elimination of a two-tier pay scale.
"You made a lot of sacrifice. You gave up a lot when the companies were in trouble. Now, they're doing incredibly well. And guess what? You should be doing incredibly well, too," Biden said to applause from the picketers. "You deserve a significant raise you need and other benefits. Let's get back what we lost, OK? … It's time for them to step up for us.
"Wall Street didn't build the country," the Democratic president later added. "The middle class built the country, and unions built the middle class.
"That's a fact. Let's keep it going."
Biden's visit mark the first time in at least a century that a sitting president has visited a labor union's picket line, according to the White House. UAW President Shawn Fain joined Biden at the picket line.
"The CEOs think the future belongs to them," Fain said. "Today belongs to the auto workers in the working class.
"Thank you, Mr. President, for coming. We know the president will do right by the working class."
After Fain spoke, Biden walked into the crowd to shake hands, bump fists and pose for selfie pictures with some of the workers in the crowd before his entourage departed and headed back to Detroit Metro Airport.
When a reporter asked if auto workers deserved a 40% pay raise, the workers standing around Biden shouted, "Yes!"
Biden responded, "Yes."
Biden's visit came one day before the man he defeated in 2020 is set to stump for auto worker votes in Michigan.
Former President Donald Trump also is set to make an address Wednesday at an auto supplier in Macomb County. The trips by the likely 2024 presidential nominees, according to experts, underscore the important role manufacturing workers play in elections and the economy and the significance of issues like worker wages, corporate profits and the move to electric vehicles.
Fain was at Detroit Metro Airport to greet the president, along with Lt. Gov. Garlin Gilchrist and U.S. Reps. Debbie Dingell, D-Ann Arbor, Shri Thanedar, D-Detroit, and Rashida Tlaib, D-Detroit.
Ahead of the president's arrival, Paul Dunford was on the picket line in Wayne representing the International Union of Bricklayers and Allied Craftworkers.
Michigan Assembly Plant in Wayne is the only Ford site on strike following substantial progress made with the Blue Oval last week on job security measures, the return of a cost-of-living adjustment and other compensation disparity issues. Conversations with Ford were "very active" over the weekend and on Monday, according to a UAW source, though there's still work to do on a number of items.
"I think that they're just trying to get a fair contract," he said of the UAW's contract fight. "Their fight for a fair contract is mainly to be able to afford the product they build."
Dunford said he tries to vote for candidates who are pro-labor, and is a supporter of Biden.
"I think he's the most pro-labor president in my lifetime," Dunford said. "We vote for labor-friendly politicians as much as possible. At this time right now especially, it seems to be that the Democrats are doing more for working families than the other party."
On Friday, the union escalated its action against GM and Stellantis. In addition to striking Stellantis' Jeep Wrangler and Gladiator plant in Toledo, Ohio, and GM's Wentzville midsize pickup truck and full-size commercial van plant outside St. Louis, the union had workers on Friday walk out of the companies' 38 parts distribution centers in 20 states. In total, approximately 18,300 workers are on strike at all three companies.
In its first week alone prior to the expansion, the strike was estimated to represent an economic loss of more than $1.6 billion from lost wages, production and other impacts concentrated in Michigan, Ohio, Missouri, Kansas, Indiana and Alabama from the walkouts and layoffs at suppliers and feeder plants, according to estimates from East Lansing-based consulting firm Anderson Economic Group LLC, which has done business for GM and Ford. The longer the strike goes, though, the farther the impact would be felt.
Fain extended an invitation to the president on Friday after being critical of White House involvement in the negotiations with the companies, emphasizing it's the union that is doing the bargaining. A UAW news release on Tuesday encouraged allies and supporters to join one of the union's active picket lines.
"Our message to anyone running for public office is that we're going to make endorsements with people that are there for us, and that's shown through your actions, not through words," Fain said Friday on a picket line in Center Line. "Our invitation to anyone today, including the White House, to come and join our workers on the picket line, that's an open invitation for anybody. That's where you see support."
He added: "We're going to bargain our agreement. This agreement is going to be bargained by the negotiators, by the vice presidents and by our our team."
In a Ford statement provided by spokesperson Jess Enoch, the Dearborn automaker conveyed a commitment to reaching an agreement with the union.
"Ford and the UAW are going to be the ones to solve this by finding creative solutions to tough issues together at the bargaining table," the statement said. "We have a shared interest in the long-term viability of the domestic auto industry, the industrial Midwest and good-paying manufacturing jobs in the U.S. That's what's at stake, so we are going to stay focused on reaching a deal that is fair to our employees and enables us to invest and grow."
In a GM statement sent by spokesperson Patrick Morrissey, the Detroit automaker said its "focus is not on politics but continues to be on bargaining in good faith with the UAW leadership to reach an agreement as quickly as possible that rewards our workforce and allows GM to succeed and thrive into the future" after presenting "five, record economic proposals" addressing wage increases and job security.
"We value our workforce," the statement said, "and understand the impact a strike has on our employees, communities and the economy – nobody wins."
Likewise, Stellantis in a statement provided by spokesperson Jodi Tinson said the company "presented a record offer" with a 21.4% compounded wage increase, $1 billion in retirement benefits and inflation protection and job security measures.
"Unlike the non-unionized transplants and EV startups who comprise the majority of the U.S. market, Stellantis relies on the collaboration between management and labor to ensure that our company remains competitive, and, therefore, sustainable," the statement read. "That is a position we have proudly embraced. But it also requires a balanced agreement that fairly rewards our workforce for their contribution to our success, without significantly disadvantaging Stellantis against our non-union competitors. We stand ready to sign a record contract that positions our company to continue providing good jobs here at home and be the winner as the U.S. transitions to an electrified future."
Rep. Debbie Dingell, D-Mich., hugs President Joe Biden as he arrives at Detroit Metropolitan Wayne County Airport to join striking United Auto Workers on the picket line, Tuesday, Sept. 26, 2023, in Romulus, Mich.
Trump will make an address at 8 p.m. Wednesday from Drake Enterprises Inc. in Clinton Township during the GOP's second presidential primary debate. Drake makes parts for heavy-truck, agriculture and automotive applications. Customers include GM, Ford and Stellantis, according to its website, though its workers aren't represented by the UAW.
Leaders of both political parties slammed the other for the Michigan visits this week. The Republican National Committee released a statement alleging that Americans are "struggling as a result of failed liberal policies."
"This is nothing more than a photo op, and shame on Biden for attempting to gaslight Michigan families who are footing the bill for his green energy campaign," RNC Chairwoman Ronna McDaniel said in a statement Tuesday.
Former Democratic Speaker of the House Nancy Pelosi said on a press call Monday that Trump "gave unions the con," failing to deliver to workers what he promised.
"When we're talking about who shows up where, it's a question of who put up and who got the job done for the workers," Pelosi said. "The former president showing up in Michigan is is almost a joke, except it's not funny in terms of what he promised and where he did not deliver."
————
---