Spokane School Board incumbent supports levy and bond; opponent is undecided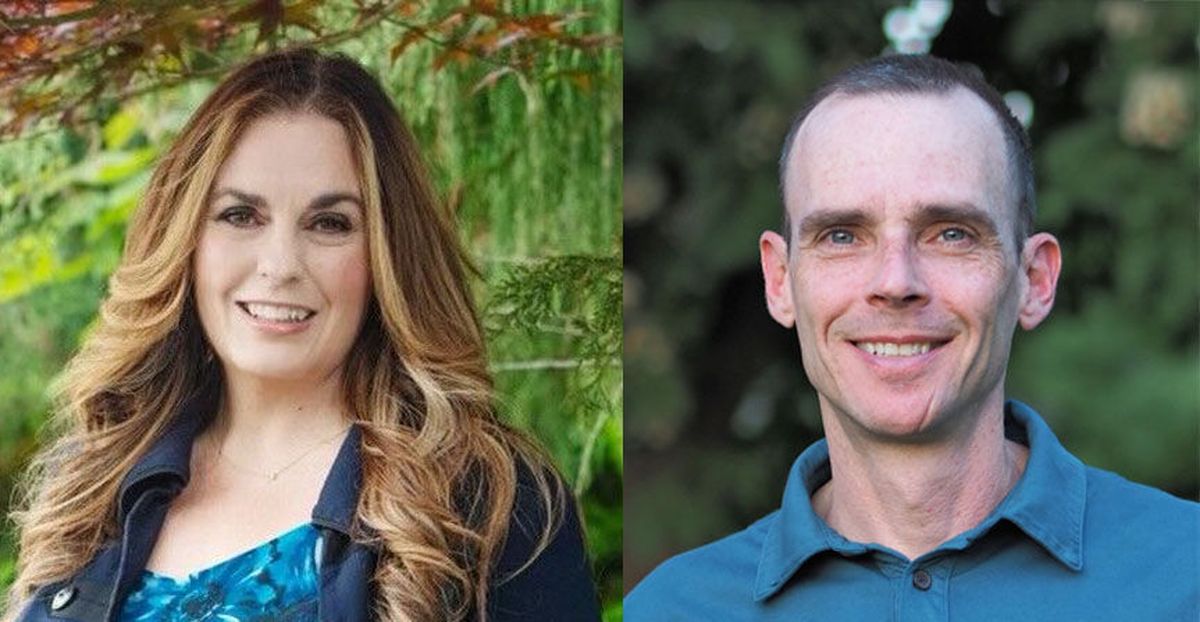 Since his appointment in 2017, Spokane School Board member Mike Wiser said he's pleased with his seven years marked by school boundary changes, building ONE Spokane Stadium and adjusting to the pandemic.
Should he be re-elected, he is eager to consider new ideas for the district such as implementing a calendar with a slightly shorter summer vacation in favor of more breaks embedded throughout the year. Wiser acknowledged there's no details or a current proposal. But he's in favor of exploring the idea.
Challenger Ericka Lalka, team leader at Keller Williams Spokane, has an eye on curbing district spending if elected to the board. She said state test results don't justify the cost from taxpayers, and she suspects she could make painless cuts in the budget, applying her experience managing large budgets in her day job.
Results from the spring indicate 47% of students in the district met standards in English; 35% in math; and 39% in science, according to the state Office of the Superintendent of Public Instruction.
Here's a look at where the candidates stand on some key issues in the November race.
District spending
The district is seeking a $200 million bond renewal, which voters can expect on ballots in February. As to what the bond will fund, the district solicited community input via a now-closed survey posted to its website offering voters two choices. Both would replace Adams and Madison elementary schools and upgrade other existing facilities.
One option directs funding toward the design of Balboa Elementary School, an addition to the Community School and updating part of North Central High School. The other option would fund the design and construction of a new gym and cafeteria at Balboa, add a new building to the Community School and design updates for part of North Central High School.
Neither candidate expressed a preference between the plans. Both supported the framework in soliciting taxpayer input. Wiser said he would back whichever plan had the community's support based on results from the survey.
Wiser supports renewing the bond, and said the $200 million price tag on this cycle offers taxpayers some relief compared to 2018's nearly $500 million bond that paid for three new middle schools, replacing three others and Joe Albi Stadium and other school improvements.
A separate levy renewal would continue to fund extracurricular activities, advanced classes, additional teachers, nurses, coaches – everything falling outside of basic education that the state funds. Wiser supports renewing the levy, saying extracurricular involvement improves students' mental health.
"Having an activity that's outside of usual core subjects is really critical for the success of students," Wiser said. "It helps them build relationships and confidence, and our levy is a big part of enabling that to happen."
Lalka did not have a concrete position on the levy and bond renewal, saying she doesn't know explicitly what the taxes would be spent on. She declined to voice her support or disapproval.
Though she hasn't perused the full budget, Lalka suspects there's overspending on nonessential items. She said she would be able to find and propose trimming the fat she thinks is in the spending plan. Though she doesn't have a vision on specific areas now, if elected, she said she'd ask stakeholders and ensure spending aligns with her vision for the district, which is to prepare students for their post-graduation lives.
"It's kind of like if someone wants to put a new roof on a house," Lalka said. "What's the intent of that; is it because you don't like the color of the roof or because it's leaking? I would want to understand the current intent of the budget."
School safety
Last week, school districts across the nation received a school shooting threat on social media. Though it was later deemed a hoax, the district deployed additional school safety specialists, and Spokane police had extra patrols around schools.
Lalka said the threat illustrated the necessity of armed school resource officers commissioned through the police department at schools in the event of a credible threat.
She's against the district's restorative justice policy adopted in 2020 that removed campus resource officers, commissioned though Spokane police, in favor of safety specialists. Reinstating police at schools would make them safer, she said.
Wiser disagrees. He said the district's geographic layout is such that police are within a couple of minutes to any Spokane school, removing the need for a designated officer at each. Wiser said the previous model was flawed, especially an allowance that permitted offers to arrest students.
"To a security specialist model, we have more and they don't dress like police, but they have radios and they patrol campus," Wiser said. "They focus more on building relationships with students and understanding where the troubled areas are; understanding not just those student safety issues but also fire safety and external threat issues, and I think that's a more holistic approach to school safety."
On speaking to reporters
The school board follows its own policy where only the president, currently Wiser, speaks on behalf of the school board to members of the media. The candidates sit on opposite ends of this policy.
Wiser supports the policy, saying it's important only one voice represents the school board, which is one body. All school board members voice their opinions during public meetings and with their vote on agenda items, so their perspectives don't go unheard, he argued.
Lalka, who wasn't aware of the policy before The Spokesman-Review asked about it in an interview, said she disagreed with it, though she would follow it if elected. She argued that every member of the board, each independently elected by voters, should have an equal opportunity to speak to reporters.
"That's the whole point, so that you can have a high clash of ideas, not a high clash of personalities," Lalka said. "That's the beauty of more than one person."
Lalka has the endorsement of the Spokane County Republican Party.
The district's teachers' union, the Spokane Education Association, endorsed Wiser. Association President Jeremy Shay said he's been happy with Wiser's term, specifically the board's handling of the construction of ONE Spokane Stadium and curriculum selection, as well as communications with teachers and district families. Wiser also has the endorsement of the statewide teacher's union, the Washington Education Association.
---