A Grip on Sports: It's time to say goodbye to another childhood hero and hope we can say hello to a Mariner winning streak A GRIP ON SPORTS • Before we get to the Mariners successful Tuesday night, we have to pause and remember one of our childhood heroes. The guy with the vacuum for a glove. The guy with cat-like feet and dart-throwing arm. The best defensive third baseman we ever saw. Brooks Robinson.
•••••••
• Anyone who played either baseball, softball or, pity them, rec-league basketball with us knows there is only one number we would wear. The number 5. And most know why. The greatest catcher we ever saw, Johnny Bench, wore 5. That's the truth. But only half of it.
Before Bench was Robinson, the Baltimore Orioles' third baseman who had a hand in the two worst World Series we suffered through as a youngster. And yet we still admired him. Maybe even worshiped him.
In Little League (and even a bit beyond), we played the infield. Shortstop, second base and our favorite, third base. No need to be fast playing third. Just quick. Like Robinson, the winner of 16 consecutive Gold Gloves.
We first became acutely aware of him in 1966, when the then-underdog Orioles swept the Dodgers out of the World Series and began a run of American League excellence. In that series, in which Los Angeles had about two hits, Robinson made every routine play and a handful of others that would only be considered routine for him.
We were smitten. Learned how to dive and scramble to our feet correctly by watching him on the game of the week. Tried to emulate how he prepared for the ball. Tried, in every way, to be like him. Started wearing No. 5 whenever we could get it.
But times change. The Orioles didn't return to the Series until 1969. And anyone who believes in miracles know what happened that year. The Mets happened. By then we had switched positions. Our speed – or lack of it – pushed us behind the plate. Where everyone wanted to be Bench. Us too, though our game was more like Thurmond Munson's, down to the dirt-encrusted uniform. Bench, though was the gold-standard. Our standard too. We still have his baseball card in our wallet.
In 1970, Robinson's Orioles took on Bench's Reds in a star-studded series. And Robinson turned out to be the biggest star. Not because he hit .429 in the series, hit two home runs and drove in six runs. Nope. But because of the plays he made with his glove.
By now most of you have probably been bombarded by video of his spectacular play on Lee May's screamer down the third base line. The long reach. The quick release. The falling-away throw across the diamond, bouncing on the artificial turf into Boog Powell's glove a second before May hit the bag. Perfection. Ground-breaking too, as his long hop to first wasn't much of a thing before then. It became one after and is now de rigueur for infielders. But that was just one of the magnificent plays he made, as the Orioles won the Series and he was the MVP.
Robinson died Tuesday at age 86. Every obituary about him speaks of his kindness, his demeanor, his humanity. So did everyone who spoke about him. We wouldn't know about that. We never met him. We believe it, though. It has to be true, if only to verify everything 10-year-old Vince Grippi believed.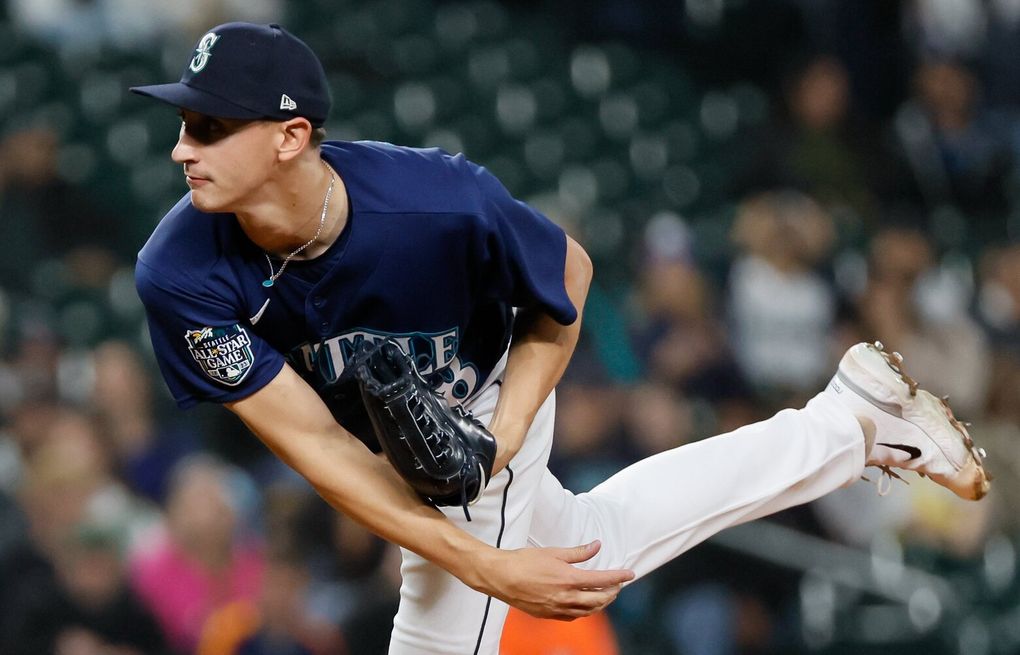 • OK, on to the Mariners. We acknowledged yesterday how disappointing Monday's loss was. But also pointed out the M's still had an opportunity. An opportunity to play deep into October. Just start winning. Don't stop. They began the process Tuesday night, as Furious George Kirby showed up and shut down the Astros in the 6-2 victory.
We didn't realize, however, if the Mariners won their next five games – including last night's – they were in the playoffs. They could even lose their final one and, no matter what the Astros did, the best Houston had in the scenario was a tie – with Seattle holding the tiebreaker.
One down. Tonight decides whether the final series with Texas begins with the M's up a half-game on the Astros or are playing from behind. And whether they control their fate.
•••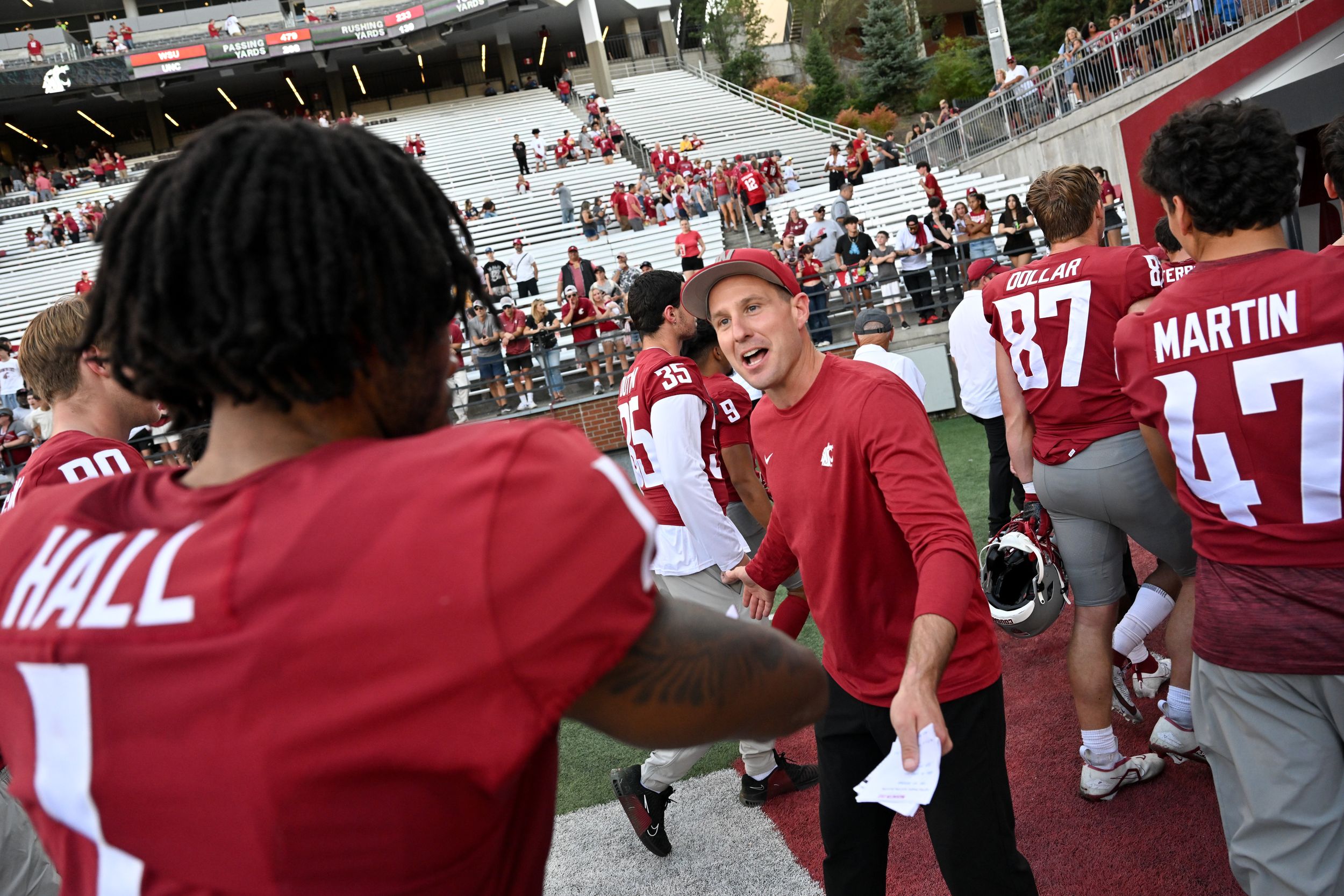 WSU: Jake Dickert was fired up after Saturday's win. He said some things he ended up, well, regretting. On Sunday, he talked with ESPN personality Lee Corso. Tuesday, Dickert got in front of the cameras and walked back what he said about the 88-year-old former football coach. Greg Woods was at the media availability and has this bye-week story. … We last saw Lincoln Victor on crutches Saturday evening. WSU's most prolific wide receiver will be on them for a while. Greg tells us he suffered a high ankle sprain and will need some time to heal. … A Sacramento-area high school running back said yesterday he's headed to Pullman next season. Greg has that story as well. … Elsewhere in the Pac-12 and the nation, Jon Wilner leads off with his Heisman watch for the conference. … Stewart Mandel wishes Dickert didn't have to deal with Wazzu's future after a big win, but that's reality. And The Athletic columnist echoes John Canzano in wondering why the Cougs' TV draw isn't enough to warrant a second look from the Big 12. … Art Thiel also has some related thoughts. … ESPN looked at WSU's and Oregon State's future yesterday. … By the way, Wilner has his bowl projections in the Mercury News. San Diego in December? Washington State fans probably want more. … Is Rome Odunze Washington's best player? The Huskies have a night game at Arizona on Saturday. … Oregon State hosts Utah on Friday night and will wear orange as its main color. The Beavers haven't done that in a while. As for the Utes, the biggest question, as it's been before each game this season, is whether Cam Rising will play. … OSU's president outlined the financial hit her school's athletic department will take in 2024. … Oregon has to put the Colorado win behind it, especially in the coaching ranks. The Ducks travel to woeful Stanford this week. … The Buffaloes are hosting USC in an early morning game, hoping to get back on track in another nationally televised – and hyped – contest. The Trojans would like to see their defense step up. … Arizona State played well last week. But the Sun Devils will start a different quarterback at California, going back to last season's starter. … In basketball news, Colorado has tried to build some depth over the past year. … There is an optimism about the season in Salt Lake City. … Arizona spends a lot of time reaching out to its faithful followers.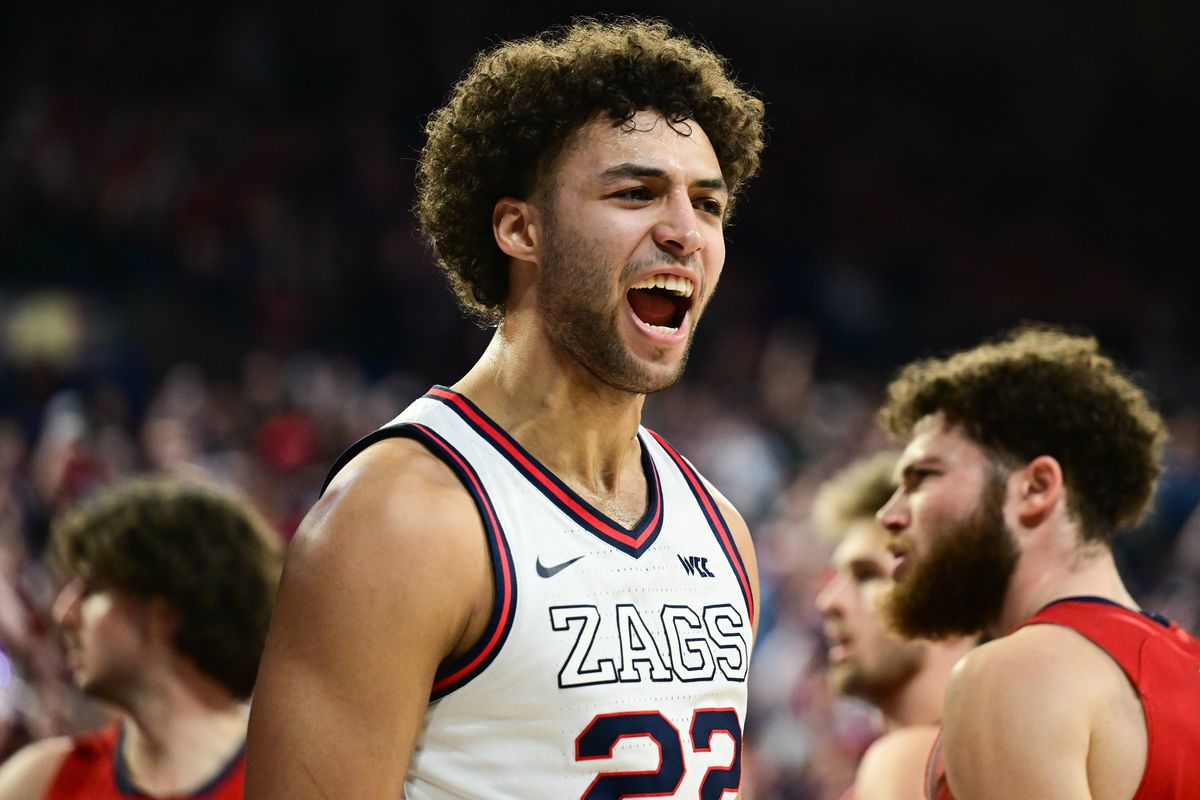 Gonzaga: We already knew the Zags would play USC in the upcoming nonconference season. Now we know all the particulars. Jim Meehan shares them and some history of the West Coast mini-rivalry in this story.
EWU and Idaho: Dan Thompson has his conference notebook this morning, leading off with Montana dealing with its – huge in our estimation – upset at Northern Arizona on Saturday. … Elsewhere in the Big Sky, Northern Colorado expects an old-fashioned, smash-mouth game with Weber State. … Cal Poly and UC Davis meet in a rivalry game Saturday. There is a trophy and everything.
Whitworth: The Pirates posted an undefeated nonconference mark, though it only included two road games. Now they come home to the Pine Bowl to start Northwest League action against Pacific Lutheran. Greg Lee has a look at the Whits and their opponent.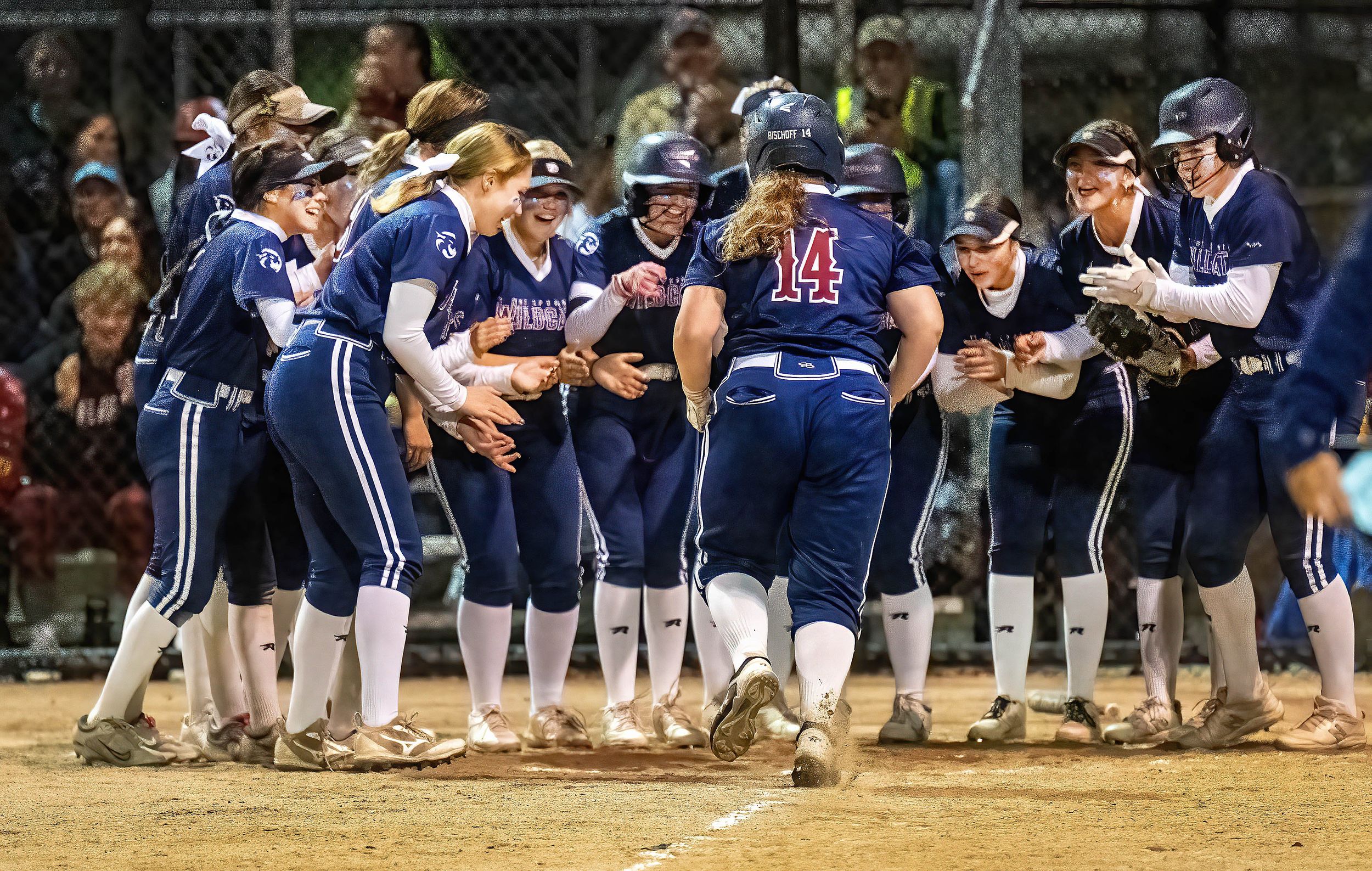 Preps: Slowpitch took centerstage last night at the Merkel Sports Complex as many GSL teams played their rivals on one special evening. Dave Nichols was there and has this story. … Dave also supplies a roundup of the rest of Tuesday's prep action.
Seahawks: The Hawks don't play until Monday at the Giants. Maybe by then NFL teams will learn that Devon Witherspoon is not to be messed with. … Poor Russell Wilson. He didn't know how good he had it. … Week three in 2013 was against the Jaguars.
Mariners: As we said, Kirby was really good. And the M's actually hit a couple breaking pitches hard.
Kraken: Just being drafted by an NHL team doesn't ensure success, as Seattle's training camp illustrates.
Sounders: Seattle unveiled a new logo and branding yesterday. At least we know what to buy some household members for Christmas.  
Storm: Former Seattle star Breanna Stewart won a close vote as the WNBA's MVP.
•••    
• Yes, we know Mike Schmidt was an excellent fielder. And, sure, there have been some great guys recently – including, at his peak, the M's Kyle Seager. And probably one or two fellows in the early days who got their fat pillow of a glove on a lot of balls. But Robinson is our guy. And will be forever. Sorry. Until later …
---