Hey kids, wanna help make Japanese chicken meatball skewers?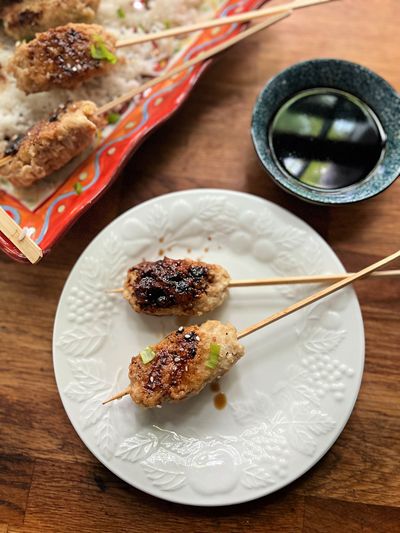 One way to get kids to try new things at mealtime while also teaching them about nutrition is to hand them a spoon (or bowl or knife, if they're old enough) and get them involved in making dinner.
Sons and daughters are more apt to eat things they've had a hand in preparing and, by teaching them to cook, even just a little, you're fostering life skills that will come in handy once they're off on their own at college or jobs or wherever life takes them.
Also, it's just fun to carve out a little one-on-one "us" time with your children.
Iron Chef and cookbook author Alex Guarnaschelli, alongside her teenage daughter, Ava, show exactly how fun and inspirational cooking together can be in their new cookbook, "Cook it Up."
In it, they share more than 70 recipes that define their modern family meals together. Ava tends to find inspiration on TikTok, while Alex draws on her classic French culinary training, decades of repetitive cooking in restaurants and cooking on TV.
"We just want kids and adults to cook together and share their ideas with one another," they write in the foreword. "Ava told me, 'I don't want kids to think they have to just cook kid food, Mom, OK?' "
This easy recipe for skewered chicken meatballs uses two cooking techniques: After being shaped into balls or cylinders, the seasoned meat is first simmered in water and then browned and glazed onto a hot grill with salty-sweet yakitori sauce.
I served them on top of steamed rice and doubled the sauce recipe so there was plenty for extra dunking. If using wooden skewers, be sure to soak them in water for 20 minutes prior to grilling so they don't burn.
Japanese Chicken Meatball Skewers
From "Cook it Up: Bold Moves for Family Foods" by Alex Guarnaschelli and Ava Clark (Clarkson Potter, $30)
1 pound ground chicken
1 cup panko breadcrumbs
1 small shallot, grated
2 teaspoons grated fresh ginger
1 tablespoon plus 1 1/2 teaspoons cornstarch
Kosher salt
1 large egg, lightly beaten
4 tablespoons soy sauce, divided
2 tablespoons rice vinegar, divided
3 tablespoons mirin rice wine
1 tablespoon sugar
2-3 tablespoons vegetable oil
Metal or wooden skewers, for grilling
Steamed rice, for serving
In a large bowl, combine chicken with breadcrumbs, shallot, ginger, cornstarch, a generous pinch of salt, the egg and 2 tablespoons of soy sauce. (I minced the ginger and shallot instead of microplaning it.) Use a rubber spatula to combine, then add 1 tablespoon vinegar.
Roll the mixture into 24 meatballs or 18 cigar-shaped cylinders.
Set a wire rack over a baking sheet. Fill a shallow 2-quart pot 3/4 full and bring to a simmer over medium heat. Season water with salt.
Rub a wooden spoon with oil to prevent the meatballs from sticking, and carefully drop 6-8 meatballs in water. Simmer until they are completely cooked through, 5-7 minutes. (You can test by removing one and cutting it in half.) Use a slotted spoon to remove to rack.
Return water to simmer and repeat with remaining meatballs.
While meatballs are cooling, make sauce. In a small saucepan, combine remaining 2 tablespoons soy sauce, mirin, remaining 1 tablespoon vinegar and sugar, and cook over medium heat until slightly thick, 2-3 minutes.
Preheat a grill or grill pan. While it's heating, thread 3 meatballs or 1 cylinder on the upper half of each skewer.
When grill starts to smoke, dip a kitchen towel in oil and use it to grease the grill grates. Arrange a few skewers side by side.
Cook for 5 minutes, until browned, grill marked and hot. Repeat with remaining skewers. Using a brush, glaze the meatballs with the sauce and serve warm.
Yield: 4 servings
---