Meet WSU commit Trae Davis, a speedy wideout who loves touchdowns — and wings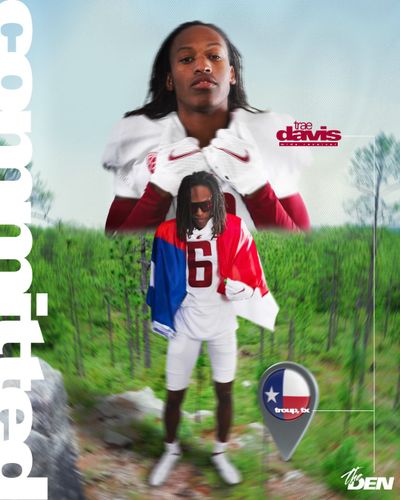 PULLMAN – Trae Davis had to finish his plate of wings. He had just ordered 10 from Gambino's, an Italian restaurant in Moscow, Idaho, where Washington State director of recruiting Stacey Ford had taken Davis during his official visit last weekend.
Davis, a three-star athlete from eastern Texas, had made a bet with Ford: He would finish all 10 wings or Ford would have to crank out 20 pushups – in the restaurant.
At the end of the meal, Davis joined the other restaurant patrons in gawking at Ford, who had to do his pushups. Davis had eaten all 10 wings, just like he promised he would, so Ford – "Coach Stace" to everyone around the Cougars' program – had to hold up his end of the deal.
"Oh yeah," said Davis, a class of 2024 prospect. "People were looking."
When he looks back at the weekend one day, Ford might feel proud of each of those 20 pushups. Four days after he did them, Davis committed to Washington State, announcing the news on Wednesday morning.
For Davis, winning the bet wasn't only about winning the bet. Much of the reason he turned down offers from schools such as San Diego State and Utah State , he said, came down to the Cougars' coaches.
"They were saying that my play style is a perfect fit for that offense," said Davis, who was at Gesa Field to watch WSU's win over Oregon State. "I got a lot of love from the coaches, even from the players and even from the fans. Yeah. And they said I've got a chance to start as a true freshman."
Davis, a 6-foot, 180-pound athlete, fashions himself a wide receiver but can play most anywhere. In four games this fall at Troup High, about 2 hours east of Dallas, Davis has 16 receptions for 535 yards (an average of 33.4 yards per reception) and nine touchdowns, including a 74-yarder on Sept. 15.
Davis, who becomes the 17th member of WSU's 2024 class, also starts at defensive back for the Tigers, who are 4-0 this season, including scores of 70-14 and 52-15. In the team's first win, Davis had three catches for 193 yards and three touchdowns; in the second, he caught four passes for 145 yards and two scores.
Using his speed, Davis has broken free for touchdown catches of 72, 50 and 75 yards – and added a 68-yard rushing score.
To run a 4.45-second 40-yard dash, Davis developed a routine with his dad, Charles. Starting when Trae entered the eighth grade, the two would head to a local field with a parachute, the kind athletes hook up to their waist to provide resistance as they sprint, building speed over time. He'd do six 40-yard dashes with the parachute, then four without it.
At age 13, Trae didn't know what to think about the parachute, but he learned to understand.
Davis said he wants to improve his route-running – "it's good, but it needs to be better."
It isn't just about the speed drills for Trae and Charles. They want to help Trae get faster, but they also want to grow closer, to build on a bond that's already strong .
"We can tell each other anything and everything," Trae said
.
"I like helping people," Davis said. "I talk to the people that other people don't talk to because I wanna make them feel like they are wanted. I'm the type of person to help anybody."
When he isn't helping people, Davis is either finding the end zone or places to eat. There are only about three good restaurants in Troup. Davis' favorite is La Hacienda, a Tex-Mex spot. His go-to order is chicken enchiladas with queso, side of fries.
La Hacienda's menu, though, doesn't include wings. If Ford finds himself in Troup, he might feel grateful for that.
---