Idaho Fish and Game hosting 'Bear Fair' on Saturday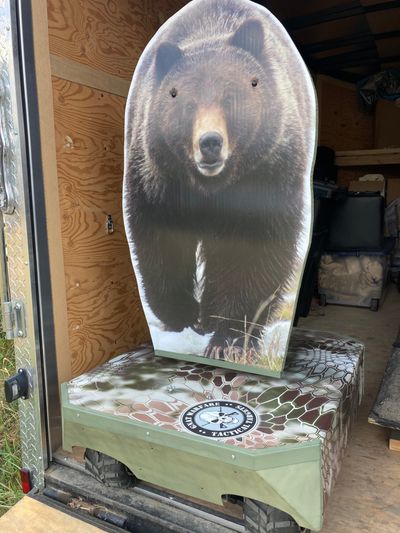 A remote-controlled grizzly and an industrial cider press are teaming up this weekend in an effort to teach people the basics of living with bears.
The Idaho Department of Fish and Game is holding its first annual "Bear Fair" on Saturday from 10 a.m. to 4 p.m. at the Boundary County Fairgrounds.
Attendees will have a chance to get training on how to use bear spray with inert canisters and the remote-controlled grizzly, which imitates a charging bear. They'll also have the chance to learn about protecting livestock and other animals from grizzlies with electric fencing.
The cider press will be available for people to make apple cider from apples that fall off their trees. The activity has a dual purpose – it makes use of the fruit, and it removes the fruit from people's property, where it can attract bears.
TJ Ross, a spokesman for Idaho Fish and Game, said the fair came together because the agency wanted to do more to educate people in North Idaho about living with bears, particularly grizzlies.
A portion of North Idaho is part of the Selkirk Mountains Grizzly Bear Recovery Zone, an area where officials monitor and try to conserve the bears, which have been listed as threatened under the Endangered Species Act since 1975. The Selkirk zone also covers parts of northeast Washington and British Columbia.
Grizzly populations in other places, like the Northern Continental Divide and Greater Yellowstone ecosystems, are much larger than the one in the Selkirks. Ross said there are roughly 90 to 100 grizzlies in the Idaho panhandle on any given day.
But people do run into conflicts with them. This past spring, a black bear hunter mistakenly shot a grizzly bear.
In September 2022, federal officials killed an adult male grizzly in Boundary County after it killed livestock.
Ross said Fish and Game is trying to do more to help people learn how to live with them. They've hired more staff to focus on grizzly bears and helping the public learn about them, and they're putting on events like the bear fair.
The state agency partnered with the Kootenai Tribe of Idaho, the U.S. Forest Service, the Idaho Governor's Office of Species Conservation, the Kootenai Valley Resource Initiative, the Farmer's Bureau and the Idaho Conservation League on the fair.
Ross said Fish and Game plans to make it an annual event.
"It's an opportunity for folks to come out and learn what they can do," Ross said.
---