The Iceman hits who hits from long distance on the Zags court can't lead a lukewarm life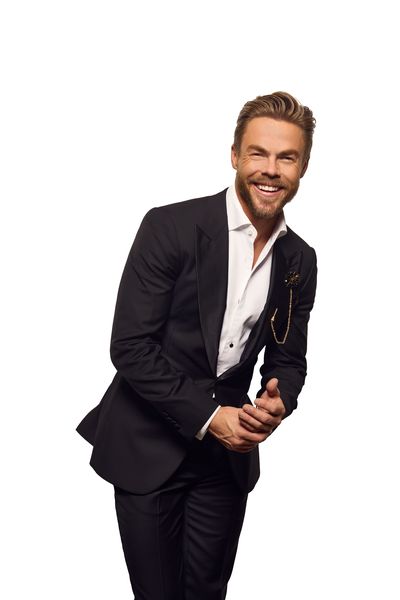 Derek Hough has everything but time. The dancer, who became a household name courtesy of his "Dancing With the Stars" performances, has an unparalleled career, a beautiful wife and is embarking on a glitzy tour that stops Thursday at the First Interstate Center for the Arts
But time is a precious commodity. While flying from Italy, where he honeymooned with his better half, Hayley Erbert, earlier in the month, Hough landed in New York two hours before setting foot in ABC's "Good Morning America" studio.
"It was a whirlwind," Hough said while calling from Los Angeles. "I had to get to 'GMA' for the cast announcement. I didn't get much sleep."
But Hough is addicted to the work and the deadlines. Relaxing off the coast of the Mediterranean was an adjustment. "It's the truth," Hough said. "My wife and I enjoyed Italy. We swam in the ocean and ate some great food. But it was time to come home and burn off those calories. Toward the end of it (the trip), I started to gear up and get ready for this hurricane of work and creativity."
Hough is referring to his "Symphony of Dance" tour. It's the first such jaunt for Hough in four years. It's a new show choreographed by the acclaimed team of Napoleon and Tabitha Dumo, known as Nappy Tabs. The tandem choreographed Michael Jackson's "Immortal World Tour" and Jennifer Lopez' "All I Have" residency in Las Vegas.
"It's a great combination of music and dance and it's a visual spectacle," Hough said. "It's a full on Broadway-style show that is designed for maximum impact."
Hough will be flanked by dynamic dancers who will deliver styles ranging from ballroom and tap to salsa and hip-hop with music performed by a live band.
"Forget about me performing," Hough said. "The dancers that are on this tour are just incredible."
While chatting with Hough, a saxophonist interrupted the conversation courtesy of a solo. "He just got a nice ovation so it must be going well," Hough said. "I'm going to do my best to build off of the past tours."
Hough always looks forward to returning to Spokane since he can visit Coeur d'Alene.
Every summer of his childhood, the Hough family, which also includes Hough's sister, dancer Julianne, would trek from their Utah home to their grandparents' Coeur d'Alene house.
"The fondest memories of my life, as a child and as an adult, were at my grandparents house in Coeur d'Alene, where they lived for 65 years," Hough said. "It's our home away from home. It's a special float house that's over 100 years old. I have so many videos of me jumping into the lake. There is no place like it. All of these memories rush back when I return."
Hough stopped by for a visit in April when he and his father, Bruce, taught a master class in dance at Gonzaga.
"It was great being back on that beautiful campus with my dad," Hough said. "It was so much fun sharing the stage with my dad and working with the kids at the school, who were so engaged. There was great energy."
The highlight for the uber basketball fan, who is a Utah Jazz diehard, was draining a three pointer on the Gonzaga court.
"Dude, I posted making the shot," Hough said. "I told everyone around me that if I make the shot, you have to come to the show at the First Interstate. I nailed it. I have evidence."
After Hough hit from beyond the arc, he trekked to the First Interstate Center. "I went in and out and it's just a gorgeous venue," Hough said.
Hough then squeezed in a visit to Coeur d'Alene. "I visited my Grandma and hung out with my dad in one of my favorite places in the world," Hough said. "There is no place like Coeur d'Alene. My dad and I got a Huddy's hamburger (at Hudson's Hamburgers), which is the best burger in the world. I jumped in the lake, which was freezing but the water is just so healing that it's magical."
Hough was at the lake for a mere hour. "I wish I had more time but it was worth it since I was recharged by the experience. I love ice water baths. More people should try it. The problem for so many people today is that they lead lukewarm lives. It's not a bad idea to jump in the ice cold water and do as much as you can. You'll surprise yourself."
The schedule Hough keeps is so demanding that he often eats dinner while in an ice bath after having physiotherapy. "I have so much to accomplish," Hough said. "But I would rather be busy than sitting idle. The only way to achieve my goals is to work hard. I have no problem with that."
Hough's schedule is loaded since he has elected to tour and serve as a judge for "Dancing with the Stars."
"I'm a glutton for punishment since I scheduled this tour at the same time as 'Dancing With the Stars'," Hough said. "I did 17 seasons as a pro on the show and I'm going to enjoy being in the judge seat. I want to help the dancers get better. I look at their level and encourage them to get to another level each week. I hope to point them in the right direction so they can experience their personal best. I'm all about dance whether it's on my tour or on 'Dancing With the Stars.' Dancing is my life and I want to share that with people."
---