Things to watch: For EWU, beating Idaho could boil down to battle of big plays, containing UI run game, and QB Kekoa Visperas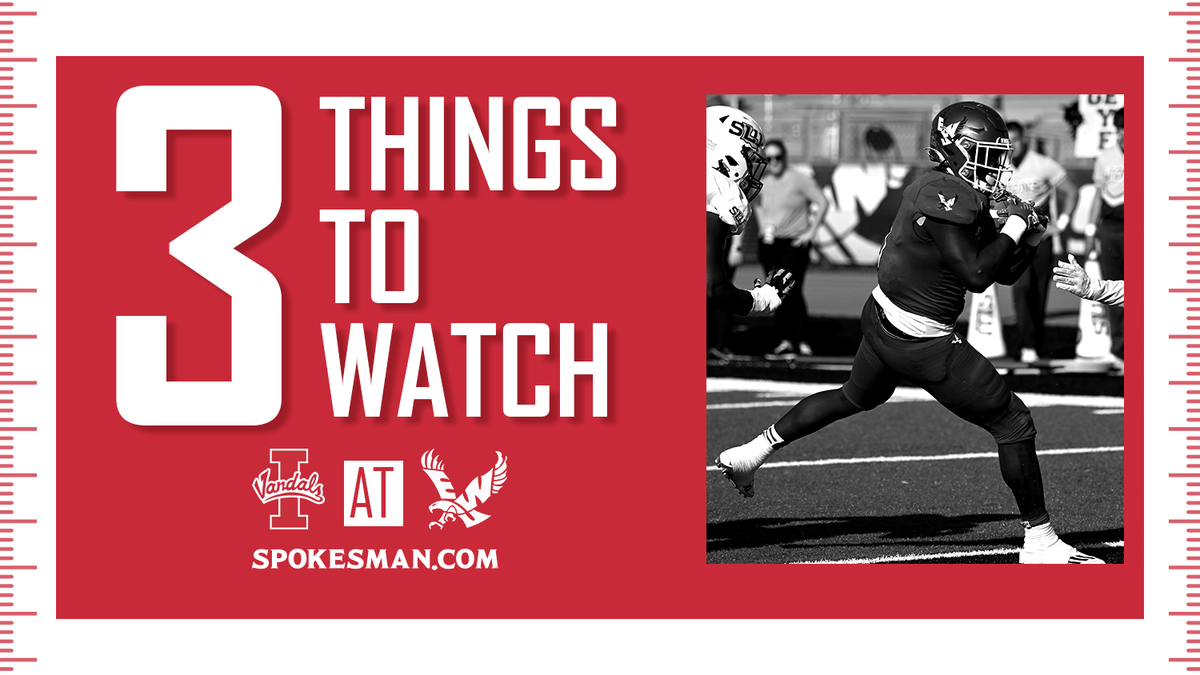 Anthony Stell Jr. made it clear this week that the Eastern Washington football team isn't satisfied with just two wins – and not just for the sake of the players and coaches.
"The more we win, the more the school wins, the more the community wins, and that's big for us, getting the (win) this week," Stell, a senior receiver, said Tuesday during team media availability. "Really, (this is about) just showing the world what we're capable of – beating a top-five team – and that we're back from that 3-8 record last year."
The top-five team he's referring to is No. 4 Idaho (3-1, 1-0 Big Sky), which will be in Cheney for Saturday's 1 p.m. kickoff in a key late September Big Sky game.
The Eagles (2-2, 1-0) are also ranked, standing 19th in the FCS Stats Perform Top 25 after beating a ranked UC Davis team on the road last week.
While both rosters had turnover from last year, the result in 2022 in Moscow when last these teams met looms over this matchup. In that game, Idaho ran 81 plays and gained 531 yards against the Eagles in a 48-16 victory.
But that's just the most recent result, Stell pointed out.
"I mean, we've left them with a bad taste in their mouth before, too," he said, referring to Eastern's 71-21 victory over the Vandals the last time they met in Cheney in 2021.
Regardless of those previous outcomes, the winner Saturday will emerge with a strong playoff resume as the regular season nears its midpoint.
Here are three aspects of Saturday afternoon's game to watch for:
Who will have the explosive plays? The Cal Bears are the only team this year to beat the Vandals. While Idaho still got its yards through the air (279), it didn't gain those yards in big chunks: The Vandals' longest passing play went for 24 yards. Idaho also didn't have a rushing play gain more than 19 yards against the Bears.
The Eagles have given up 18 plays of 20 yards or more this season, but half came in their season-opening 35-10 loss to North Dakota State. Since then, the Eagles have for the most part avoided such defensive blunders. In their back-to-back victories, the Eagles have allowed five big gains. Meanwhile, their offense has 17 plays that gained 20 or more yards. Big plays make for short fields, and neither team wants to give up heaps of yards on a single play to adept offenses.
Can the Eagles control Idaho's running game? As improved as Eastern's defense has been this year – the Eagles are allowing 103 fewer yards per game than in 2022 – it has still given up the third-most yards in the Big Sky.
The Eagles have been particularly susceptible against the run. North Dakota State had 337 rushing yards against the Eagles, Fresno State followed with 132, Southeastern Louisiana had 152 and UC Davis had 272 last week.
Idaho running back Anthony Woods has 382 rushing yards this season, second most in the Big Sky, and his 5.8 yards per carry line up with the 6.2 the Eagles have allowed per carry. The two teams Eastern has held relatively in check aren't teams that rely heavily on the run anyway; Idaho's offense has been much more balanced.
Does Kekoa Visperas throw for more than 300 yards? This threshold – one the redshirt sophomore has passed once this year – seems like a fair measuring stick for a successful day for the Eagles' offense. Idaho's defense, which has allowed fewer yards than any in the Big Sky, has been particularly stingy against the pass, allowing 154.3 yards per game. The most any team has thrown for against the Vandals this year is the 236 yards Sacramento State gained last week in Moscow. At the same time, teams haven't really tried: Nevada attempted 38 passes in a game when it trailed the Vandals from start to finish (33-6).
None of Idaho's other three opponents threw more than 29 times. Visperas has thrown at least 31 passes in each game. For as much as the Eagles have been balanced, they are still a pass-first offense with a litany of talented receivers such as Efton Chism III, Nolan Ulm, Jakobie James, Tre Mason and Anthony Stell Jr.
---