Things to watch: Idaho-EWU could come down to innovation, Hayden Hatten's impact and Inferno wind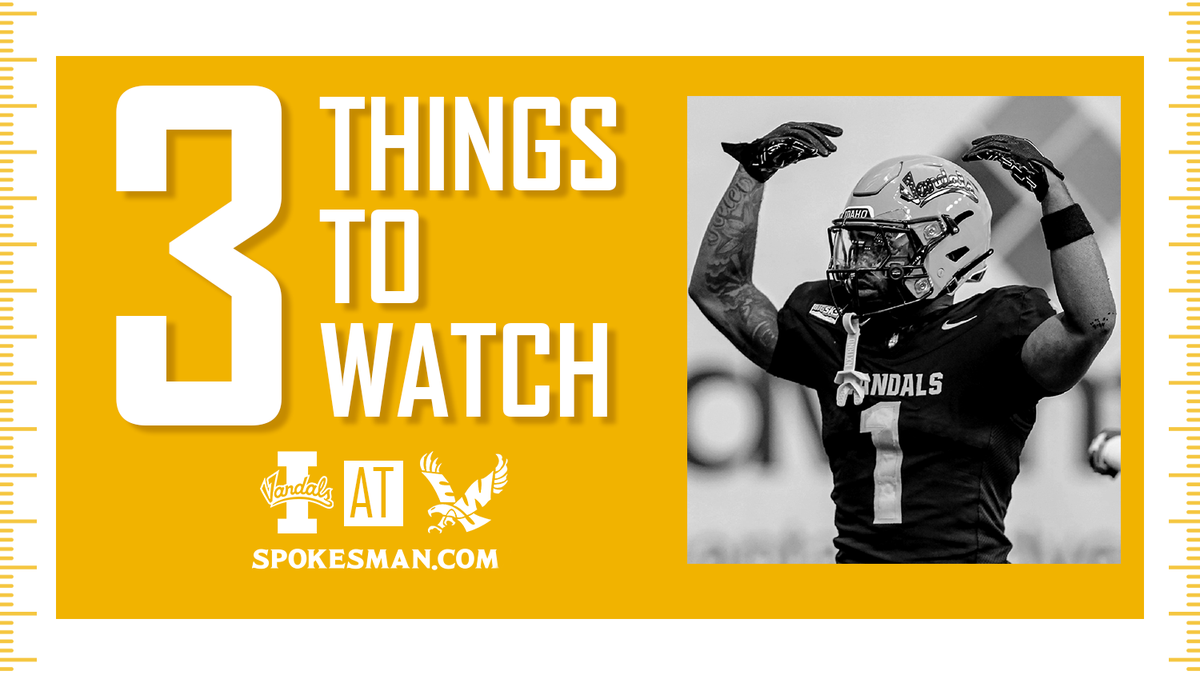 MOSCOW, Idaho – When Idaho and Eastern Washington played last year, Vandals coach Jason Eck dug out of deep storage an impressive-looking trophy first awarded in 1984 to the winner of the regional game, the Governors Trophy.
It was awarded annually to the victor for more than a decade, but faded into history when Idaho left the Big Sky Conference for a 21-year venture in Football Bowl Subdivision before returning to the BSC and FCS in 2018.
When Eck found it, he rechristened the trophy the "Che-Scow Cup" with black ink on a strip of white athletic tape affixed to the trophy base. The Vandals remain in possession of it following their 48-16 win in Moscow last season.
It is this kind of agile thinking that characterizes the first of three things to watch when Idaho and EWU renew their series in Cheney on Saturday.
Scheme matters: As designated conference rivals scheduled to compete every year, and both within the shadow of Spokane, the Vandals and Eagles are intimately familiar. The transfer portal strengthens the tie. Four former Idaho players – junior linebacker Derek Tommasini, redshirt freshman long snapper Tyson Jacobson, senior offensive lineman Seth Carnahan and redshirt junior offensive lineman Kevin Eldredge – are playing at EWU. Both teams are on the rise. The Vandals (3-1) are ranked fourth in the Stats Perform Top 25, and the Eagles (2-2) are 19th. Both are coming off impressive wins over ranked opponents: EWU edged UC Davis 27-24 and Idaho topped Sacramento State 36-27. In a battle of balanced, familiar competitors, this could come down to coaching. Look for innovation, surprise, and a timely gamble or two to figure significantly in the outcome.
Will Hayden Hatten have another breakout game? Idaho's All-America redshirt junior receiver caught 83 passes for 1,209 yards with 16 touchdowns last year. Through four games this year, Hatten has 27 receptions for 328 yards and a pair of touchdowns. He is a major focus of every defense the Vandals face. Against the Eagles last year, Hatten broke free and caught 10 passes for 146 yards and four touchdowns. If he goes off against EWU again, the Che-Scow Cup may be on the bus with him back to Moscow.
Wins vs. winds: The weather is expected to be favorable, with temperatures in the mid-50s and winds no stronger than 10 miles per hour. But Vandals long snapper Hogan Hatten said the way EWU's fiery Inferno turf lies in the hills will funnel wind across it. Wind is always a factor in games there, regardless of the weather forecast. Eagles kicker Soren McKee, who booted field goals of 26 and 39 yards in EWU's lone home game this season, against Southeastern Louisiana, knows how to kick in those conditions. The breeze does not blow in Idaho's Kibbie Dome. But if Idaho and EWU rise to the challenge of making this a true rivalry game, closely matched to the end, Vandals two-time Big Sky Special Teams Player of the Week Ricardo Chavez may have to show he can also perform in windy conditions.
---