Topics
Aryan Nations
Aryan Nations
Summary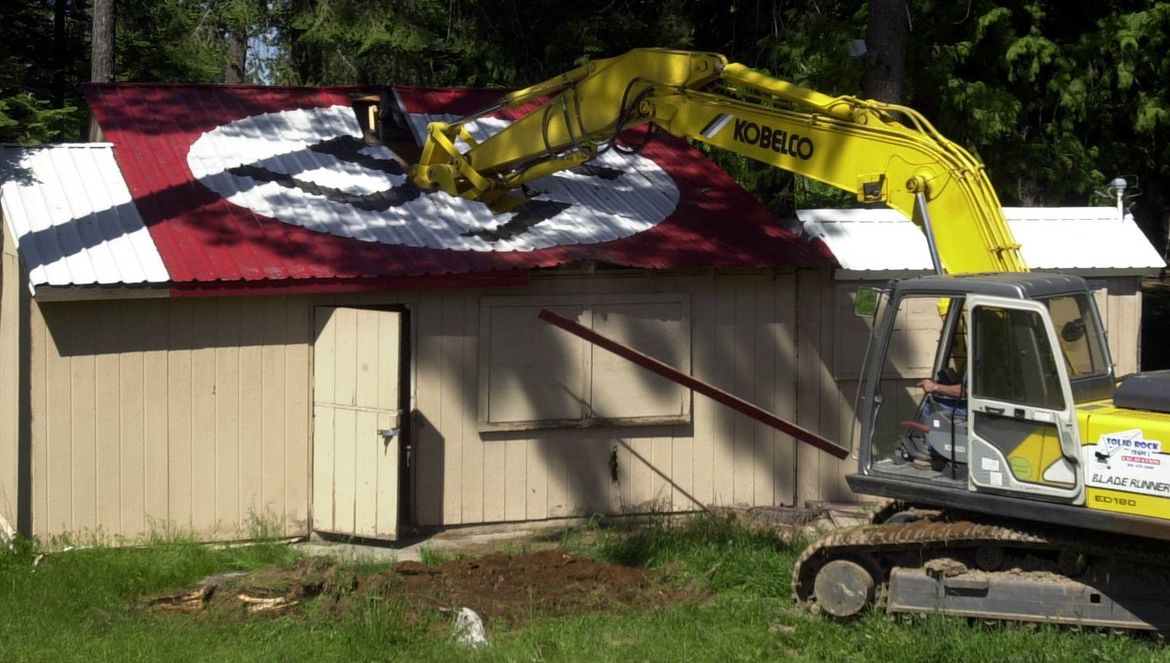 The arrival of white supremacist Richard Butler in the 1970s opened a dark chapter of North Idaho history. Amid the intimidation and overt racism his Aryan Nations exercised, Coeur d'Alene human rights leaders founded a task force that became a model for community response to racism. It's a model that remains relevant as signs of hate creep back into the region today.
Four years after moving to rural Kootenai County from California in 1973, Butler, a former aeronautical engineer, started a compound on Rimrock Road. The 20-acre site north of Hayden Lake would become a racist encampment perhaps like no other in the nation.
Butler used savings to build the Church of Jesus Christ Christian at the compound. An adjoining shop printed racist and anti-Semitic pamphlets, books and fliers. The group held parades in downtown Coeur d'Alene and annual summits at the compound. By the 1990s, the Aryan Nations had one of the first hate Web sites.
Butler faced rivalry from other racists, and his compound was bombed in 1981. That same year, anti-Semitic grafitti targeting a Jewish restaurant owner attracted the attention of human rights activists, and the Kootenai County Task Force on Human Relations was born. Founders Tony Stewart, Norm Gissel and Marshall Mend became community voices against hate.
The Aryan Nations compound and its contents were burned and bulldozed into a peace park after a lawsuit brought by the Southern Poverty Law Center bankrupted the group in 2000. Butler died four years later.
On Sept. 7, 2010, community leaders marked the 10-year anniversary of the verdict that bankrupted the Aryan Nations. Nonetheless, hate crimes, racist vandalism, racist fliers and a power struggle between men claiming to lead a rejuvenated Aryan Nations recently have cropped in the region, affirming that the fight against hate is not finished.
On Jan. 22, 2011, a leader of the Aryan Nations issued a statement denying involvement with a bomb left at Spokane's Martin Luther King Jr. Unity March. Morris Gullett, a longtime racist identified by the Southern Poverty Law Center as the leader of the Aryan Nations, said, "We absolutely do not condone this type of activity, but emphatically do condemn the use of force and terror such as the sort that is being implied was committed by white supremacists, neo-Nazis and the Aryan Nations, in Spokane."
Summary written by Andrew Zahler.
Key people
Richard Butler

Richard Butler founded the Aryan Nations north of Hayden Lake in the 1970s. He moved to Kootenai County from California, where he'd worked as an aeronautical engineer.

Morris Dees

Morris Dees is the co-founder and chief trial counsel with the Southern Poverty Law Center in Alabama. He led the civil lawsuit trial that delivered a $6.3 million verdict against the Aryan Nations, Richard Butler and three of his followers in 2000.

Norm Gissel

Norm Gissel is a Coeur d'Alene lawyer who spearheaded the landmark civil lawsuit that bankrupted the Aryan Nations and its late leader, Richard Butler, in 2000. He worked closely during the trial with Morris Dees, of the Southern Poverty Law Center in Alabama.

Marshall Mend

Marshall Mend is a founding member of the Kootenai County Task Force on Human Relations. In 2009, he struck a deal with the New York City-based Raoul Wallenberg Committee of the United States to market and sell its character education program. Part of the proceeds benefit human rights organizations, including the Coeur d'Alene-based Human Rights Education Institute.

Tony Stewart

Tony Stewart is a retired political science professor and founding member of the Kootenai County Task Force on Human Relations. He taught at North Idaho College, hosted the public television show "The NIC Public Forum" and organized an annual lecture series featuring top-tier speakers. Stewart remains an influential voice on human rights, recently meeting with concerned residents in John Day, Ore., where the Aryan Nations appears interested in moving.
Latest updates in this topic
---

Idaho resurfaces for a new generation as a Western refuge of the radical right

Editor's note:This story is the second in a two-part series on white nationalism and extremism in Idaho. Some photos of messages in the timeline contain offensive and derogatory language. Extremists …

---

A white nationalist moved to Idaho in search of an 'ethnic enclave.' He's not alone.

Kyle Chapman swore he was a changed man. Chapman, a Boise resident, was addressing a judge while being arraigned in January on a felony charge after allegedly assaulting a Saint …

---

For years, she never told anyone her husband was an Aryan Nations leader. Now, her posthumous book explains why she stayed

In "Torn: Married to a White Supremacist," Chris Eddy writes about how her husband moved their family from California to North Idaho and eventually became the spokesperson for Richard Butler's …

---

Police: Patriot Front had detailed plans to antagonize Pride in the Park event in Coeur d'Alene

Court documents allege white nationalist group Patriot Front had tactical plans to disrupt a Pride in the Park event in Coeur d'Alene, force a confrontation, then regroup and leave.

---

---

Hate's legacy: Neo-Nazi group adopts language, iconography of the past in North Idaho, prompting human rights response

A group calling themselves the Aryan Freedom Network has pledged to hold a gathering on Saturday in Hayden, the former headquarters of Butler's Aryan Nations movement that spawned terrorist attacks, …

---

Holocaust survivor faces Spokane Nazi at sentencing: 'What can I do to convince this man the Holocaust happened?'

A Holocaust survivor rose from her seat Friday morning moments before a self-proclaimed Nazi would get seven months behind bars for defacing the Temple Beth Shalom Synagogue in Spokane with …

---

Court documents: Nazi says he vandalized synagogue in hopes of recruiting more racist extremists

A suspected vandal and self-identifying Nazi admitted to defacing a synagogue and Holocaust Memorial in Spokane this month because Nazi recruitment has been down and he needed the publicity, according …

---

Spokane bomber resentenced to over 58 years in prison after some charges vacated

One of the men who bombed the Spokane Valley offices of Planned Parenthood and The Spokesman-Review in 1996 was sentenced Tuesday to more than 58 years in prison.

---

---

---

---

---

---

---

---

---

Leonard Pitts Jr.: 'Dying of whiteness'

It's called "Dying of Whiteness" and it is a deep dive into a provocative thesis: that white conservative voters, driven by fear of, and antipathy toward "others," support policies against …

---

---

---

---

How to respond to racist robocalls from North Idaho: Accordion-playing clowns, says Virginia man

Justin Beights has sought a permit to stage a whimsical, extremely annoying demonstration outside the Sandpoint-area home rented by Scott D. Rhodes – a man who appears to be responsible …

---

---

---

Paul Lindholdt: Free speech has no room for espousing hatred

Does diversity in its broadest sense include white supremacists? On the campus of Eastern Washington University in February this year, racist flyers appeared. A white supremacist group took credit. The …

---

---

---

---

---

---

---

Goodman: Tear down white supremacy symbols

Two of Stonewall Jackson's great-great-grandsons sent a letter to Richmond Mayor Levar Stoney and that city's Monument Avenue Commission, encouraging the removal of their famous forebear's statue.