Topics
Aryan Nations
Aryan Nations
Summary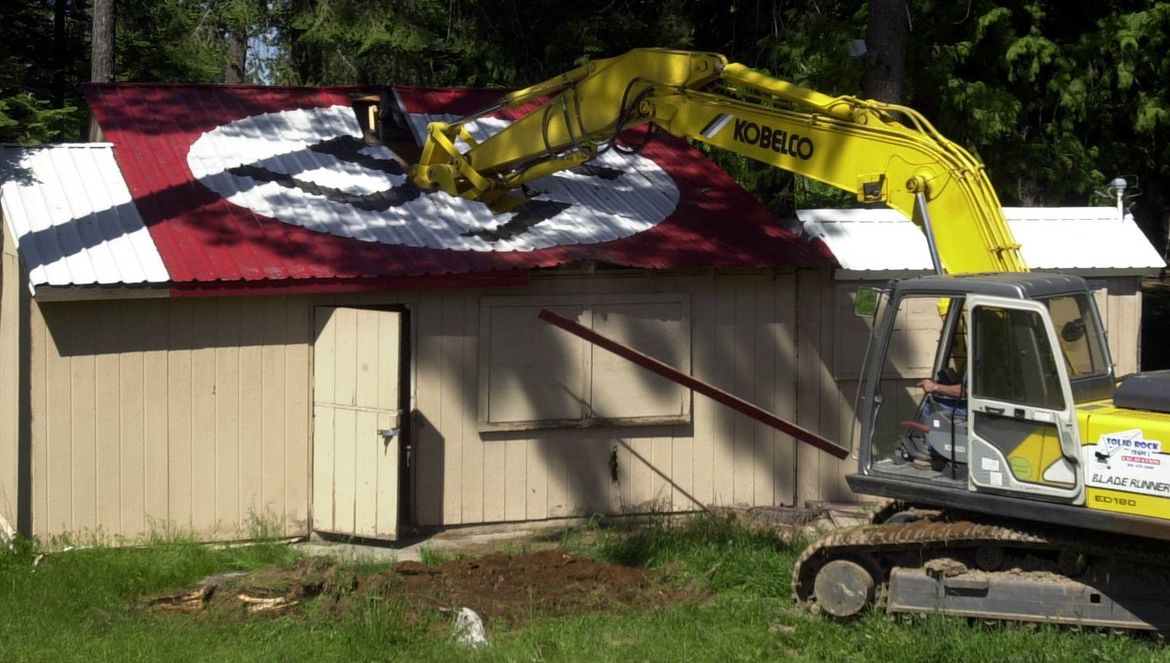 The arrival of white supremacist Richard Butler in the 1970s opened a dark chapter of North Idaho history. Amid the intimidation and overt racism his Aryan Nations exercised, Coeur d'Alene human rights leaders founded a task force that became a model for community response to racism. It's a model that remains relevant as signs of hate creep back into the region today.
Four years after moving to rural Kootenai County from California in 1973, Butler, a former aeronautical engineer, started a compound on Rimrock Road. The 20-acre site north of Hayden Lake would become a racist encampment perhaps like no other in the nation.
Butler used savings to build the Church of Jesus Christ Christian at the compound. An adjoining shop printed racist and anti-Semitic pamphlets, books and fliers. The group held parades in downtown Coeur d'Alene and annual summits at the compound. By the 1990s, the Aryan Nations had one of the first hate Web sites.
Butler faced rivalry from other racists, and his compound was bombed in 1981. That same year, anti-Semitic grafitti targeting a Jewish restaurant owner attracted the attention of human rights activists, and the Kootenai County Task Force on Human Relations was born. Founders Tony Stewart, Norm Gissel and Marshall Mend became community voices against hate.
The Aryan Nations compound and its contents were burned and bulldozed into a peace park after a lawsuit brought by the Southern Poverty Law Center bankrupted the group in 2000. Butler died four years later.
On Sept. 7, 2010, community leaders marked the 10-year anniversary of the verdict that bankrupted the Aryan Nations. Nonetheless, hate crimes, racist vandalism, racist fliers and a power struggle between men claiming to lead a rejuvenated Aryan Nations recently have cropped in the region, affirming that the fight against hate is not finished.
On Jan. 22, 2011, a leader of the Aryan Nations issued a statement denying involvement with a bomb left at Spokane's Martin Luther King Jr. Unity March. Morris Gullett, a longtime racist identified by the Southern Poverty Law Center as the leader of the Aryan Nations, said, "We absolutely do not condone this type of activity, but emphatically do condemn the use of force and terror such as the sort that is being implied was committed by white supremacists, neo-Nazis and the Aryan Nations, in Spokane."
Summary written by Andrew Zahler.
Key people
Richard Butler

Richard Butler founded the Aryan Nations north of Hayden Lake in the 1970s. He moved to Kootenai County from California, where he'd worked as an aeronautical engineer.

Morris Dees

Morris Dees is the co-founder and chief trial counsel with the Southern Poverty Law Center in Alabama. He led the civil lawsuit trial that delivered a $6.3 million verdict against the Aryan Nations, Richard Butler and three of his followers in 2000.

Norm Gissel

Norm Gissel is a Coeur d'Alene lawyer who spearheaded the landmark civil lawsuit that bankrupted the Aryan Nations and its late leader, Richard Butler, in 2000. He worked closely during the trial with Morris Dees, of the Southern Poverty Law Center in Alabama.

Marshall Mend

Marshall Mend is a founding member of the Kootenai County Task Force on Human Relations. In 2009, he struck a deal with the New York City-based Raoul Wallenberg Committee of the United States to market and sell its character education program. Part of the proceeds benefit human rights organizations, including the Coeur d'Alene-based Human Rights Education Institute.

Tony Stewart

Tony Stewart is a retired political science professor and founding member of the Kootenai County Task Force on Human Relations. He taught at North Idaho College, hosted the public television show "The NIC Public Forum" and organized an annual lecture series featuring top-tier speakers. Stewart remains an influential voice on human rights, recently meeting with concerned residents in John Day, Ore., where the Aryan Nations appears interested in moving.
Latest updates in this topic
---

Lawyer recounts legal rout of Aryan Nations

The Coeur d'Alene attorney who spearheaded the landmark civil lawsuit that bankrupted the Aryan Nations and its late leader, Richard Butler, in 2000 said Friday that the trial would not …

---

Tensions linger

The Aryan Nations no longer is the top concern of a leading human rights activist in North Idaho. Instead, Tony Stewart, co-founder of the Kootenai County Task Force on Human …