2014 GM pickups are 'real trucks'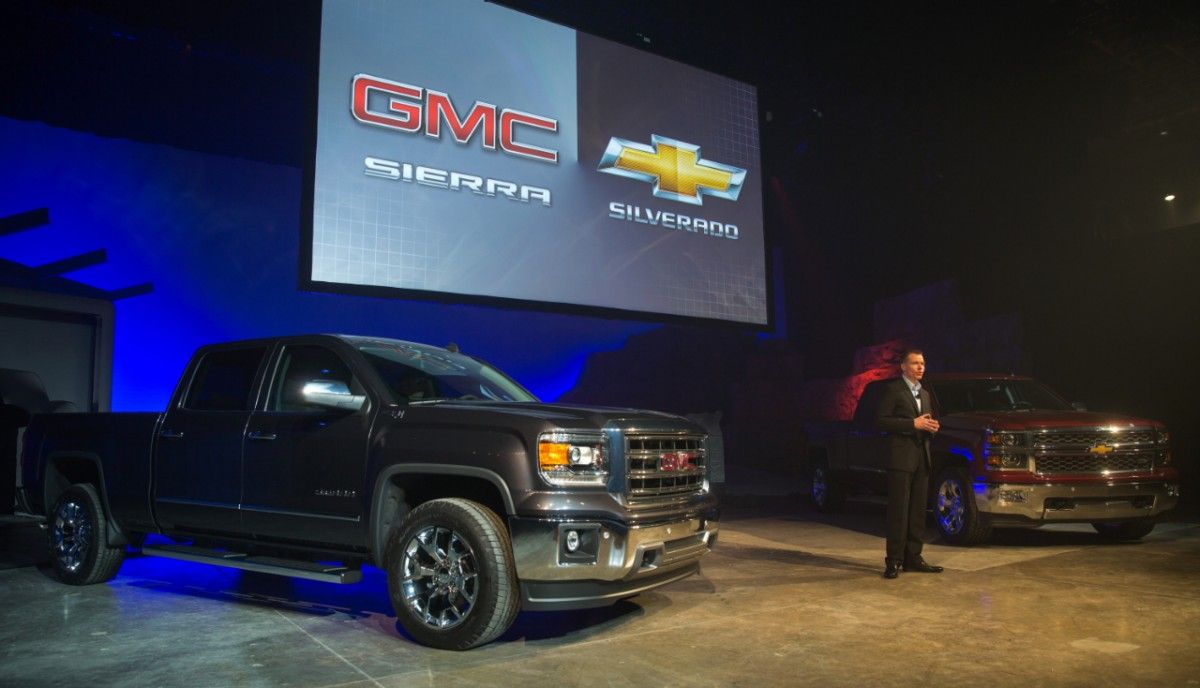 General Motors couldn't wait to reveal the new Chevrolet Silverado and GMC Sierra at the Detroit Auto Show in January. They pulled the sheets off their new full-size stallions this week at a film studio in motor city with a bold message to the truck world.
"Our competitors may think they have smooth sailing ahead but the weather is about to change," said Mark Reuss, President of GM North America while introducing the new Sierra and Silverado. "This is different from our competition and we think it will work." (1)
Those are fighting words from General Motors, who for years has trailed Ford and their F-150 for the title of best-selling truck in America. For 2014 GM decided to draw a line in the sand, and cliché as it might sound, basically declare that their new pickups are flat-out the toughest, most capable on the road.
General Motors' game plan is to "go after the traditional, core pickup buyer who doesn't want some newfangled powertrain or air-suspension system," saidDave Sullivan, a product analyst at consulting firm AutoPacific Inc. (1)
"Our customers rely on their trucks to meet the day-to-day challenges of earning a living, running a business," said Reuss,"Chevrolet is committed to giving truck customers the most refined, best-engineered pickups in the market." (1)
The new angle is a direct reaction to the king-pin F-150, which has been breaking with traditional pickup truck standards recently in heavily-marketed attempts to keep power ratings up while significantly improving fuel economy.
It's been hard to watch an NFL football game recently without seeing a commercial advertising Ford's V8 alternative, the turbocharged EcoBoost V6 now available in the F-150. Soon Dennis Leary will be chain smoking cigarettes in the press box next to Al Michaels and Cris Collinsworth.
The 2014 Sierra and Silverado won't use a turbo charged V6 of their own to compete with Ford's EcoBoost and GM is proud of it. Instead they plan to hang their hat on improving efficiency without compromising the utilitarian standards truck owners have come to expect.
At the heart of the mission are three new engine options which are part of GM's new Eco Tec3 family: A 5.3-liter V-8, 6.2-liter V-8 and 4.3 naturally aspirated V-6. GM expects each engine to achieve better fuel economy than its predecessor when the EPA mileage ratings are released early next year.
"We believe these are the most technologically advanced engines ever offered in light-duty pickups, and they are 100 percent truck – specifically designed for the way customers use trucks in the real world," said Jordan Lee, Small Block chief engineer and program manager. (2)
Fuel-saving technologies in the new Eco Tec3 engines include:
Direct fuel injection.
Continuously variable valve timing.
Cylinder deactivation, which under light loads will turn both the V6 and V8's into V4's. (3)
Each engine in the trio use aluminum blocks and cylinder heads for weight reduction and will be mated to six-speed automatic transmissions. Sources say GM is working on an 8spd transmission but it likely won't be offered for at least another year. (2)
"This is technology no other truck maker can match, and we offer it in every one of our EcoTec3 engines, for every one of our customers," said Lee. "It is not an extra cost feature. You get our best and most sophisticated technology regardless of trim level." (2)
Although no official specifications have been released for the Sierra or Silverado as of yet GM is already talking with a lot of "toughest truck on the road" confidence. The new V-6 will claim best-in-class-torque of any base V-6. This year's more powerful 5.3L V8 is expected to increase its fuel economy lead over competitors' V-8's and engineers claim the 6.2L V8 will earn top power, torque and tow ratings of any true half-ton truck. (4)
While GM has been very clear their new Eco Tec3 engines will be more efficient than the engines they replace they haven't been as specific as to how they will stack up to competitors' fuel economy ratings. They did however challenge Motor Trendto compare the fuel economy of all their truck models against similarly equipped competitors while towing and hauling, claiming that their non-turbo engines will be more efficient in real world use and have lower ownership costs.
GM is sending a clear message they believe their customers want trucks that put real-world capability before fuel economy, the kind of trucks that live up to commercials where forklifts drop smaller forklifts into their beds from six feet in the air. That's a serious stance to take as the Silverado and Sierra are the company's best-selling model line and biggest profit source. (1)
Will keeping it pickup truck real work for GM? Only time will tell.
SOURCES
(1) Autoweek
(2) General Motors
(3) Autoweek
(4) Motor Trend
---
---