VW Jetta: Promise fulfilled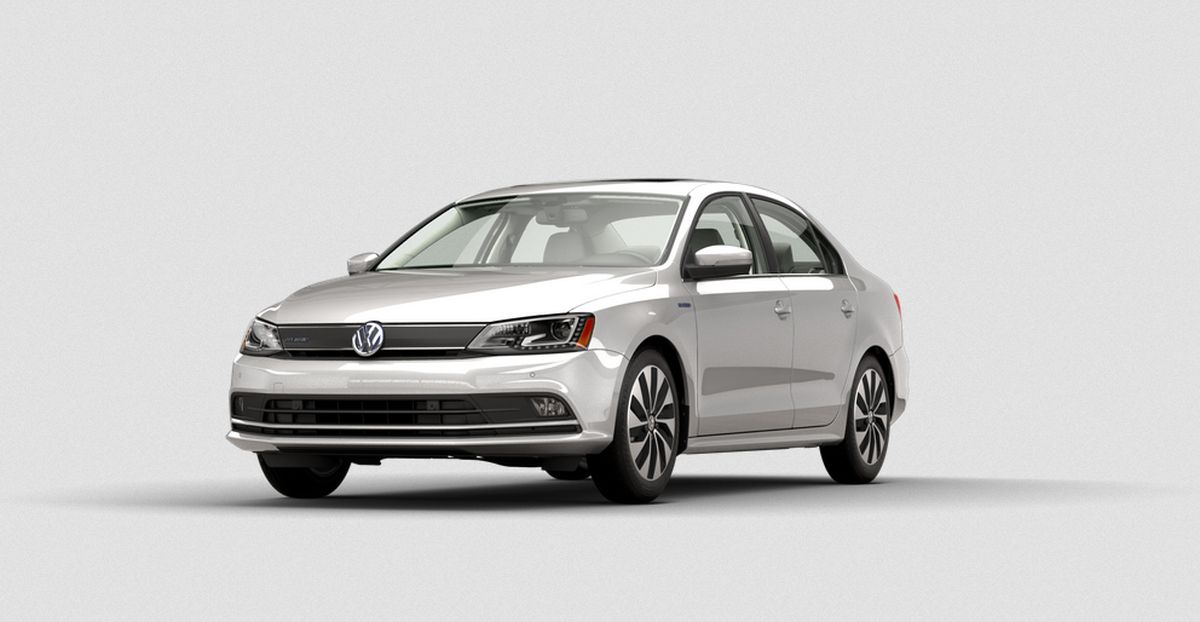 Volkswagen dropped the sixth-generation Jetta in 2011 and has refined its DNA each year since. Its cabin has grown richer. Engines are more refined and efficient. Ride and handling have evolved.
This year, a mid-cycle refresh extends the streak: A stout new turbo-diesel joins the lineup; a new grille and redesigned front fascia give the compact sedan a wider and more substantial feel; engines are more efficient; piano-black trim and new soft-touch surfaces animate the subdued cockpit.
There are newly available safety systems and an optional new lighting package, with adaptive bi-Xenon headlights and LED running lights. Also new this year is a limited-edition Sport trim that packages a sport suspension, sport seats, fog lights, navigation and more into a value-priced $21,000 bundle.
VW sent me neither the diesel nor the alluring Sport to test, though. I got my first taste of the Jetta Hybrid, instead.
Jetta prices start at $16,945, including destination, but the base 2.0 trim is available only as a factory-order. One trim up, the 2.0 S starts at $18,145.
Jetta's Hybrid ($32,490) is available only in the high-end SEL Premium trim, which includes a new-for-'15 lighting package with adaptive Bi-Xenon headlights, LED daytime running lights and automatic high beams; and a new safety system with blind-spot monitor, rear traffic-alert and front-and-rear park-distance control. There are also rain-sensing wipers; heated windshield washer nozzles; VW's Car-Net telematics; touchscreen navigation; satellite radio; automatic dual-zone A/C; and foglights with static cornering light.
Volkswagen says the Hybrid's cabin is quieter than that of any compact in its history. Its seats are firm and supportive and high-quality switchgear operates with sturdy fluidity. Compared with competitive telematics systems, though, Jetta's feels dated and undersized.
Jetta's hybrid system marries a turbocharged 1.4-liter four-cylinder engine with a 20kW electric motor to produce 170 horsepower and 184 lb-ft of torque.
Rather than pairing the system with a continuously variable transmission, as most hybrids do — VW uses its seven-speed DSG automatic manual. The EPA rates the Hybrid at 45 mpg combined (42 city/48 highway). The 0-60 sprint happens in a quick-for-a-hybrid 7.8 seconds.
Blessed with the Jetta's Teutonic ride-and-handling characteristics, the Hybrid also one of the most engaging — and comfortable — of the breed. Its all-independent suspension tames unwanted body motions; the ride is firm but compliant; and the steering system is accurate and responsive.
Braking action is less impressive, exhibiting the non-linearity — or "grabbiness" — to which regenerative braking systems are prone.
With the Hybrid, VW gives buyers a choice of two high-mileage options. Its new turbo-diesel makes 150 hp and 236 lb-ft and earns 36 combined mpg. It's available in three trims, with a base price of $22,460, and with either a six-speed stick or the DSG.
Other engine choices include the base, 115-hp 2.0-liter four and a turbocharged 1.8-liter four that makes 170 hp.
Seen in the rearview mirror, the 2011 Jetta was merely a starting place. Four years later, VW's annual investments have brought the promise to fruition.
Don Adair is a Spokane-based freelance writer. Contact him at don@dadair.com.
2015 Volkswagen Jetta Hybrid
Vehicle base price: $17,035
Trim level base price: $31,630
Options: The SEL Premium Hybrid is a fully equipped model. Our tester included no options.
EPA ratings: 45 combined/42 city/48 highway
Premium fuel required
---
---