2015 Kia Sedona focuses on value, quality and versatility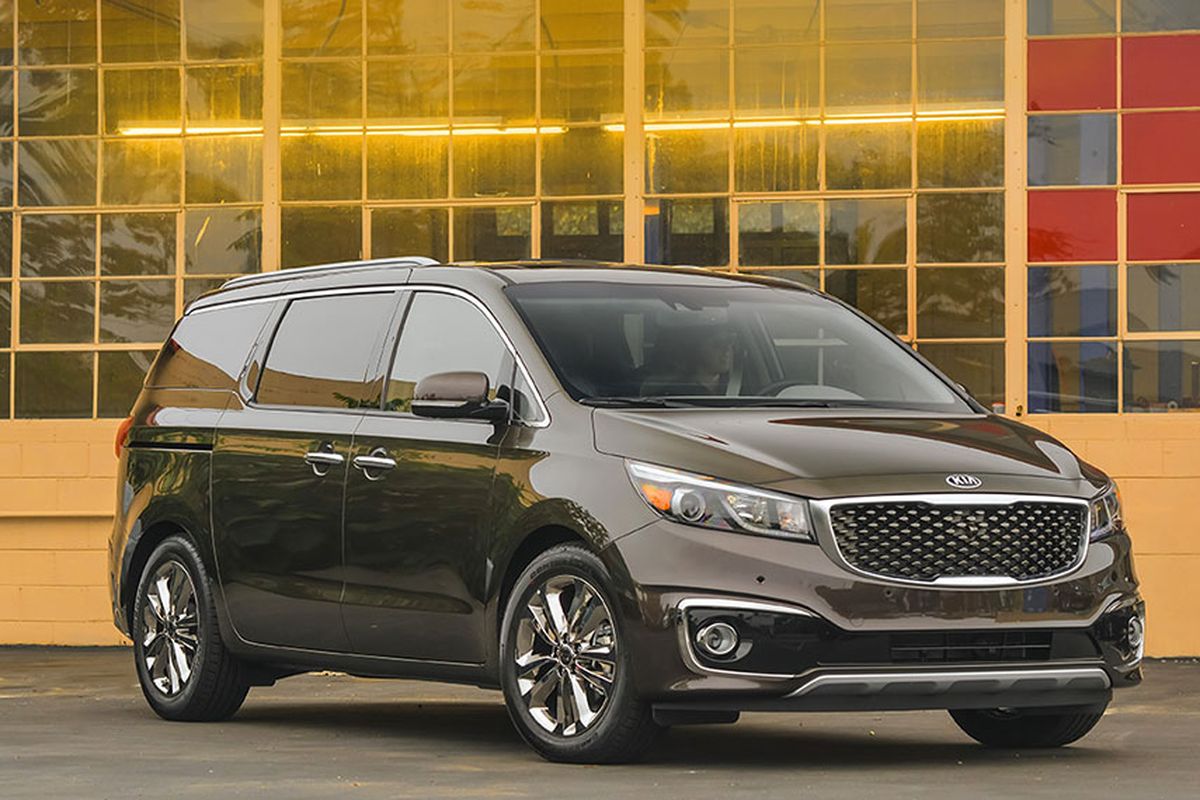 We were badly outnumbered as we piloted our Kia Sedona deep into Southern Utah's red-rocked vacationland.
Vehicles of all description clog the region's two-lanes: massive RVs; pickups towing travel trailers and fifth-wheels; bellowing, big-bore motorcycles; crossovers; SUVs; family sedans.
Scarcely a minivan in sight.
I'm guessing even the bicyclists outnumbered the van-goers.
The minivan is America's forgotten travel tool. Which is a shame, because there's no more efficient way to get lots of people and their stuff down the road. We loaded the Sedona with every bit of our camping collection — the "Tent Mahal," the cots, the two-burner stove, the coolers, the pots and pans, the boots, backpacks, walking sticks and water — and had room left over for a pampered pair of second-row passengers.
With the second-generation 2015 Sedona, Kia hopes to lure prospective crossover buyers into the minivan camp. Exterior styling suggests a crossover's muscular presence. Inside, a console nestles between the front seats, filling a space left open in other minivans. A hands-free "Smart Power Liftgate" opens automatically when the key fob is sensed for 3 seconds, and is programmable to customize the user's height preference.
Our top-level, seven-passenger SX-L ($39,700) tester included Kia's "First Class" second-row captains chairs. Fitted with armrests and pop-up footrests, they recline and slide every which way. Unfortunately, the right-hand seat's wing-style headrest blocks the driver's over-the-shoulder vision.
In the lower, eight-passenger trims, the second-row seats slide forward and fold upright against the front seatbacks. In all trims, the split-and folding rear bench folds into the cargo floor.
We drove the Sedona over 12,000-foot mountain passes and across rugged desert washes (slowly, very slowly). In air-conditioned comfort, we listened to books on DVD and caught up on the news and the tunes via the available satellite-radio system.
We easily overtook slower traffic, the Sedona 276-horsepower V-6 scarcely panting and its six-speed automatic seamlessly swapping cogs. Had our Sedona been properly equipped, we could have towed a 3,500-pound load.
Over the many miles and wildly varying road surfaces, we came to appreciate the Sedona's
ultra-stiff body structure (its torsional rigidity is 36 percent greater than that of its nearest rival, says Kia). These underpinnings contributed to an excellent ride and surprisingly nimble handling. Steering is direct and accurate, and commendable on-center feel made unnecessary the minute in-lane course corrections that help cause driver fatigue.
Four-way power-adjustable lumber support also helped to reduce fatigue and minimize lower-back pain.
What we didn't do on our 2,500-mile trip was pass many gas stations. The front-wheel-drive, 4,400-pound Sedona musters subpar EPA numbers; 19 mpg combined/17 city/22 highway.
The new Sedona arrives just as Kia gains new recognition for quality control. In the current J.D. Power Initial Quality Survey, the company moves up four positions to place second behind Porsche.
The minivan segment is dominated by entries from such builders as Honda, Toyota and Chrysler. While it's unlikely ever to rule in Southern Utah, the Sedona puts Kia on the minivan roadmap.
.
Contact Don at don@dadair.com
2015 Kia Sedona SXL
Vehicle base price: $26,100
Trim level base price: $39,700
As tested: $43,295
Options included xenon HD headlights; lane-departure warning system; forward-collision warning system; surround-view monitor; adaptive cruise control
Towing capacity: 3,500 lbs
EPA rating: 19 combined/17 city/22 highway
Regular unleaded fuel specified
---
---