VW Golf: Little hatch, big strides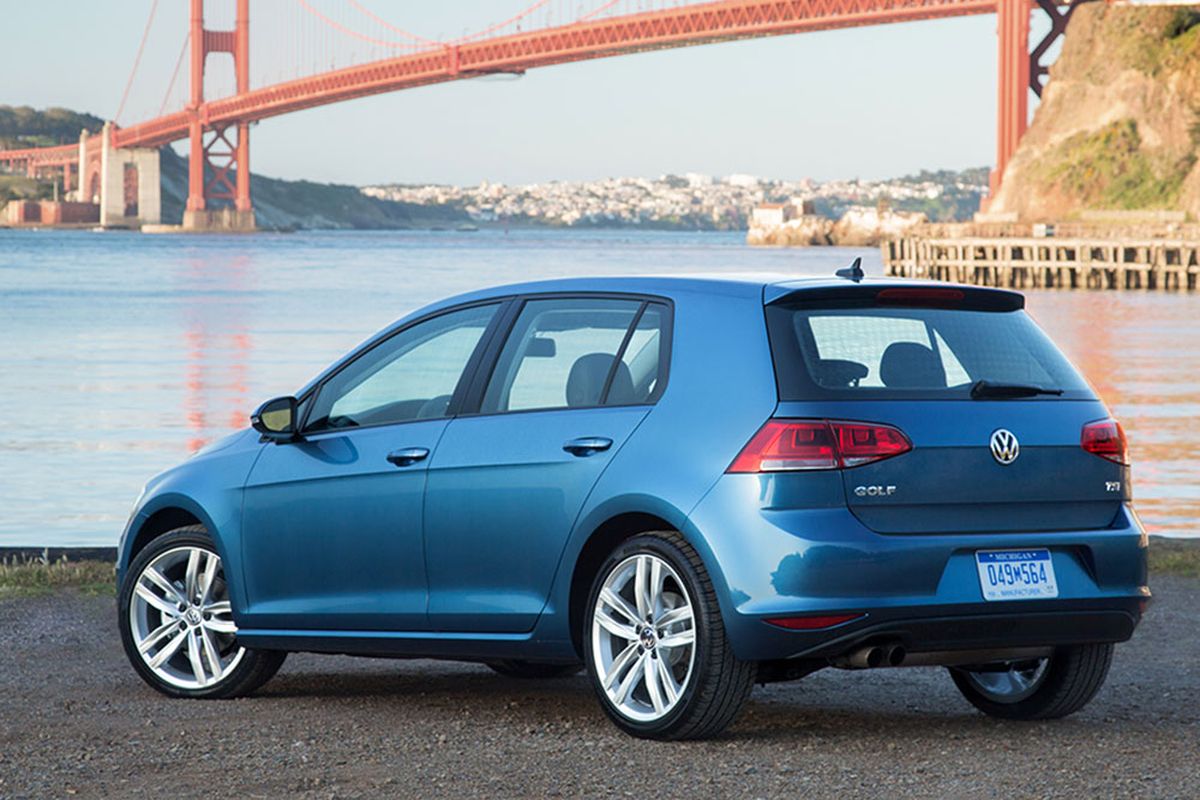 When the 2015 Volkswagen Golf arrived, I'd spent the previous few weeks driving big cars.
Minivans, midsize crossovers, full-size American sedans. Not a loser in the bunch. But the Golf forced me to face facts; I'm a small-car guy. Nothing rings my bell like a responsive little road machine.
The seventh-generation, five-passenger Golf is a landmark car, the first VW available in North America built on the company's new modular-platform strategy. Light, nimble and surprisingly roomy, the Golf is available in two- and four-door hatchback body styles. Its lightweight, ultra-stiff chassis produces a vault-like solidity, cuts squeaks and rattles and enables precise suspension tuning.
The new platform boosts overall length by 2.1 inches and width by 0.5 inches. Overall height is down by just over an inch. Interior room grows, with rear-seat passengers emerging as the big winners. The cargo area is easier to load — and more spacious — than the trunks of most midsize sedans.
In even its base form (from $21,195, including destination), the Golf is spry and responsive. Steering is light and lively, if somewhat numb, and brake feel is linear and strong. At highway speeds, the little hatch feels stable and planted, with that firm-yet-compliant ride-quality that seems bred into German machines.
During hard cornering, VW's XDS Cross Differential System reads data from wheel sensors, and automatically applies braking to the inside front wheel to maintain stability. Shod with conventional all-season tires, my tester kept a tenacious grip on the road, with little or no understeer.
This year, VW replaces the previous, five-cylinder base engine with a 170-horsepower turbocharged four. It returns EPA estimates of 29 mpg combined (25 city/36 highway) and can be paired with a six-speed manual gearbox (lower trims only) or a conventional six-speed automatic.
On the diesel front, a new TDI S trim cuts the price of entry by some $3,000, to $23,165. The four-cylinder turbodiesel makes 150 hp and 236 lb-ft of torque and can be paired with a five-speed manual or VW's six-speed DSG automated manual. With either gearbox, combined fuel efficiency is 36 mpg.
Despite the ground-up makeover, neither exterior nor interior design has changed much. Headlights and taillights are revised and side body-panels more sharply creased.
The cabin remains understated and relatively austere. Materials quality moves a bit upscale, the infotainment interface improves and a new 5.8-inch touchscreen is standard. The instrument panel now cants toward the driver for easier access and the switchgear operates with precision, heft and refinement.
Despite some nice touches, (VW's navigation system was among the first to display the current speed limit), the system trails the class leaders. Smartphone integration, especially, is lacking.
Other important extras, such as blind-spot monitoring, rear cross-traffic alerts and an auto-dimming rearview mirror, also are absent.
On the safety front, VW equips the Golf with its post-collision automatic braking system. If the car is in an accident, the brakes go on automatically, preventing the Golf from rolling freely.
Volkswagen packs a lot of big-car goodness into the Golf's small footprint. It's always welcome in my driveway.
Contact Don Adair at don@dadair.com.
2015 Volkswagen Golf TSI SEL
Vehicle base price: $19,295
Trim level base price: $27,395
As tested: $29,905
Options included b-xenon headlights; cornering lamps; LED daytime running lights; front and rear parking sensors; forward-collision warning system.
EPA rating: 29 combined/25 city/36 highway
Regular unleaded fuel specified
---
---