Mustang GT: Mustang's made-over flagship is fast, furious and surprisingly comfortable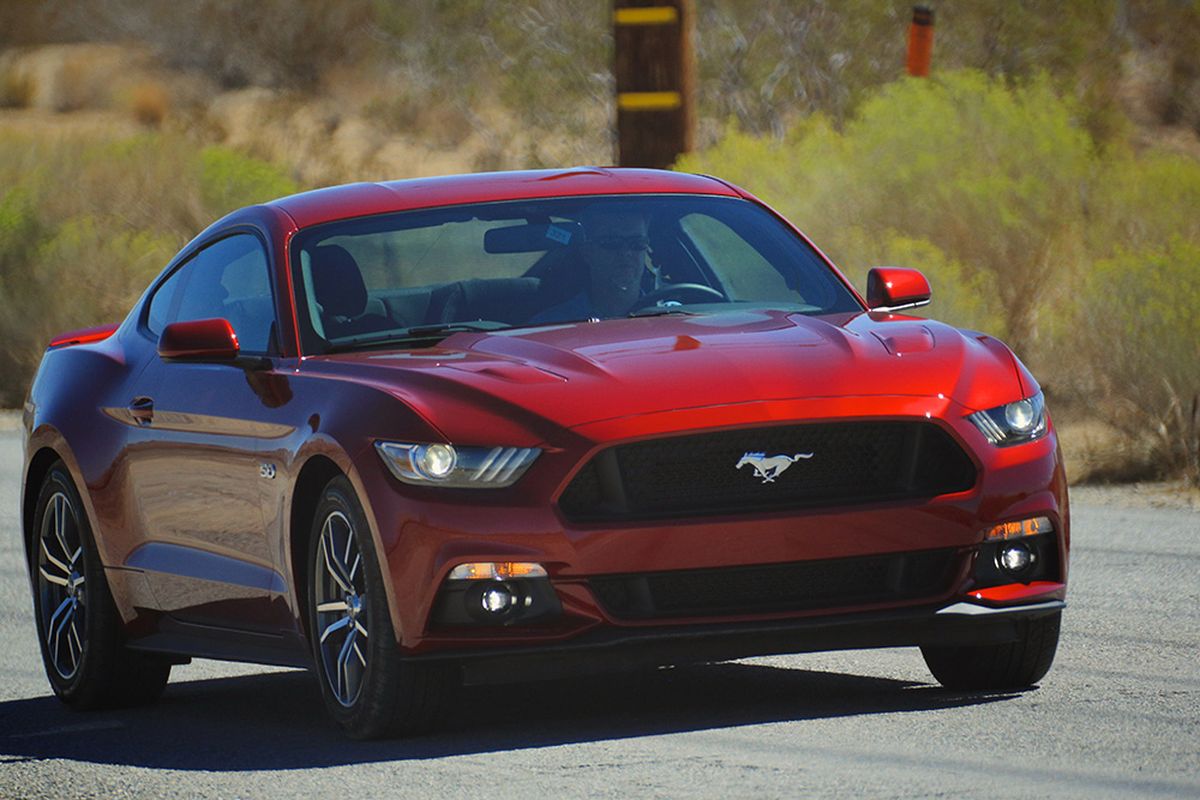 My relationship with muscle cars is complicated.
I love the bluster and bite of a big V-8. There's nothing else like the grin-inducing sound track, the fragrance of melting rubber, the feeling of g forces shoving you into the seatback, a carnival ride with a stick shift and four wheels.
I prefer a sport car's balance, responsiveness and precision, though, and generally walk away from a muscle car thinking of it as someone else's dream, not mine.
But I've just met one I think I could love. The 2015 Mustang GT is the flagship trim of a fully made-over Mustang family. Styling is updated inside and out, and the new 'Stang gets Ford's latest cabin and safety tech.
Coupes are priced from $24,700, including transportation. Convertibles start at $30,200.
A new, fully independent suspension (the first all-independent suspension in a mainstream Mustang) brings huge improvements to both ride and handling. An efficient new 310-hp turbocharged EcoBoost four-cylinder engine joins two engines carried over from last year, a 300-hp V-6 and the GT's 435-hp eight.
Any engine can be paired to either a six-speed manual or a six-speed automatic with paddle shifters.
For its part, the GT ($33,200) balances traditional American muscle with the reactions of a European grand touring machine. It's one of the most comfortable Mustangs I've driven — and one of the most raw and audacious.
Its 5.0-liter direct-injected V-8 makes 400 pound-foot of torque. When paired with a six-speed manual transmission, it adds a launch-control program that enables a 4.4-second 0-60 sprint. Sourced from German builder Getrag, the transmission operates with the same, mechanical sureness as my father's WWII-vintage 8mm Mauser rifle.
Its well-defined gates and precise short-throw shifter allow for quick and confident shifts.
Clutch take-up is direct and sure, and clearly backed by serious mechanical bits. You feel it in your throttle foot and in the seat of your pants.
An optional GT Performance Package — larger brakes, extra chassis bracing and Pirelli P Zero tires on 19-inch wheels — deepens the GT's track-ready persona, without shredding Its civility. Passengers aren't coddled, but neither are they abused.
I haven't driven the GT on the track, but the chassis feels sturdy enough to handle high levels of braking and cornering forces. In fast corners, the well-sorted suspension (struts in front; integral-link in the rear) keeps the big Pirellis squarely planted, even on broken road surfaces. Steering is well-weighted and precise.
The new Mustang has a lower, wider stance than before and the much-loved fastback roofline is handsomely resurrected. The added width and revised rear suspension improve shoulder and hip room for rear-seat passengers. The trunk is reconfigured to accept two golf bags.
Highlights of the lengthy standard features list include xenon headlights, a limited-slip rear differential, the Sync voice-control system, with 4.2-inch multifunction display, and a six-speaker sound system.
Most of us don't want to be reminded of the machine, preferring to be coddled and comforted. Raw and audacious, the Mustang GT is car <em>as</em> machine. It's as simple — and as complicated — as that.
Contact Don at don@dadair.com.
2015 Mustang GT Premium
Vehicle base price: $23,800
Trim level base price: $36,000
As tested: $46,085
Options included premium audio system; enhanced security package; adaptive cruise control; GT Performance Package; Premier trim; reverse park assist; recaro leather seats; voice-activated navigation.
EPA ratings: 19 combined/15 city/25 highway
Premium unleaded fuel recommended
---
---