Forget utility, Mazda's MX-5 Miata is focused on fun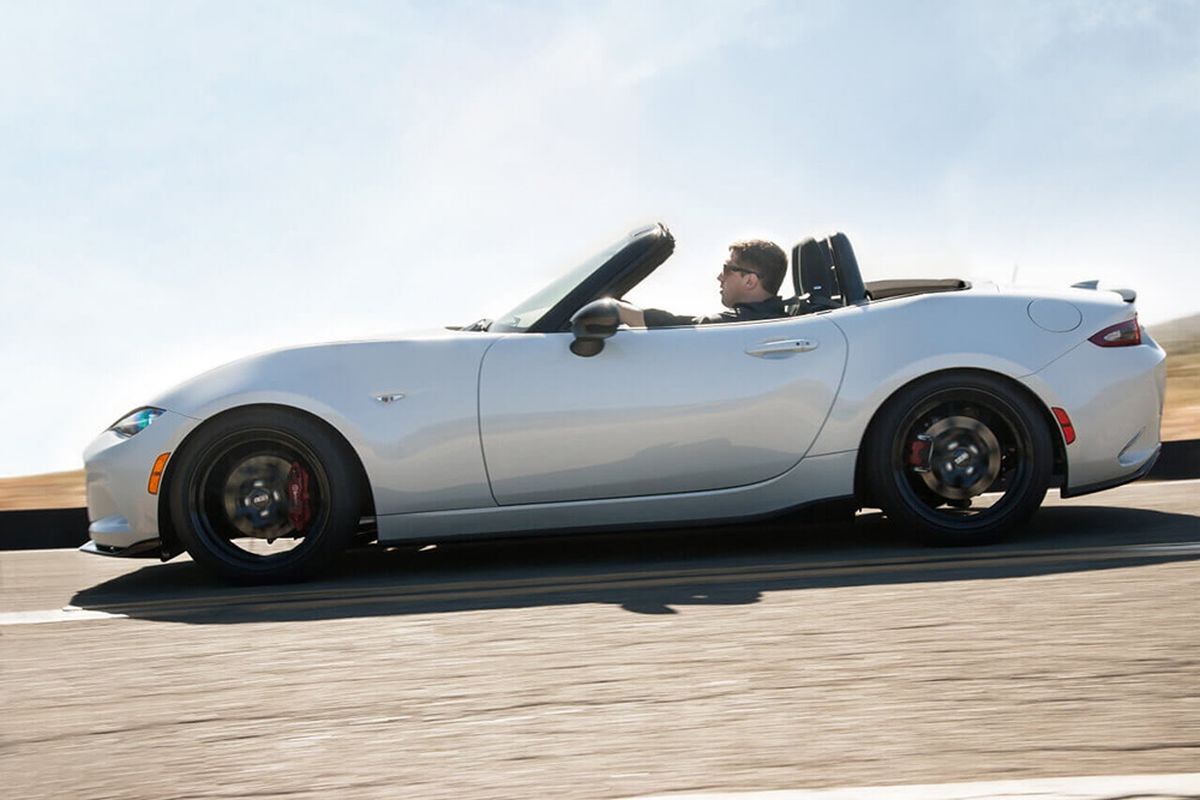 Any week that features a Miata in the driveway is a good week.
Regular readers know Mazda's little roadster is always welcome here. The two-person ragtop is one of the least practical cars on the planet, and also one of the most fun.
It's the kind of car that has you looking for reasons to drive. It will put you on perpetual errand-alert (as long as your errands don't involve a Costco run or a trip to the furniture store).
Because, did I mention it's fun?
Following in a great tradition
The MX-5 Miata is the modern equivalent of the great British roadsters of yesteryear. But it's a gem of sophistication in contrast with the MGs and Triumphs that inspired it. Its canvas top is water-tight, build quality is impeccable and the ride-and-handling package easily outstrips its predecessors'.
As for those garage-floor oil puddles that were part and parcel of the Brit roadster experience — perish the thought; the Miata's engine room is buttoned up tight as its leak-proof lid.
The 2018 Miata is available in three trims; the base Sport ($25,295), the performance-oriented Club ($29,155) and the leather-lined and tech-rich Grand Touring ($30,195).
Updates for the 2018 model year are minor. Keyless entry is now standard and the Sport trim adds Mazda's 7-inch infotainment display unit with rotary knob controller. Club owners can option a set of Recaro sport seats.
Lithe and punchy
A 155-horsepower 2.0-liter four-cylinder engine powers all Miatas. Two six-speed transmissions — a manual and an automatic — are available on all trims.
In an era of 600-horsepower sedans, 155 hp may seem underwhelming. But the lightweight (2,300 pounds) Miata is lithe and punchy.
Power from the efficient little four builds in a smooth and linear flow, with 0-60 coming up in a tick or two beyond 6 seconds.
Throttle responses are immediate and brake and throttle pedals are ideally aligned for execution of the heel-and-toe maneuver that helps balance the chassis during braking for corner entry.
The lightly weighted steering system is quick, accurate and communicative. The Miata goes where you point it, without hesitation, absent the twitchiness that sometimes affects aggressively tuned sports cars.
Club trim performance upgrades
We tested a Club equipped with the stick and a batch of trim-specific performance upgrades.
All Clubs get a sport-tuned suspension that runs Bilstein shock absorbers. A shock-tower brace reduces body flex when lateral forces are applied. A limited-slip differential equalizes power delivery to the pavement as the rear wheels fight for grip.
An engine sound enhancer amplifies the throaty soundtrack that issues from the engine bay.
Options for the Club trim include a Brembo/BBS package that brings larger front brakes, 17-inch BBS wheels, an aero body kit that produces a more aggressive stance and heated leather seats.
Owners who plan to put their Miata through its paces will want to order the available Recaro sport seats. Contoured to provide lasting support, the deeply bolstered Recaros held us firmly in place during spirited two-lane sessions.
Mazda takes its performance mission seriously and expects the same of its buyers; the Club's optional performance gear is only available on cars equipped with the manual gearbox.
Cabin austere and cozy
Miata's austere cabin is comfortable enough for a pair of average-sized adults but a tight fit for anyone larger. There's minimal casual cabin storage and the cupholders are semi-fictional. Considerable wind and road noise intrude, though, with its fabric-layered top, the Grand Touring is quieter than its fellows. The audio systems are an afterthought and the trunk is barely larger than a dresser drawer.
There are two USB ports but not much in the way of smartphone integration — neither Apple CarPlay nor Android Auto are available — though Mazda's native system handily streams content off your phone.
Miata is also shy on driver-assist features. Blind-spot monitoring and rear cross-traffic alert are available on most models but adaptive cruise, lane-keep alert and assist and forward-collision warning and automatic braking are MIA.

Given Mazda's mission of fielding an affordable and lightweight sports car, the dearth of such amenities makes sense. This is a car focused on fun. If you want complexity, the world is full of better options.
Contact Don at don@dadair.com.
2018 Mazda MX-5 Miata Club
Vehicle base price: $25,295
Trim level base price: $29,155
As tested: $35,240 (includes destination and handling)
Options: Machine Gray paint; front air dam; rear lip spoiler; rear bumper skirt; side sill extensions; heated leather Recaro sport seats; 17-inch BBS wheels; alloy pedals, oil cap and side sill door panels.
EPA rating: 29 combined/26 city/33 highway
Regular unleaded fuel specified
---
---