2019 Honda Pilot: Mid-cycle refresh bolsters Pilot's standing in three-row crossover hunt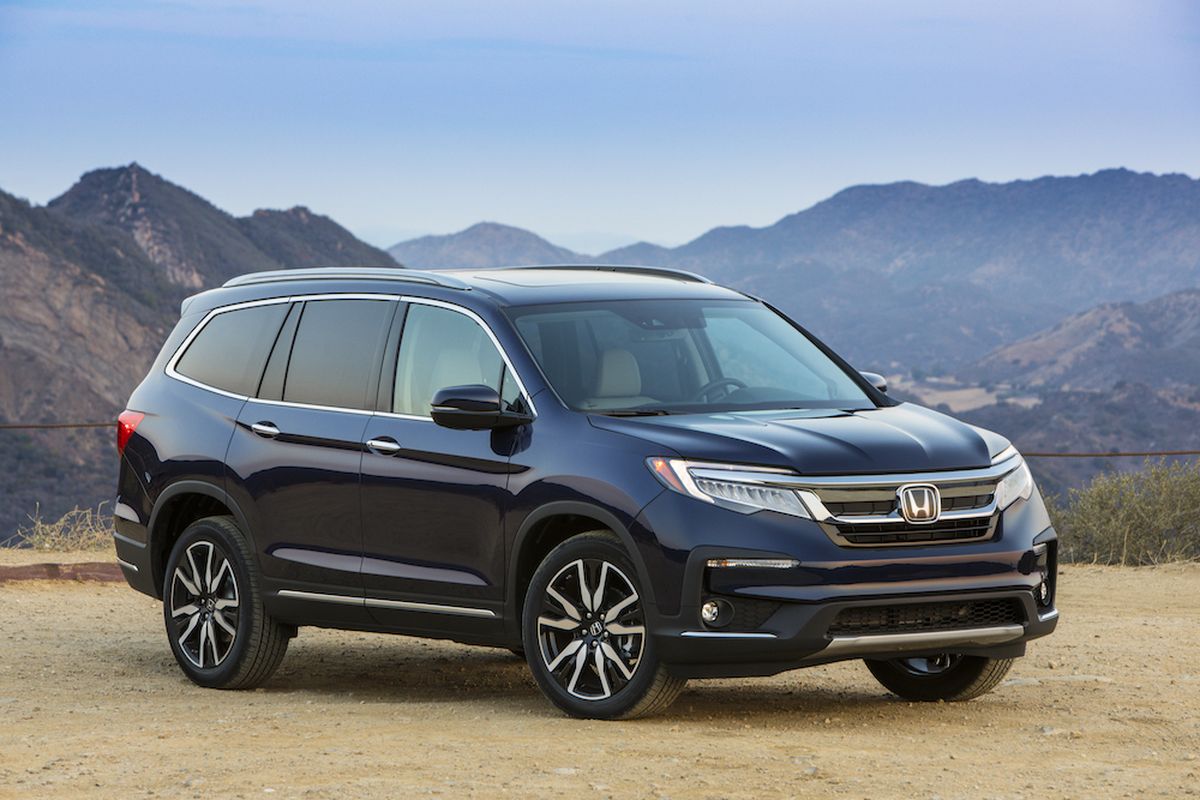 Automakers angling for profits in the midsize crossover segment can't rest on past glories.
The segment changes so quickly and has so many capable players, that just keeping up is a full-time job.
Take Honda's three-row, eight-passenger Pilot. The Pilot debuted in 2003 and has been made-over twice, once in 2009 and again in 2016.
Because six years is a lifetime in a competitive segment, each generational change has been followed by what the industry calls a mid-cycle refresh. An opportunity to right wrongs, expand features and options lists and spruce things up with some cosmetic surgery.

This is one of those years for the Pilot ($31,450).
Honda's largest crossover, the Pilot exemplifies the company's family-friendly strategy.
Thoughtful touches
One of a handful of midsize crossovers with an eight-passenger capacity, the Pilot is well-equipped, sensibly priced and modestly engaging. Its cabin and cargo area are among the roomiest in the segment. Its first and second rows are fully adult-capable; its seats are large, compliant and supportive. On most trims, second-row seats fold and tumble at the touch of a button, offering easy access to the child-sized third row.
Honda calls on its customary interior packaging magic, with thoughtfully designed storage opportunities throughout the cabin and a surplus of cupholders.
Another thoughtful touch: Pilot's unique adjustable front-seat inner armrests (they grow larger this year).
Active noise-cancellation underscores a new commitment on Honda's part to build more tranquil cars.
Inside, Pilot inherits from its Odyssey minivan cousin the CabinTalk intercom which allows front-seat passengers to communicate with their rear-seat charges via Pilot's audio system.
Honda's infotainment system grows more user-friendly this year, but remains challenging. An audio-system volume knob replaces the old and frustrating capacitive-touch slider. A 4G Wi-Fi connection and larger rear entertainment screens are now available.
Driver-assist suite is standard
As of 2019, Honda's Honda Sensing driver-assist suite is standard on all trims. It includes adaptive cruise control forward collision warning with emergency braking, road-departure mitigation; and lane-keeping assist System.
Honda's blind spot information system and rear cross-traffic monitor are more widely available throughout the lineup.
Outside, new front and rear fascias lend Pilot a more assertive presence. Narrow LED headlights flank a trim new grille like a pair of wings. Bumpers and wheels are updated and a hands-free tailgate is now available.
Pilot's 280-horsepower V-6 is unchanged, but the nine-speed automatic transmission that debuted last year on upper trims is recalibrated to make smoother low-speed shifts.
Lower trims use a six-speed gearbox that makes sure shifts, absent the balkiness that has annoyed some nine-speed owners.
Strong V-6, nimble responses
The V-6 is smooth, quiet and is strong enough to propel the Pilot from 0-60 in just under 7 seconds.
The Pilot feels more nimble and more responsive than most of its three-row competitors. Steering feel is well weighted and responses are reasonably precise. Turn-in is quick on corner entry but body lean curbs cornering limits.
Pilot is available in front- and all-wheel-drive configurations. Its torque-vectoring AWD system employs active center and rear differentials to distribute engine torque between the front and rear axles, and laterally between the rear wheels.
FWD models can tow as much as 3,500 pounds; AWD bumps towing capacity to 5,000 pounds.
Pilot is offered in five primary trims: LX, EX ($34,330), EX-L ($37,760), Touring ($42,500) and the AWD-only Elite ($48,020).

The base LS is equipped with automatic LED headlights, active noise cancellation, air conditioning, 60/40-split folding third-row seats, a multi-angle rearview camera, a 5-inch touchscreen and seven-speaker audio system with USB/auxiliary inputs. Eighteen-inch alloy wheels are standard.
Most trims include heated exterior mirrors and tri-zone automatic climate controls. Everything works as advertised, though oddly the fan that serves the rear seats insists on turning on when the front two zones are set to "sync."
There is no shortage of good choices in the midsize three-row crossover segment. With this year's refresh, the Pilot secures its spot on shoppers' must-see list.
Questions or comments? Contact Don at don@dadair.com.
2019 Honda Pilot Elite AWD
Vehicle base price: $31,450
Trim level base price: $48,020
As tested: $49,065
Options: Our Pilot Elite tester included no options.
Tow rating: 5,000 pounds
EPA rating: 22 combined/19 city/26 highway
Regular unleaded fuel specified

---
---