Mon., Aug. 9, 2010
Adler to head UI public policy center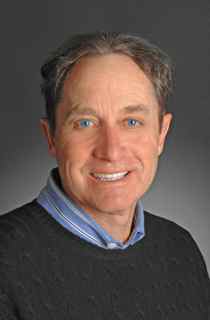 Former Idaho State University political scientist David Adler has been named director of the University of Idaho's James A. and Louise McClure Center for Public Policy Research, where the UI says he will "take the University of Idaho to center stage" on public policy issues and civic education.
"He brings a blend of scholarship, national prominence and dynamism to the role," said Katherine Aiken, dean of College of Letters, Arts and Social Sciences. "We are confident of the deep engagement the center will enjoy promoting civic education and public dialogue on critical issues that face Idaho, the region and the nation."
Adler has been an ISU political science professor since 1985, and is the author of more than 100 scholarly articles that have appeared in political science journals, law reviews, books and encyclopedias. The McClure Center provides non-partisan public policy research for Idaho and the region, along with work to improve civic education, increase public dialogue, promote collaborations and more. Adler's work at the center will include sponsorship of research, publications, conferences, forums and lectures; he'll also seek external funding for the center's activities. Adler said the McClure Center will generate research to "tackle the great public policy challenges of our time." He started in his new post yesterday; click below to read the UI's full announcement.
Adler Tapped as New Public Policy Research Center Director

MOSCOW, Idaho –Ready to take the University of Idaho to center stage, David Gray Adler is the newly appointed director of the university's James A. and Louise McClure Center for Public Policy Research. He began his duties on Aug. 8.

Adler, who will be the James A. McClure Professor, will be responsible for providing leadership to the interdisciplinary work of the center, plan and implement programs, initiate research projects and seek external funding for center activities.

"We are delighted to welcome David into this leadership role with the McClure Center for Public Policy," said Katherine Aiken, dean of College of Letters, Arts and Social Sciences. "He brings a blend of scholarship, national prominence and dynamism to the role. We are confident of the deep engagement the center will enjoy promoting civic education and public dialogue on critical issues that face Idaho, the region and the nation."

A political science professor at Idaho State University since 1985, Adler has a strong background in both academics and politics. He will now lead the University of Idaho in civic education and public dialogue regarding pressing issues in the state and nation. He is a popular participant in the Idaho Humanities Council speaker series; has been a panelist at the University of Idaho's Bellwood Lecture series; is a founding member of the Idaho Falls City Club; and has been a lead scholar for a number of civics projects designed for Idaho teachers. From the White House to congress to the Supreme Court, Adler's scholarly writings on constitutional issues have received much recognition.

"It's a great honor to lead a center that bears the name of an Idaho icon, whose leadership and statesmanlike qualities continue to distinguish his many contributions to the state and the nation," said Adler. "As a scholar and a concerned citizen, I've been intensely interested in seeking policy solutions to the critical problems that confront Idaho and the nation. The opportunity to lead the McClure Center provides the perfect setting in which to address energy, environmental and natural resources issues that stand at the intersection of law, science and policymaking."

Adler has a deep interest in the roles that science and technology will take when concerned with public policy, including energy, water and the environment. Because these critical issues will vitally affect the future of Idaho and America, Adler hopes to lead the McClure Center to center stage in discussions of solutions. He hopes to promote public education and dialogue on those issues and others through sponsorship of research, publications, conferences, forums and lectures.

"As a nation, we must draw expertise to seek remedies and fashion solutions to those problems that will dramatically affect the future and quality of life of all Americans. I hope to do that within the context of my duties as director of the McClure Center," Adler said.

The McClure Center's focus includes promoting civic education and enhancing understanding and knowledge of the constitution, in addition to addressing pressing problems that face Idaho. Adler said the McClure Center will generate research to "tackle the great public policy challenges of our time."

In addition to teaching, Adler has extensive experience as a scholar and a public lecturer. He has written over 100 scholarly articles that have appeared in leading political science journals, law reviews, books and encyclopedias. His work has not only been widely cited by political scientists, historians and legal scholars, but has been incorporated as assigned reading at universities like Columbia University and Harvard. He also is co-author/author of five books. His scholarly reputation has led to invitations to speak at many universities on both the national and international stage, and to many newspaper, radio and television stations, including New York Times, Washington Post, Wall Street Journal, NPR, BBC, NBS and Newsweek.

Adler earned bachelor's degree from Michigan State University and his doctorate from the University of Utah. He was an assistant professor at the University of Wisconsin, River Falls and a visiting professor at the University of Utah and Macalester College. He also served a Presidential Internship at Idaho State University in 1990-91. He specializes in public law, the American presidency and American politics.

The James A. and Louise McClure Center for Public Policy Research provides non-partisan public policy research for Idaho and the region, promotes sustainability, fosters collaborations, improves civic education and increases public dialogue. Research from the center also enhances opportunities for graduate and undergraduate student research and offers faculty opportunities to meld their scholarly interests with practical application of benefit Idaho and the region.

# # #


---
---