Mon., Jan. 18, 2010
The case of the missing P.A….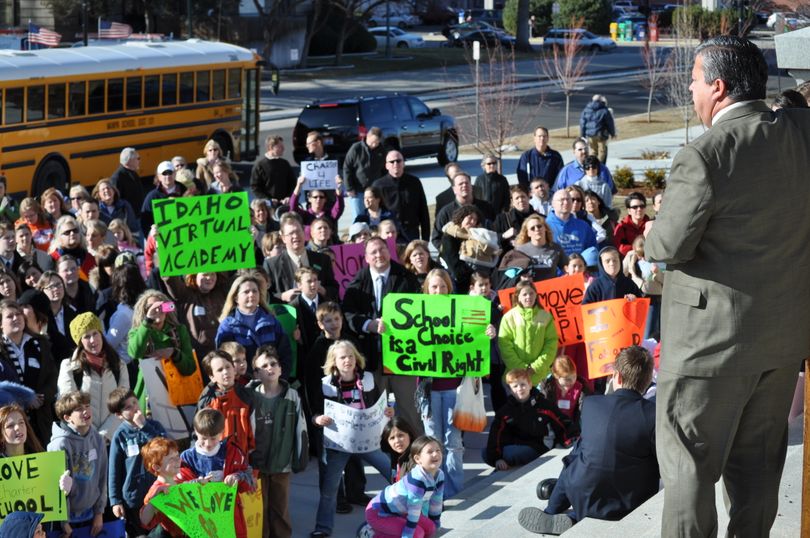 Amid all the hubbub in the Capitol today, the Coalition of Idaho Charter School Families had to hold its rally on the Statehouse steps - with 550 kids and parents in attendance - without any amplification, because the state-owned P.A. system it planned to use briefly disappeared after the Tea Party rally just beforehand. "It did, in our minds at least, come up missing for a few minutes," said Teresa Luna, chief of staff for the state Department of Administration. "The group that was prior to the charter school group took it with them down into a committee hearing room, for some reason. Nobody took it maliciously. They took it into a committee hearing room thinking they might need it down there."

Wayne Hoffman, head of the Idaho Freedom Foundation, which reserved the Capitol steps for the Tea Party rally, held a teaching session afterward in a Capitol wings committee hearing room, but Hoffman said he didn't use the P.A. system. "I don't know anything about it," he said. "In fact, I didn't use any amplification." Hoffman said he briefed the group about the legislative process, encouraging members to "testify in front of committees and so forth." He said another Tea Party follow-up was going on at the same time, a roundtable of lawmakers with former state Rep. Liz Allan-Hodge, but Luna didn't know anything about that, or about where the P.A. system was found. It was found, however. "It took us a bit of trying to find it, and by the time we found it, the charter thing was well into its program," Luna said. "We were kind of scrambling, because we're not actually open today." She coordinated with Capitol security to run down the missing P.A., which has now been recovered and moved back to its regular storage site.

The charter school group, according to lobbyist Ken Burgess, rallied for removing the cap that permits only six new charter schools in Idaho each year. The rally was part of a day-long event for charter school students and parents, in which parents went through advocacy training and students made signs for the rally and wrote notes to legislators. Burgess said more than 6,000 kids are on waiting lists to get into Idaho charter schools.
---
---