Fri., May 21, 2010
'We want it to be values-based'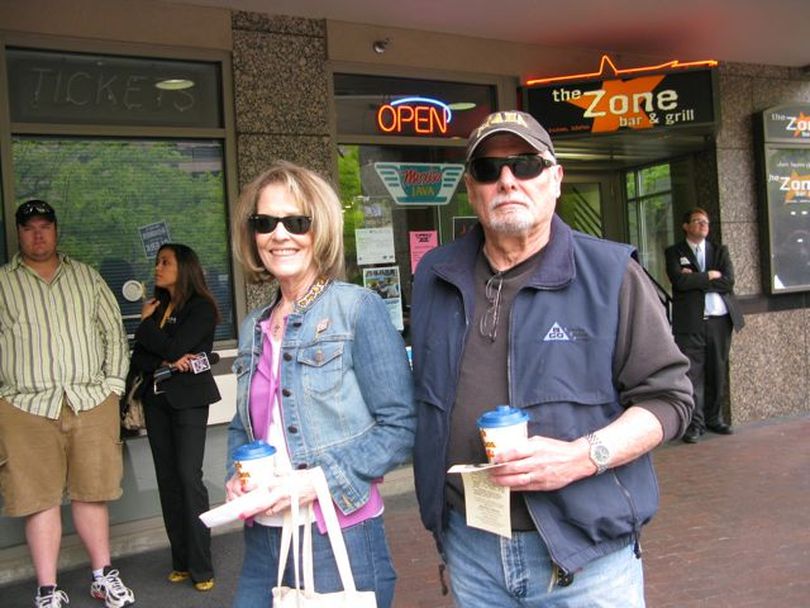 There appear to be about 750 seats set up on the floor of the Qwest Arena for the Sarah Palin-Vaughn Ward rally, and so far roughly half have filled up. In the free seats on the risers at the sides a little over 100 people are seated so far. Outside, people filing in included Linn and George Pitt of Garden City; "We're big admirers of Sarah Palin," she said, to which her husband added, "We're undecided on Ward vs. Labrador, so we want to hear him some more." Glancing at her husband, Linn said, "I'm going to vote for Vaughn Ward."

George said he's a U.S. Marines veteran - like Ward - but said that's not enough to sway his decision. "We're very conservative, and we want to make sure we're voting for someone who shares our values," he said. Said Linn, "We think it's very important to take District 1 back to the Republican side. We want it to be values-based."

Seventeen-year-old cousins Ryan and Jared Hand said they're Democrats, but they want to hear the other side, "just sort of to realize what you're up against," Ryan said. Asked if they came to see Ward or Palin, Jared said, "Sarah Palin, she brought us out, oh yeah, you know it."

Evelyn Wood of Twin Falls traveled the two hours to Boise just for the rally. "We just saw it on TV and decided we wanted to come," she said. "I'm quite interested in her. I read her book." Sarah Benedict brought her young daughter and a friend who pushed a bright-eyed baby in a stroller, but they weren't headed into the rally. "We actually came to protest," Benedict said. "Everybody's here to see Sarah Palin - I'm not a real big fan of hers."

Upstairs at the Sports Zone, state Sen. Mike Jorgenson, R-Hayden, leaned out the window and reported that he was near the front of a line of about 50 people waiting for photos with Palin, a privilege that'll cost them $1,000 a head.

---
---