Wed., March 2, 2011
Testimony: 'Atmosphere of fear'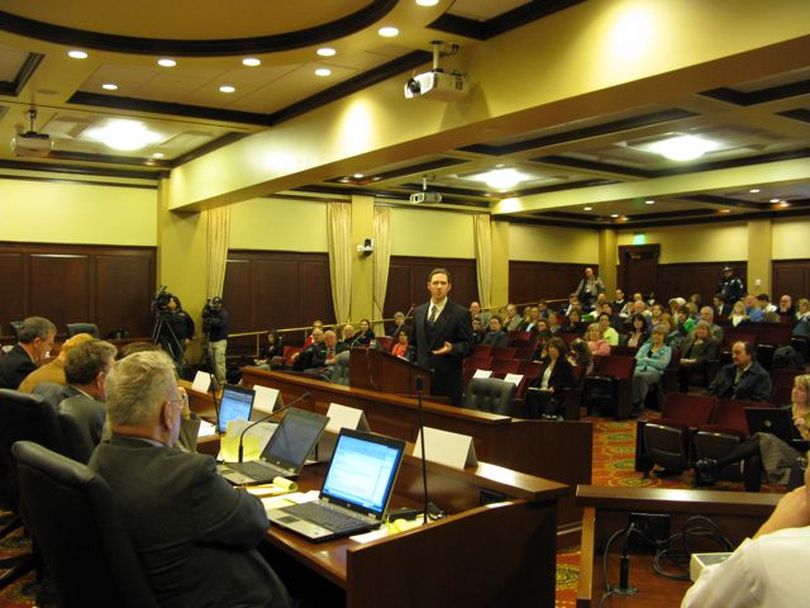 Kendon Perry, a business owner from Sandpoint, 37-year Idaho resident and father of two school children, asked the House Education Committee, "Will professional, passionate, hard-working teachers flee Idaho? Could Idaho become what I call the minor leagues or the training ground for teachers? And will all this come at the expense of our children?"

Brian Smith, a government teacher at Sandpoint High School, decried the "use of the political process to break contracts that were made in good faith." He read from a letter from his superintendent and the lead negotiator for his local school board, saying, "Our respect is grounded in the collective bargaining process that treats staff professionally." He said, "The proposed bill will create an atmosphere of fear." Smith said, "This isn't about money. Idaho Code ... already gives school districts the ability to reduce pay and benefits in a financial emergency. ... So I would ask, if this is about local control, then why doesn't my district have the right to continue a process that works for our students and our community?"

Lisa Hoffeld, a fifth-grade teacher from Post Falls and a mother of two, said in her school district, "We are constantly collaborating." Teachers have agreed to salary cuts, benefit cuts, and furlough days, she said, to get through the budget crunch. "We are able to come together in a crisis in a way that puts students first," she said, saying her district's teachers and administrators all oppose SB 1108 and SB 1110. "What has happened that we do not trust the stakeholders to do that again this year?" she asked. "We do not want to see that relationship that we have been building for years go away."
Jim Norton, superintendent of schools in Parma, told the committee, "All but one of our seniors will be going on to college or to the military. Our system is not broken." He opposed the bills. When cuts come, he said, "It needs to be something we decide, and these bills do not allow that to happen."
---
---