Thu., April 12, 2012
Boise marks symbolic end to its longtime shopping inferiority complex…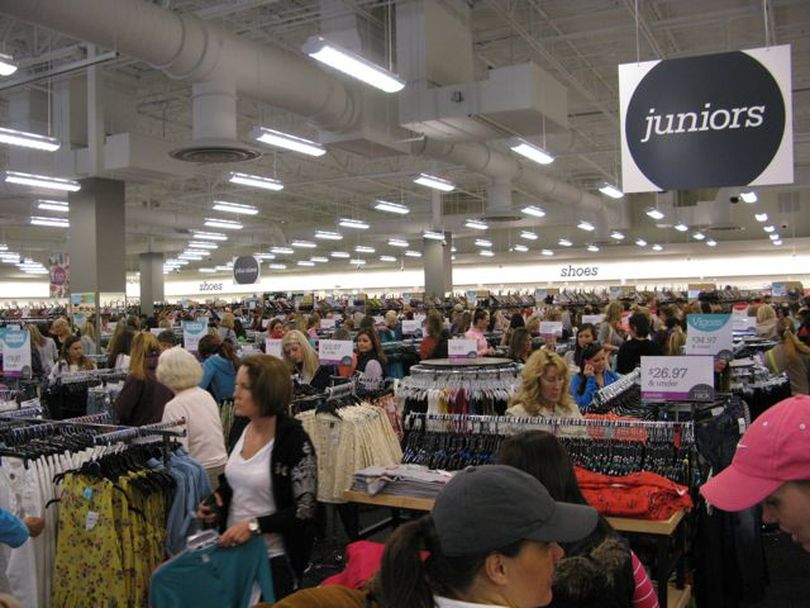 Has the City Without a Nordstrom finally ended its sad distinction? This is Boise, where for years, hundreds of shoppers boarded buses to Ogden, Utah each year to shop at what their hometown lacked - a Nordstrom department store. Today, the first Nordstrom store in the state of Idaho opened, but it's not a full-line department store, it's an off-price Nordstrom Rack. The difference: A focus on discounted merchandise, in a 37,000-square-foot store - a full-line Nordstrom department store typically offers 138,000 to 140,000 square feet of shopping.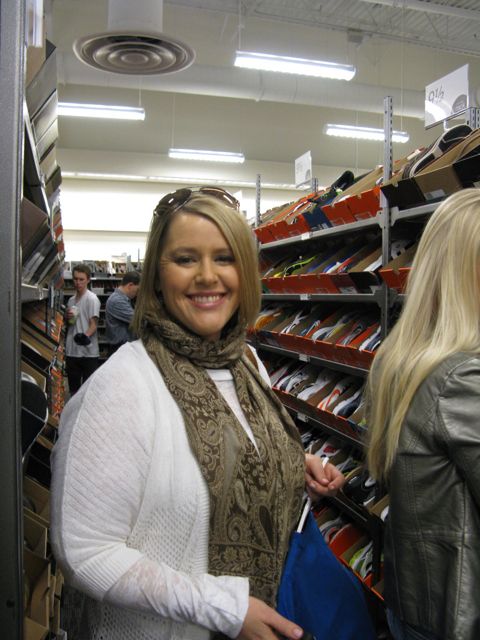 Happy customers who crowded the newly opened store this morning didn't seem at all perturbed by the difference; you can read my full story here at spokesman.com. Kristin Magruder, 40, recalls that when she moved to the Boise area from Southern California at the age of 6, "I couldn't understand why we couldn't go to the mall and get frozen yogurt." The reason: "Because literally there was no mall." Boise's grown since then, and now has a big shopping mall, Boise Towne Square, and a plethora of big box stores, but it's long continued to lack a Nordstrom; Magruder admits to visiting the store in places like Salt Lake City and Portland.

"It's been nice to see Boise evolve from Hicksville to at least a mid-sized market," she said with a smile. "I think we'll get there eventually." She added, "It's nice not to take my shopping out of state." Check out my 1995 column here on how Boise shoppers used to do just that.

The new Nordstrom Rack store was packed with shoppers this morning, and its vast parking lot was full; it's in a former Linens 'n Things location next to Old Navy, in a strip-mall development just outside the Boise Towne Square mall. Joan Endicott, who's lived near Caldwell for 31 years, remembered shopping at Nordstrom Rack in Portland long ago, and was glad to see it arrive. "They have extraordinary customer service," she said. "I'm so delighted and excited that it's here."

The mostly unadorned store seems vast and almost warehouse-like, but it's clean, filled with merchandise, and along with shoppers, with ubiquitous brightly-attired store employees who were attentively making sure customers were finding what they sought. Nordstrom spokeswoman Kendall Ault said, "This was a great opportunity in the shopping center here ... that was an exact fit for a Nordstrom Rack store. A lot of things have to fall into place in order for us to open a full-line store in a market. ... We know we're fortunate to have a lot of customers in the area, and we wanted to find a way to better serve them."

The new Boise store is Nordstrom's 106th Rack store, and Boise is the third city to get a Nordstrom Rack without also having a full-line Nordstrom department store - the other two are Tucson, just this past fall, and Manhattan.

Back in 1987, when the Ogden Nordstrom first started busing Boise shoppers down to Utah, the Buy Idaho campaign protested vigorously to no avail. Then-executive director Karleane Allen told the Associated Press, "It's an interesting marketing strategy, to find our weak point, and Nordstrom is our weak point ... knowing how much everybody wants them here."
---
---