Tue., Oct. 2, 2012
Luna: Laws mean 'every student has equal access,' from anywhere in state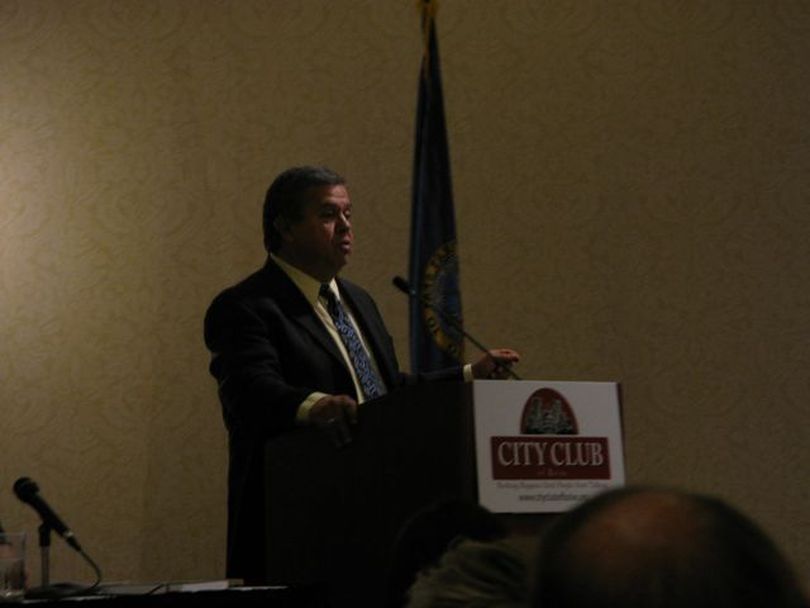 State Superintendent of Schools Tom Luna is speaking first at today's City Club of Boise forum. "About 30 states have passed some form of education reform in the past two years," Luna said. "Education reform in the state of Idaho is absolutely necessary, not because we have bad schools, in fact in the state of Idaho, we have good schools. ... But in the world that we live in today, it isn't whether we have good schools, the question is, is good good enough?"

Luna said not enough Idaho high school students are furthering their education after high school, and those who do aren't succeeding. "It should be alarming and unacceptable to all," he said. He said that's the focus of his "Students Come First" reforms. "As a result of Students Come First, we now have high academic standards in place," he said. "We didn't have that before."

He noted that while there's been lots of focus on the reform plans to add technology at high schools, the laws also included funding for technology boosts throughout the schooling system. Luna also pointed to the large number of school districts that applied to be among the first group to get laptop computers for their high school students. "They know that these devices are not replacing teachers, or 85 percent of them would not have volunteered to be first," Luna said.

He also touted the laws' changes to teacher pay and contracts, including removing seniority from layoff decisions. "Eight in 10 teachers will receive a bonus this year. Why? Because they have worked together to improve a whole school with student achievement," Luna said. He said once the laws are fully implemented, "Every high school in Idaho is a one-to-one learning environment. ... Teachers and students will no longer have to wait their turn for the computer lab because every classroom is a computer lab." He said the tech boosts will mean that "every student has equal access and opportunity no matter where they live in Idaho, and that just didn't exist before."
He said, "We accomplished all this without raising anyone's taxes, at any level."

---
---