Mon., April 6, 2015
'Add the 4 Words' protesters return to Capitol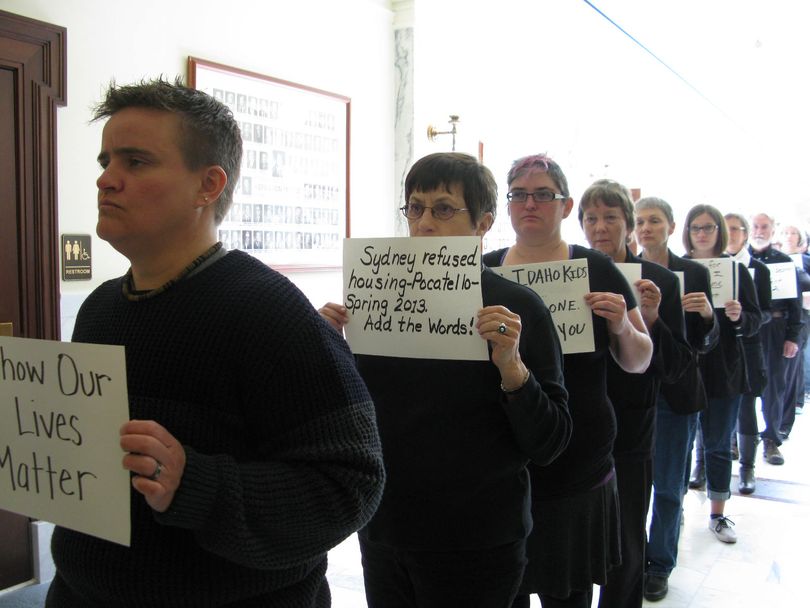 "Add the Words" protesters have returned to the Idaho Capitol today, with nearly 30, dressed in black, lining a Statehouse basement hallway, standing silently, each holding a sign with a message about how gay or transgender Idahoans are impacted by the state's current lack of legal protections against discrimination. "Patrick, Survived suicide 2013," one sign said. "Patricia, Fired from non-profit, Pocatello," said another. "May I use the men's bathroom?" said another. "Keith, Beaten outside apartment, 2012," said another.
Former Idaho Sen. Nicole LeFavour said, "We wanted to make sure that they were aware how many people have stories and that they're leaving such important work that's just not been done. Our state doesn't say that it's wrong to fire, evict or refuse service to gay and transgender people. They're just sending a message that discrimination is acceptable here."
The group wants amendments to the Idaho Human Rights Act, which now bans discrimination in housing, employment and public accommodations on the basis of race, religion, disability and other factors, to add "sexual orientation" and "gender identity" as factors. Idaho lawmakers refused to hold a hearing on the bill for nine straight years, before finally granting one this year. But at the end of an emotional, four-day hearing, the bill died in committee on a straight party-line vote.
---
---