Mon., Jan. 5, 2015
BSU prof wins NSF grant to create a more sustainable 'cloud'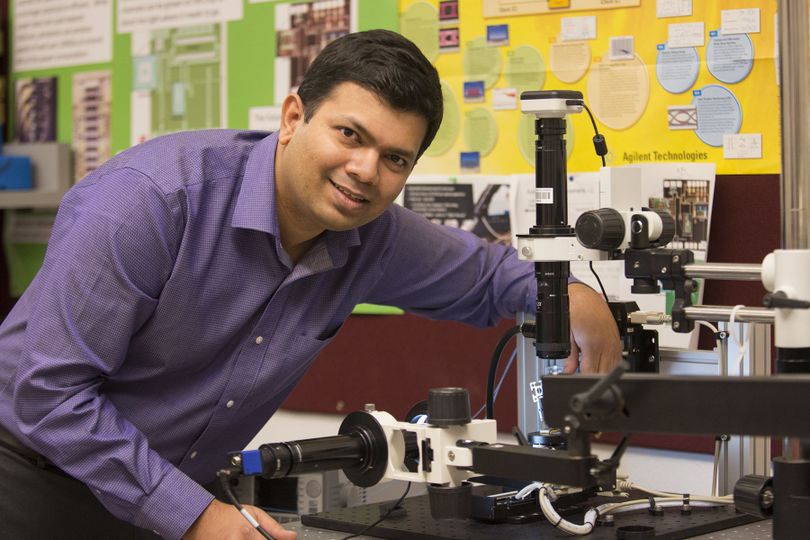 A Boise State University assistant professor of electrical and computer engineering, Vishal Saxena, has been awarded a five-year, $500,000 National Science Foundation grant aimed at furthering his research into a more sustainable "cloud" for Internet data. The problem is that the cloud currently relies on energy-hogging data centers that now consume more than 2 percent of the total power use in the United States, a figure that's quickly growing.
"We have reached the limits for how fast you can process and transmit information using electrons over copper cables," Saxena said. "So we thought about leveraging photonics in a novel way where light is used for information processing as well as communication, light being the fastest signaling mechanism at our disposal. Using hybrid circuits that synergistically incorporate photonics with electronics allows for almost instantaneous communication, providing faster systems that use less power."
The idea is to use photons, or light, rather than electrons, in next-generation chips to process and transfer data. The result would be much greater capacity with reduced energy consumption. "We could have computers with significantly improved performance and better mobile devices and networks," Saxena said. There's more info here.
The grant, awarded through the NSF Faculty Early Career Development Program, is aimed at junior faculty teacher-scholars who conduct outstanding research. It also will cover a "Smart Environments for Sustainability" summer camp for high school students, designed to engage students in the concepts and attract them to BSU's engineering programs.
---
---