Thu., June 25, 2015
U of I doesn't want lynching mural displayed in old courthouse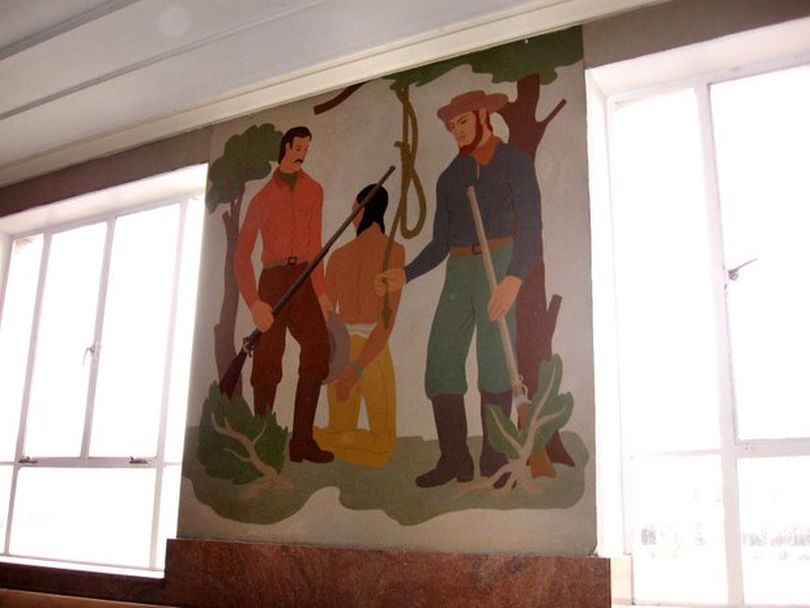 When the former Ada County Courthouse – and former state Capitol Annex – opens as the new Idaho Law and Justice Learning Center later this summer, two controversial 1930s murals depicting the lynching of a shirtless Native American man by white settlers will be covered by banners. "The building historically has been a courthouse first, a legislative annex secondly, and now a center for law and justice," said Lee Dillion, associate dean for Boise programs for the University of Idaho College of Law. "All three institutions stand for the rule of law, due process, and for justice for all. And extra-judicial lynching posters are contrary to that – it's mob rule, it's absence of process, and certainly not justice for all. So I don't feel that passive posters, even with the interpretive language, are appropriate to our educational and outreach mission."
The murals have long been controversial; their display when the former courthouse was temporarily used as the site for two Idaho legislative sessions in 2008 and 2009 prompted year-long negotiations between the state and Idaho Indian tribes on appropriate explanations on interpretive plaques; the plaques were posted in late 2008.
The crudely drawn 1930s murals, which extend throughout the central area of the building with various scenes from early settlement times, were a Works Progress Administration project that put Los Angeles artists to work during the Depression drawing murals intended to depict the Boise area's history. When the building was still the Ada County Courthouse, then-District Judge Gerald Schroeder ordered that two murals that depict a lynching be covered with Idaho and U.S. flags; they were hidden for eight years. Schroeder, now retired, went on to serve as the chief justice of the Idaho Supreme Court.
Here's a link to my 2008 story on how the state and tribes reached agreement on the interpretive plaques.
Dillion said he consulted with the Idaho Supreme Court, which will also have operations in the new justice center, including the new state law library, and court officials supported using the banners to obscure the objectionable images; one will be a U of I College of Law banner, the other a Supreme Court state law library banner.
He said he still plans to reach out to all stakeholders, including tribes and the state Historical Society. "There are a lot of stakeholders involved in the issue, and other people may have other opinions for the long-term handling of those," he said. But he said the Supreme Court agreed with him. "They represent the rule of law and the adjudication of disputes. And to have something that is totally extra-judicial just sitting up there passively showing a lynching, I don't think it was appropriate in the '40s and I don't think it was appropriate now."
The first tenant of the new Law and Justice Learning Center to begin operations will be the state Law Library, which opens July 6 and is jointly operated by the UI College of Law and the Idaho Supreme Court. Various court operations also will be moving into the center, along with the law school's Boise program; more than 100 students will start second- and third-year law school classes there in late August. The center's grand opening festivities are set for Sept. 24.
---
---