Wed., March 31, 2010
Blueprint For Transit Oriented Communities
In April, Spokane will host a brilliant exhibition that brings together the work of Washington artists and planners around the theme of transit oriented communities. And by transit oriented communities we mean access to choices in housing and transportation by creating more mixed-use and mixed-income neighborhoods with excellent pedestrian, bicycle and transit connectivity. We need to allow more people access to homes, jobs, and community services without relying on personal vehicles. This reduces expenses and promotes better physical health, provided a sense of place and community. It is in this spirit two exhibits will take place side by side in the lobby and gallery of Downtown Spokane's Saranac Building at 25 W. Main. We hope to see you there! Details below: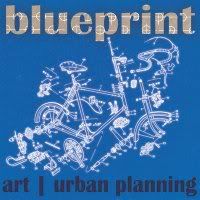 The Saranac gallery will showcase the works of 13 contemporary artists responding to themes of "transit" and our "built environment." Their raw vision of the ever changing urban landscape will inspire us to rethink our perceptions of the space around us. Participating artists Nickolus Meisel, Jen Erickson, Jeremy Mangan, Roger Ralston, Nancy Hathaway, Rimas K. Simaitis, Quill Hyde, Jenny Hyde, Rajah Bose, Gabriel Brown, Lance Sinnema, Patrick Sullivan and Susan Jane Hall are all Washington based and affiliated with the Saranac Art Projects Cooperative.

The Saranac lobby will feature a traveling urban planning exhibit titled "Blueprint for Transit Oriented Communities." It is an action plan for promoting neighborhoods that give people greater access to housing, jobs, shopping, and recreation without relying on a personal vehicle. Created by GGLO, Futurewise, and the Transportation Choices Coalition the purpose of the Blueprint is to provide guidance and inspiration for community at large, and also to serve as an advocacy manual for new legislation that will promote exemplary transit oriented communities in cities throughout Washington State.

April: Show on display all month

April 2: 5-9pm Opening reception in conjunction with the Transcendence Project and First Friday

April 5: at 9a.m. Mayor's Proclamation "Traffic Awareness and Pedestrian Safety Week"

April 17: Spokane's Earth Day celebration on Main Street in front of gallery

Saranac Art Projects Hours Thurs 12-5 Fri 12-8, Sat 12-5

Background:

The Blueprint program is anchored by a comprehensive publication, "Transit-Oriented Communities: A Blueprint for Washington State," co-authored by statewide non-profit organizations Futurewise and Transportation Choices Coalition and integrated design firm, GGLO. The publication presents an image-rich vision of TOC, provides research linking TOC patterns to numerous social and environmental benefits, analyzes station areas in the state, and lays out policy actions from the local to federal level to encourage more TOC patterns. Alan Grainger, founding principal of GGLO, said, "Our transit networks will ultimately catalyze new development in station areas. People will choose these places to live, work and play-but only if they are places that people love. For this to happen, visionary planning and design must go hand-in-hand with smart policies and attention to the unique qualities of each community."


Image courtesy of Worldwide Blues.

"April's Blueprint exhibition is an exciting opportunity to recognize the cross-section between art and urban planning." Saranac Art Projects' member Gabriel Brown states "urban planning can be very inspiring for artists… an artist gets to fully imagine a comprehensive design for a gallery space, but an urban planner gets to take on a whole city! The same basic design principles and challenges apply to both situations. How will people best flow through the space? What will keep them active or relaxed? What will make them want to stay or even bring a friend?"

Saranac Art Projects is a non-profit, artist cooperative designed to support and educate artists and their communities while inspiring a vibrant contemporary art culture. The Saranac gallery is located in the LEED Platinum, Historic Saranac Building in Spokane, Washington. The artists are given full creative license to explore the gallery's open spaces, old brick walls, and dark wood floors. Since opening in 2007, a wide variety of dynamic and multidisciplinary exhibitions have represented the diversity of thought in the Inland Northwest.

RSVP on Facebook.
---
---