Fri., Oct. 31, 2014
Until next time….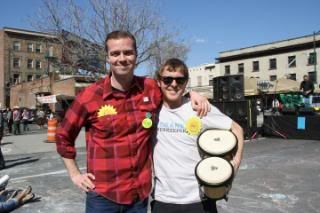 The story of Down To Earth begins with the Wu-Tang Clan.
In 2001, I met this wild, bushy tailed freshman in Streeter Hall at Eastern Washington University. His dorm room had VHS stacks of Seinfeld recordings, he geeked-out on Late Night with Craig Kilborn, and, most importantly, he was down with the previously mentioned Clan of hip-hop legends. I had an extra ticket for a show at the Paramount Theater in Seattle so I called his landline to invite him but the outgoing message was a full recording of "Buffalo Soldier" by Bob Marley. That was so cruel - and hilarious. I liked this dude and I didn't have any friends with a name even remotely close to Bart Mihailovich who were from Butte, Montana.
On the drive to the show, we careened off the guard rail during a freak white-out on Snoqualmie Pass. It was worth it. The show was hyper surreal - each member of the group had at least three alternate personalities - and we hit it off pretty quickly. Or as the Clan would say referencing Transformers, we "formed like Voltron." It wasn't too much later we both found ourselves enrolled in the same journalism classes at Eastern and writing for the school newspaper.

By November of 2004, we began a student internship at the Spokesman-Review. We worked directly with online publisher Ken Sands on one of their first blogs and our assignment was to cover EWU basketball. It was a game-changer. Not because I had to change my email address from pdiddalicious69@hotmail.com to something more professional - ok, so that was a good call - but with the immediacy of the online presence, it felt like we were working outside the daily newspaper system.
After graduation, we volleyed that uncomplicated question: What to do with our lives? We both agreed we weren't looking for a traditional journalism career and we weren't in a rush to return to our respective hometowns. It seemed like Spokane could use more media options. Much to our shock, the Spokane River was listed as the 9th most-polluted waterway in the country by the American Rivers Association yet that information was largely ignored. And there was a thing called global warming getting more attention. Soon it was, ok, where can you go to recycle old computers? Who are all these folks on bicycles we don't know? So how did the Spokane River become polluted?
We hatched a plan to start a blog about environmental issues in Spokane and the Inland Northwest. It wouldn't hurt to ask if the Spokesman-Review would be interested. We emailed Ken. After he agreed to meet with us, we pitched this idea with little more than a mission statement in our minds.
Just like that, he turned on our little green light. Launching in April 2007 as a dinky Wordpress blog located between Crossword and Sudoku, Down To Earth somehow became part of a daily peregrination for many in the community. Our goal was to be better than MetroSpokane. (We never were.) It was only a year later later, we began a "re-launch" which included the site you see before you today. It grew as we grew with it. In November 2008, it became "Down To Earth Northwest," a full-blown local environmental site featuring the blog, other news sources, multimedia content, calendar, comics, and games. We even had a full, glossy monthly magazine. We had our own brand of coffee. And so much DTE swag!
It was no longer a small side project. It validated our labor of love.
When Bart left the site in 2010 to focus on his role as the Spokane Riverkeeper, I did my best to keep pushing on despite time challenges. So I'm feeling bittersweet this morning to report that about 3,000 posts later this site is going dark and it will migrate over to spokesman.com/blogs. The old content will be archived under a new domain. There are some unknowns about future content and searching for a fresh voice but, for now, those stories will be in good hands.
My father Mike, who was the Publisher of Pacific Publishing Company, put it best: "Everybody knows that you don't get in this business to get rich. It's about the value of people and the community. Even though the newspaper business can change, those two will remain constant."
That's why I can't say enough about how much I appreciate your continued support.
There are a few specifically I would like to thank. Kathleen Coleman, Joe Butler, Tyler Mack, and, of course, Ken at the Spokesman who always believed in this project and made it a reality.
There are former contributors, colleagues, faithful readers and the reasons why: Juliet Sinnistera, Rick Eichstaedt, Barb Chamberlain, Kitty Klitzke, Mike Petersen, Kate Burke, Steve Faust, Travis Nichols, John Speare, Liza Mattana, Jon Snyder, Mary Verner, Paul Haeder, Renee Sande, Tim Connor, Remi Olsen, Geneva Drouin, Lupito Flores, Hank Greer, Mariah McKay, Julie Schaeffer, Jim Sheehan, Sam Mace, Staci Lehman, Jennifer Hall, Mark Simonds, Laura Ackerman, Brooke Nicholson, John Osborn, Jani Gilbert, Taylor Weech, Brian Estes, and many more. I can't forget Monique Kovalenko who we're glad stalked us at Bioneers so we could meet face-to-face.
And two dear friends who are no longer with us but continue to inspire: Mike Chappell and Russ Nobbs.

I suppose the story of Down To Earth has not ended. There are still too many stories to tell. Oil trains and coal trains aren't going away. Work goes on for a fishable, swimmable Spokane River. The grab bag of awful Seinfeld references is never-ending. (Hey, climate denier! The jerk-store called…)

Our radio show on KYRS will be on air and you can keep up with us on Twitter and Facebook. Hopefully, we'll know more about the new platform soon but it's been a great privilege to be here and I look forward to what's next so stay tuned.
One thing is for certain: Wu-Tang forever.
---
---