Thu., April 24, 2014
Maker of scarf for runner comes forward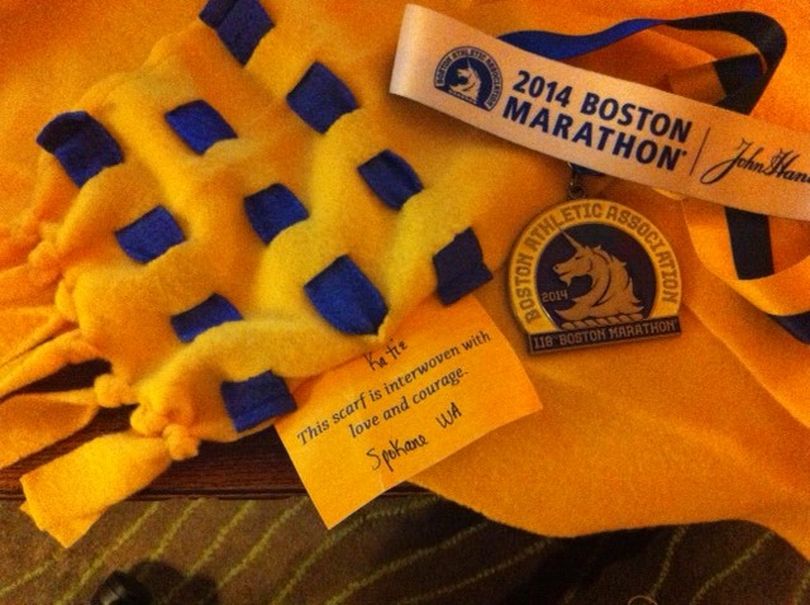 An unusual appeal by a Boston marathon runner worked.
Runner Ruth Beberman sent me an email the day before Monday's race and asked if the newspaper could help her find a woman from Spokane named Katie, who she believed created the handmade scarf that Beberman had received as part of a project launched by the Old South Knitters Club of the Old South Church in Boston. ESPN's report on the scarf project said the thought was to wrap runners in marathon blue and yellow scarves knitted with love and courage.

Spokane resident Lorna Doone Brewer saw a Facebook post by a Spokesman-Review reporter about Beberman's plea and sent me an email in which she said she believed it was a scarf she had made.
Beberman emailed a photo of the scarf to me and when I shared it, Brewer, recognized it as one she made for the project. "Yep! That's it!," Brewer wrote in an email.
But what about Katie, right? She's Katie Louden, a longtime friend of Brewer and fellow Gonzaga University grad. Brewer had asked Louden if she wanted to help on the scarf project. Louden created a purple scarf with silver trim and gave it to Brewer to include in a box of eight or nine scarves destined for Boston. Brewer included a card that said the scarves were made by both her and Louden. Brewer surmised that the church organizers simply used a preprinted card that said, "This scarf is interwoven with love and courage" and signed it," Katie, Spokane, WA."
ESPN reported the Boston church group's goal was to knit a few hundred, but the project went viral, and by race weekend they had more than 7,000 scarves from knitters across the country and around the world.
I provided contact information on Brewer and Louden for Beberman, who intends to thank them for the scarf.
Oh, about the name Lorna Doone? I had to know if she was named after the cookies. When she was a teenager, her mother read Lorna Doone: A Romance of Exmoor, published by an English author in 1869. Her mother decided she would use that name if she ever had a daughter. She's frequently asked about the possible cookie connection.
---
---