Wed., Dec. 9, 2009
Lawyer: Blame It On The Caffeine
Dan White infamously had the "Twinkie defense." Dan Noble may use the "Starbucks defense."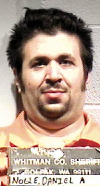 Noble, the 31-year-old Moscow man accused of an erratic driving episode Monday morning that put two Washington State University students in the hospital, made his first appearance in Whitman County Superior Court Tuesday afternoon. Mark Moorer, his Pullman attorney, told Judge David Frazier that Noble's strange behavior Monday and the days before could have been caused by what he called "caffeine psychosis." ... He described Noble as a type-A personality who worked long hours as a financial analyst in the University of Idaho Trust and Investment Office. Noble would often rise as early as 4 a.m. and begin consuming copious amounts of energy drinks and Starbucks coffee, Moorer said/Joel Mills, Lewiston Tribune. More here. And: Moscow-Pullman Daily News version here.
Question: You be the juror. Would you be open to a defense argument of "caffeine psychosis" in a case like this?
---
---