Wed., Dec. 8, 2010
Model Student/Hunter Faces Expulsion
The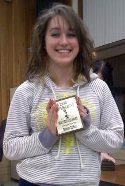 following arrived via e-mail from Mac Minard, executive director/Monana Outfitters & Guides Association: "Sixteen-year-old Demarie DeReu  is an honor roll student, a member of the Columbia Falls (Montana) High School Student Council and a varsity cheerleader.  Although she has no intent to break any rules or laws, or harm anyone, Demarie is at risk of having her college education derailed and maybe even being identified forever as a domestic terrorist. Why?  Demarie went hunting over Thanksgiving with family and friends. She forgot that her unloaded hunting rifle was cased and locked in the trunk of her car." More below.  And: AP story here.
Question: Should hunter/honor roll student Demarie DeReu be suspended for inadvertently taking a unloaded rifle to Columbia High School?
When she arrived at school, she parked in the school parking lot because to park anywhere else is an expulsion offense at CFHS.  Upon hearing that the "contraband dog" was to be working the school parking lot, Demarie remembered her unloaded hunting rifle secured in the trunk of her car AND she voluntarily informed school officials.

Next monday, December 13, at 6 PM, Demarie will face her expulsion hearing before the local school board.  She will possibly have her life derailed because a bunch of school idiots insist that she must be subject to an irrational, "zero tolerance" policy about guns in schools that does not countenance lack of bad intent.  The theory that people with malice will be intimidated into good conduct if people without malice are punished in lieu of them is idiocy at its finest.

At the upcoming hearing, education officials will tell school board members that they have no choice - that state law and good gamesmanship require the school board to levy harsh and record-destroying punishment against Demarie.  They will be wrong!

The controlling Montana law about this is 20-5-202, M.C.A., which says about expulsion for bringing guns "to school," "... the trustees may authorize the school administration to modify the requirement for expulsion of a student on a case-by-case basis."  Further, "to school" is not defined in 20-5-2-202, but is at 45-8-361, M.C.A. as "... in a school building."  Demarie's hunting rifle was cased and locked in the trunk of her car in the parking lot, but not "in a school building."

What can you do about this outrage?
---
---