Tue., Oct. 5, 2010, 11:11 a.m.
Minnick: Labrador Can't Change Facts
Facts are stubborn things. We may wish they are not true. We may find them distasteful. We may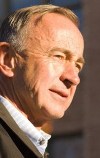 even be told that the facts themselves are not as they seem. But facts they are, and no amount of political spin or media misreporting can change the facts. Such is the case with Raul Labrador. Advertisements about my opponent in the Nov. 2 election have stirred up some controversy, including on these editorial pages (Opinion, "Get back to the message, please," Sept. 24). Some in the media and liberal blogs don't like the straightforward, tough look at Raul's own record and background, the two things he specifically points to as his main qualifications for office/Congressman Walt Minnick, Moscow-Pullman Daily News op-ed article. More here.
Question: Do you think Raul Labrador is trying to have it both ways, as Minnick contends?
---
---