Fri., Oct. 8, 2010
NIC Students Set Trustee Forum
Associated Students of North Idaho College is hosting a board of trustees candidate forum at noon on Tuesday, Oct. 19, in the Edminster Student Union Building Lake Coeur d'Alene Room. The one-hour forum will consist of timed answers to questions gathered from student input followed by some questions from the audience. All four candidates have confirmed that they will attend. Robert Ketchum is running against incumbent Christie Wood for Seat B. Ken Howard is running against Ron Nilson for Seat A, which is currently held by Rolly Williams who is retiring.
DFO: I have a question that should be posed to Ron Nilson (pictured) during this forum or some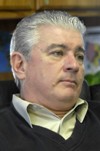 other. In mid-November 2008, he attended a Education Corridor forum as an observer. I kept a note that Jay Baldwin sent me the next day in which Jay told me that Nilson was upset about professional technical education at the college. At one point during the night, Baldwin quotes Nilson as saying re: news that Idaho ranked 47th of 50 states in the number of citizens per capita with a 4-year degree " ... maybe being 47th in the country [in terms of the number of college graduates per capita in the state] is a good thing. Maybe Idaho doesn't need people with 4 and 6 year degrees." In his note Nov. 13, 2008, Baldwin said, "I almost fell out of my chair." My question for Nilson: Do you still feel that a four-year degree isn't that important? BTW, I contacted Baldwin today, and he stands behind the note that he sent me.
---
---