Fri., Oct. 22, 2010
And A One And A Two …
That musical tribute to Lawrence Welk caught my eye as I was reading down my Facebook wall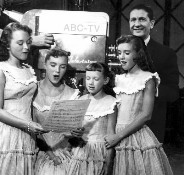 -- the one that Wallace's Sixth Street Melodrama is opening next month (dates & times here). Over the years, I've learned to enjoy country Western, Jazz, and even musicals. But I've never acquired a taste for Lawrence Welk or rap. I remember the mind-numbing hours that I spent with my mom, dad, & siblings around the old TV set on our dairy suffering through Bobby & his dance partner (whatshername) and others (although the Lennon Sisters were pretty dang cute). I still cringe when I run across an old showing of Lawrence Welk & Co. will clicking through the channels. I wish the Sixth Street Melodrama well. But I've passed on Lawrence Welk & liver since I left home at 16.
Cutline: In this 1955 photo released by ABC, the Lennon sisters appear on The Lawrence Welk Show. From left are Peggy, Dee Dee, Janet, Kathy and Lawrence Welk.
Question: Are you a Lawrence Welk fan?
---
---