Sat., Oct. 30, 2010, 6:10 a.m.
Only 2 Degrees Of Separation In CdA
In a blog post this week, Jamie Lynn Morgan, center, theorizes that there's only 2 degrees of separation in the Coeur d'Alene area, not 6. Jamie: "My first real aha moment with this is when by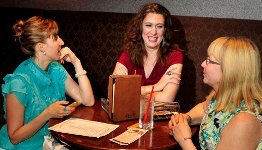 a chain of events I became friends with a woman who had just moved to the area from Oregon and we ended up connecting and now have a standing coffee date once every week when we can get away. It was in the planning of the first few coffee get together's that we realized that people she had met since being in town were people I already knew. Or after meeting with one of the girlfriends she invited we realized that she used to live down the road from my husband's family and that I knew her brother because he used to be friends with Tom's brother. The list of these instances goes on for quite awhile. More here.
Question: Do you agree with Jamie's theory that we're so closely connected in North Idaho communities that we're only two steps away from one another?
---
---