Tue., April 12, 2011
When Teddy Roosevelt Visited UI
On April 9, 1911, Theodore Roosevelt became the first president to ever visit the University of Idaho. On April 8,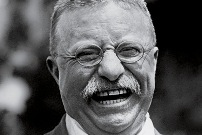 2011, the James A. and Louise McClure Center for Public Policy Research commemorated that visit with a lecture from Douglas Brinkley, a historian and author of the biography "The Wilderness Warrior: Theodore Roosevelt and the Crusade for America." Brinkley spoke to a crowd of students, faculty and community members Friday evening in the Student Union Building ballroom. The lecture, entitled "Wild America from Theodore Roosevelt to Dwight Eisenhower," focused on Roosevelt's legacy of conservation in the United States as well as conservation efforts since his presidency/Anja Sundali, UI Argonaut. More here.
Question: Any Teddy Roosevelt fans out there?
---
---