Tue., Feb. 1, 2011
Is The End In Sight For Blogs?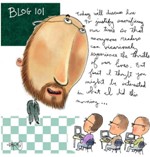 Whatever blogs have become, there seems to be universal agreement that the format that made them ubiquitous—the reverse-chronological aggregation accompanied by commentary—is not long for this world, and Mr. Denton's scoop-friendly redesign would seem to be the best evidence of that. In fact, the decline of the blog has come so quickly, one has to wonder whether we ever really liked the medium at all/Dan Duray, New York Observer. More here. (AP file illustration)
Question: Is blogging really a dead social media form? Why? Why not?
---
---