Mon., Feb. 14, 2011, 3:21 p.m.
Get Out! Java On Sherman Not Shut
Did you drive by Java recently and feel a sudden Bowl-of-Soul shaped hole in your soul that made you want to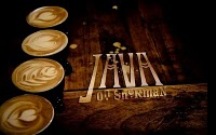 smoke a bowl of a different kind of soul when you saw the place locked up and emptied out? Relax, junkie. They were merely putting up a fresh coat of paint and had to close up for a bit to accomplish this task. You weren't the only one worried - I received several panicky emails wondering if i knew what was going on (I didn't) as well as several customers at my bar who were driven to drink over the situation. Well, they're always driven to drink, but as long as they don't drink and drive, I'm okay with that. Anyway, they are now open once again and life in Cd'A can carry on as normal/OrangeTV, Get Out! North Idaho. More here.
Question: How would you be affected if Java on Sherman ever closed its doors?
---
---