Threat: Surgically Implanted Bombs?
For 40 years, we've been playing a game with terrorists. It's called "Hide the Bomb." We installed metal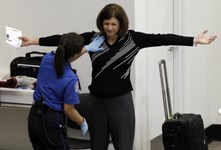 detectors in airports, so they devised nonmetallic explosives. We scanned bodies, so they hid a bomb in a shoe. We put everybody's shoes through scanners, so they hid bombs in underwear. We put people through scanners that showed the exact contours of their crotches and breasts. Citizens erupted in outrage. They said we had gone too far. Actually, we didn't go far enough. Terrorists are taking the next logical step. They're trying to hide bombs inside their bodies/William Saletan, Slate. More here. (AP file photo: A woman undergoes a pat-down body search during TSA security screening Friday at Seattle-Tacoma International Airport.)
Question: Are you concerned with reports that terrorists are considering hiding bombs inside suicide bombers?
---
---