Jaycee Dugard Tells Of 'Stolen Life'
Kidnap victim Jaycee Dugard says she didn't know she was pregnant when she gave birth to her first child.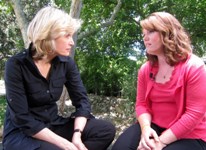 Dugard had been abducted by Phillip and Nancy Garrido when she was 11 years old, handcuffed, raped and imprisoned for 18 years. Now 31, she is telling her story in the memoir "A Stolen Life" and in an exclusive interview with ABC News' Diane Sawyer. "Now I can walk in the next room and see my mom," Dugard said in her first interview. "Wow. I can decide to jump in the car and go to the beach with the girls. Wow, it's unbelievable, truly." Dugard told Sawyer how she gave birth to her first child, Angel, at age 14 in the Garridos' deranged backyard. Angel was the first of two children she had with Garrido. "I didn't know I was in labor," she said. "I was still ... locked at that time. Just scared"/Los Angeles Times. More here. (AP photo/ABC News)
Question: Did you see Diane Sawyer's interview with Jaycee Duard Sunday night? Reaction?
---
---