Wed., Aug. 15, 2012, 4:50 p.m.
Wine Cellar Takes It To Street Level
The Wine Cellar is taking it to the street level and beyond. After 20 years in its cozy, subterranean home, the restaurant has reopened next door at 317 E. Sherman Ave., where it stretches from the basement onto two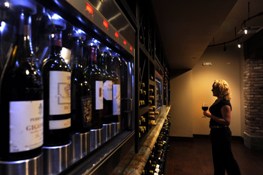 additional floors, expanding the fun for oenophiles and music lovers. Connoisseurs of classic cocktails can enjoy drinks at one of two bars inside because the Wine Cellar now has a liquor license. "I think the community is really going to be surprised by what we've done with the building and how we've looked after the adults," said Patricia Power, who owns the restaurant with her husband, Tom. "There are lots of places in downtown Coeur d'Alene for the younger crowd but this is all about us and what we'd like to do when we get away." The Powers purchased the Wine Cellar from original owner Jim Duncan two years ago, after a dozen years as devoted patrons/Lori Hutson, SR. More here. (Kathy Plonka SR photo: Superviser Krista French of The Wine Cellar talked about the popularity of the new Enomatic machine at the restaurant in Coeur d'Alene)
Question: Are you ready to check out the new Wine Cellar?
---
---