Tue., Dec. 11, 2012, 5:24 p.m.
Yum: Maple Praline Bacon Recipe
I love it when someone gives me a recipe to try because they want to know if it is good or not but not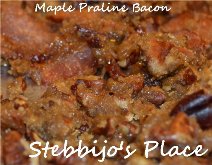 necessarily on the foods they can eat. It helps if someone can eat it for you,so you can still have the inner joy of getting close to the forbidden goods. You may just want a taste and the sounds of this recipe was irresistible. I will be more than happy to act as a guniea pig when it comes to food, my husband has no problem stepping in to volunteer, either. Who eats candied bacon, of all things? I had to try it. This stuff is like popcorn or potato chips, you can't eat just one. This is an around the fireplace snack and would be a hit at any camp out to do up in your cast iron fry pan. Leave some of this out for Santa, he will be sure to come back next year/Stebbijo, Stebbijo's Place. More here.
Question: What is the most fattening thing you've eaten so far this month?
---
---