Wed., Dec. 19, 2012, 11:56 a.m.
Hop Jack's Struts Its Stuff
For years, North Side residents languished in a gastronomical vacuum. With few exceptions, our dining out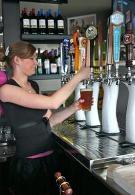 options revolved around the array of fast-food joints and Chinese eateries that dot Division Street. But things are looking up. The arrival of Wasabi, O'Doherty's and McClain's Pizzeria have enlarged our culinary options. The latest addition to the north Spokane dining scene is Hop Jack's, a casual pub offering seating for both the adult crowd and folks with families. This is the first Hop Jack's in Spokane and the sixth restaurant in the chain for owner Mark Eggen of Rock Solid Restaurants. With 14 burgers on the menu and several soups, salads and sandwiches, Hop Jack's promises something to please every palate/Cindy Hval, SR. More here. (Colin Mulvany SR photo: Lorie Hutson)
Question: Where do you usually eat when you dine at Spokane?
---
---