Fri., Jan. 13, 2012, 9:13 a.m.
Statesman: Otter Off, By $300 Million
If you're going to get your facts wrong, it's a bad idea to botch things up on a complicated and controversial issue. Or to misspeak in front of a room full of reporters. Gov. Butch Otter violated both tenets last week. And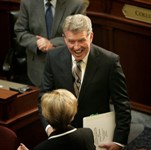 this week, he had to do a 180, to the tune of $300 million. Here's the recap: On Jan. 5, at a legislative preview sponsored by The Associated Press, Otter made his case for a state-run (but federally funded) health exchange, which would allow small businesses or individuals to shop for the most affordable insurance coverage. Otter upped the ante with a new argument: He said the state risked losing $300 million in Medicaid money, should it fail to establish an exchange. Sounds like a compelling argument. Indeed, we wrote at length about it in a Jan. 6 editorial restating our support for a state-run exchange. Trouble is, Otter had his facts wrong, and admitted as much to the AP late Wednesday. Good luck unringing that bell, governor/Idaho Statesman Editorial Board. More here. (AP file photo of Butch Otter at State of the State address)
Question: Do you think Gov. Butch Otter has a good grasp on the issues involved in the complicated health exchange issue?
---
---