Fri., July 27, 2012, 3:53 p.m.
Close Encounter w/ALEC Protester
I'm back in Idaho having attended meetings of the American Legislative Exchange Council (ALEC) in Salt Lake City. And I'm most struck by a minute-long diatribe directed at me that took place in front of the Great America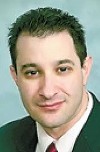 Hotel in that delightful city's downtown. I was heading into the hotel to attend ALEC's meetings, and a sign-wielding protester, whose face was hidden behind a blue bandanna, began following and hurling F-bombs at me in rapid succession. I'll spare you the details. But, essentially, the protester accused ALEC, its supporters and people like me of working in unison to harm women, children, the elderly, puppies and butterflies. At the time, I wasn't terribly introspective about the encounter. Later, though, I wondered about his thought process. Do this protester and his friends truly believe that free market advocates are uncaring, selfish people? That we're unmoved by the plight of the hungry, the homeless and disadvantaged? That in a truly free market economy, we'd be quite content to see wide swaths of Americans enduring an abundance of human suffering?/Wayne Hoffman, Idaho Freedom Foundation. More to come.
Thoughts?
---
---