Mon., June 11, 2012
What About Those Hydroplane Votes?
I have a question that I just have to ask. By now, everyone knows that Mary Souza, arch political enemy of Mayor Sandi Bloem, supports the recall 100 percent purportedly because (drum roll, please) she believes Coeur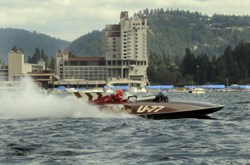 d'Alene residents have the right to vote on planned improvements to McEuen Field. Her husband, Rick, supports the RecallCDA effort, too, as is evident by him holding sign on the left hand side of this Coeur d'Alene Press photo earlier this spring. Rick and Mary apparently believe in the public's right to a vote in such matters. Rick Souza is also involved in the Diamond Cup Regatta Inc. planning board to bring hydroplane racing back to Lake Coeur d'Alene -- a move that has twice been shot down overwhelmingly by the residents of Coeur d'Alene in public votes (by about 75 percent in 1985). (Souza, second from left and next to Brad Hagadone, is shown in a Diamond Cup/Hydromaniac board of directors photo by Stephen Shepperd on the group's Facebook page on Friday.) Yeah, I know that the races planned for this Labor Day are strategically located outside Coeur d'Alene city limits. But shouldn't someone who is purportedly interested in the public vote on an issue like McEuen Field also be sensitive to two separate votes over a decade apart by those same citizens in a town that will still be largely affected by the races? Just asking. (SR file photo: David Williams pilots the "Miss Wahoo" in front of the Coeur d'Alene resort, Sunday)
Thoughts?
---
---